Best Photo Spots On The Keweenaw Peninsula
If you're looking for amazing photo opportunities in Michigan, you'll want to check out the Keweenaw Peninsula. There are plenty of beautiful spots to capture memories that will last a lifetime.
The Keweenaw Peninsula is a land of extremes. It's the farthest north you can go in Michigan, and it's home to some of the wildest, most beautiful landscapes in the state. There are towering mountains and rushing waterfalls, dense forests, and rugged Lake Superior shoreline. And if you're lucky, you might even spot a bear or a wolf passing by.
But the Keweenaw isn't all about wilderness. It's also a rock hunter's paradise, with agates, Yooperlites, and other minerals just waiting to be discovered. And in the historic town of Calumet, you can step back in time and see what life was like in a 19th-century copper mining town.
Here are some of my best and favorite photo spots on the peninsula!
Horseshoe Harbor
Horseshoe Harbor is a place of incredible beauty, situated just 15 minutes from the equally remote Copper Harbor. The harbor is encircled by steep cliffs, creating a natural amphitheater for the waves that crash against the rocks. Above the harbor, a towering forest stands watch, providing an ever-changing tapestry of color as the leaves turn in autumn and new buds burst forth in spring. It is a place of quiet power, where one can feel humbled by nature's might and beauty. Those who make the journey to Horseshoe Harbor will be rewarded with memories that will last a lifetime.
---
HUNTER'S POINT PARK
Hunter's Point Park in Copper Harbor is an otherworldly place. The ancient lava rock shoreline is like something out of a science fiction movie, and the geology is as unique and mysterious as a place can get. It's an incredible place for photos and if you're lucky you just might see one of the Bald Eagles or wolves that call this place home. Even if you don't see any wildlife, the views are sure to take your breath away. So if you're looking for an adventure, be sure to add Hunter's Point Park to your list!
---
BROCKWAY MOUNTAIN
Brockway Mountain on the Keweenaw Peninsula is a truly breathtaking sight. The rocky cliffs rise sharply from the surrounding forests, offering stunning views of Lake Superior. It's no wonder that this place is a popular spot for photographs. The rugged beauty of the landscape is truly captivating, and the light bouncing off the water creates a magical atmosphere. Whether you're capturing the sunrise or sunset, Brockway Mountain is sure to provide an unforgettable experience. So next time you're looking for a breathtaking place to take photos, be sure to add Brockway Mountain to your list.
---
HAVEN FALLS
Haven Falls is a hidden gem, located just off the beaten path. Tucked away near Mount Bohemia and Lac La Belle, the falls are accessible but still offer a sense of privacy and solitude. The cascading water creates a stunning backdrop for photos, and the nearby forests provide a beautiful frame for the falls. A rustic pavilion and firepit are also available for use. Whether you're looking for a place to relax and take in the natural beauty of the Keweenaw or hoping to capture a perfect photo, Haven Falls is worth a visit.
---
CALUMET WATERWORKS
The Calumet Waterworks Park is a special place. It's one of the best spots in the Keweenaw to rock hunt for agates, Yooperlights, and other special stones. But it's more than that. It's a place where you can stretch out on a blanket with Lake Superior stretching out for miles in front of you and watch the stars twinkle in the night sky. It's a place where you can build a fire and roast marshmallows while the waves crash against the shore. It's a place where you can feel small and insignificant in the best way possible. So whether you're looking for a place to rock hunt or just a place to appreciate the beauty of nature, the Calumet Waterworks Park is definitely worth a visit.
---
Estivant Pines
Estivant Pines is a truly special place. This old-growth white pine forest is one of the most magical places in Michigan. The roads to get there may be rough, but the scenery is worth it! The towering pines, the clean air, the sound of the wind in the trees… it's an enchanted place that feels like it's a world away from everything. If you're ever in the area, do yourself a favor and take the time to explore Estivant Pines. You'll be glad you did!
---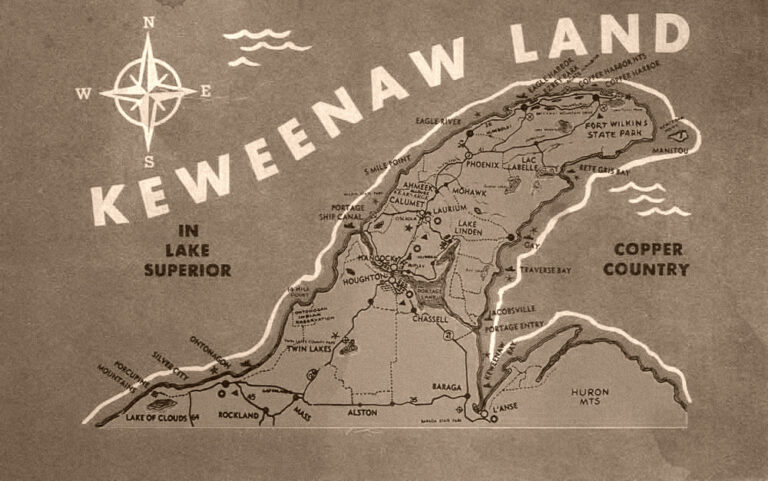 If you're ever in the area, I highly recommend visiting these spots and seeing for yourself how amazing the Keweenaw Peninsula is. Each of them provides a unique perspective on the natural beauty of the region, and they're all worth taking some time to explore. Whether you're a photographer or just someone who loves spending time outdoors, I think you'll find something special about these locations. Have you been to any of these photo spots? What did you think?
If you're considering a portrait session or even planning an elopement here on the Keweenaw, I would love to help! Send me a message and let's talk!