You might be wondering how an elopement works. Like, how do you legally get married if you elope? Do you have to have an officiant and witnesses? What forms do you need? There are options when it comes to planning an elopement and "making it official". Keep reading and I'll tell you all about them!
Hiring a Wedding Officiant for Your Elopement
You can hire someone to officiate your wedding ceremony for you. An experienced officiant will guide your ceremony, and help you complete the required forms that make your marriage legal. Professional officiants are required to mail the forms in for you, so you won't have to worry about it. You can expect to spend $200-$400 on an officiant, (or more if there is travel or long hours involved).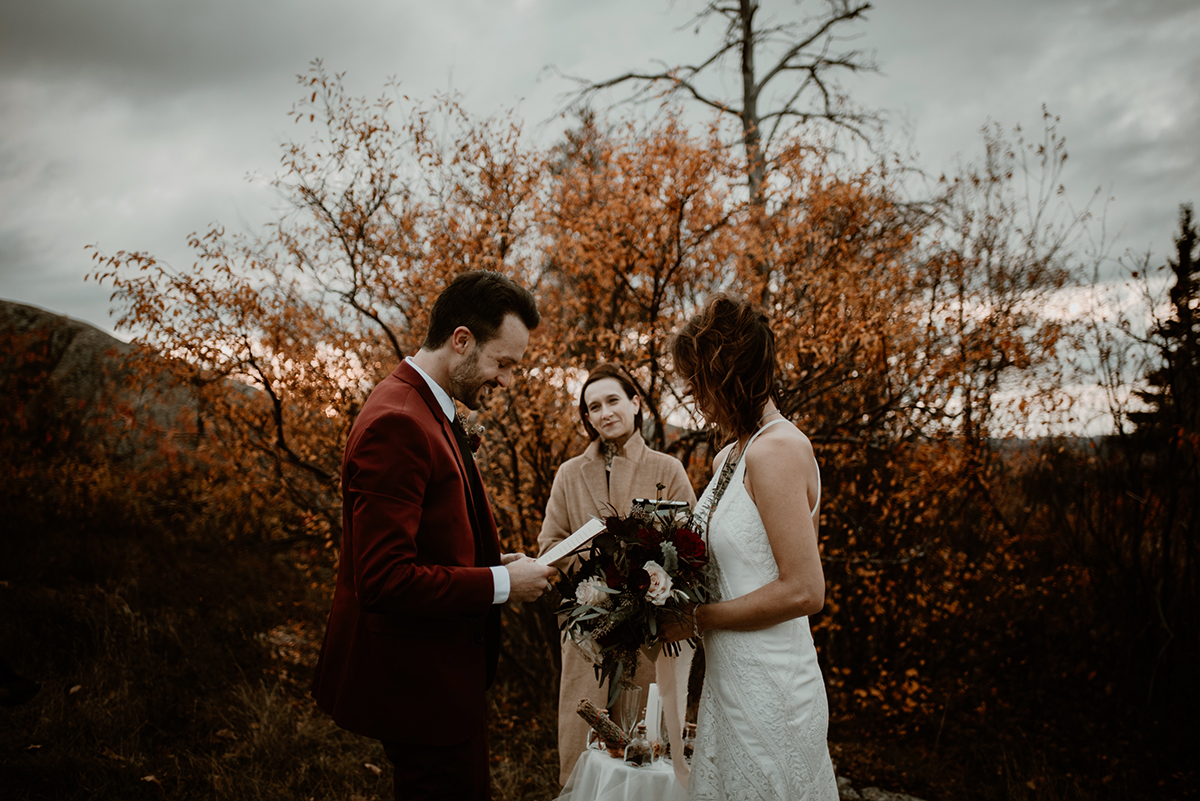 Pros to hiring an officiant: Your officiant will guide you through your ceremony, so you won't have to worry about what to say. They'll take care of the legal forms.
Cons to hiring an officiant: Some couples might not want another person present and being "in charge" of their wedding ceremony. Non-religious couples or non-traditional couples might have a hard time finding an officiant who can work with their needs.
Doing the Paperwork Separately
Another popular option is to complete your legal paperwork separately from your wedding ceremony. You can hire a wedding officiant to meet with you somewhere (a coffee shop works just fine) and just complete your paperwork for you. Another way to do this is to have a separate, civil ceremony (a judge at a courthouse will perform a legal ceremony) and then you can have your "real" wedding ceremony be anywhere and anyhow you dream of it!
Pros to doing the paperwork separately: You'll be free to plan your ceremony yourselves and have it as private as possible. You won't have to worry about anyone listening in on your private vows.

Cons to doing the paperwork separately: You will have to plan your ceremony and what to say to each other. Your official legal date will be different than the day of your ceremony.
A Self-Uniting Marriage
In certain States in the US, it is legal to marry yourselves in a "self-solemnizing" ceremony. That means you don't need an officiant- you can fill out your own paperwork, mail it in, and it's totally legal. With this option you can even have a family member or friend "officiate" your ceremony if they aren't ordained. Currently, you can self-marry in Colorado, Wisconsin, Pennsylvania, and Washington D.C.
Pros to a self-uniting marriage: You can take control of your wedding ceremony and do whatever feels right to you. It can be totally private. Your legal marriage date will be the same as your wedding day.

Cons to a self-uniting marriage: It's only legal in certain locations.
Witnesses for your Elopement
If you're not having guests included when you elope, ask your photographer! I am more than happy to sign as a witness for you. And if you need another signature (Michigan requires two witness signatures on a marriage license) then asking a nearby person always works. I'll even ask for you, if you want! People are excited for you and I've never had a person say no.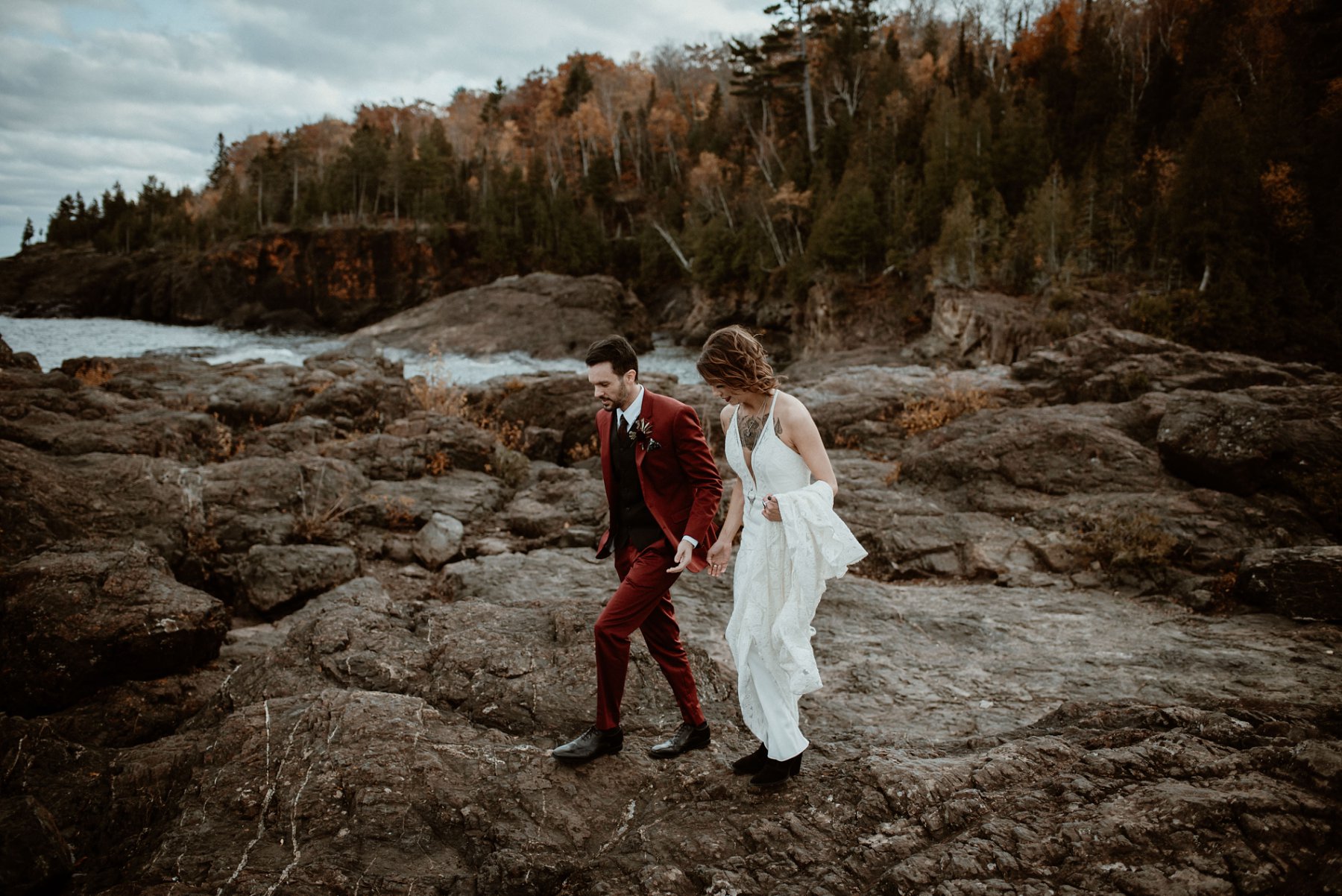 Your Photographer Might be Ordained
Little known fact- I am ordained as a Minister with the Universal Life Church, so I'm able to legally fill out the paperwork for you if you need me to. It's impossible for me to photograph and officiate a wedding ceremony at the same time, so I can't be your officiant, too. But I'm happy to make your marriage legal!
State Laws
Each State has different laws when it comes to marriage, so you'll want to check to see what you need for your marriage to be legal. Here are some things you'll want to know for the State you plan on marrying in:
How to obtain a marriage license
ID requirements
Is there a waiting period after you apply for a marriage license?
Is there a waiting period after obtaining a marriage license?
What are the fees?
Do you need any witnesses to sign your marriage license?
How does the marriage license get recorded?
How do you get copies of your marriage certificate?
Are you planning an elopement or thinking about if an elopement is right for you? I'd love to help you brainstorm! Just reach out and let's talk about what your dream elopement might look like!
---
Lume Photography is a fine art elopement and wedding photographer based in Michigan, travelling worldwide. Behind the camera you'll find me (Andrea)- a girl who loves animals, the wilderness, and love stories. I believe in magic, soulmates, and the hidden forces of energy that connect everything and everyone in the universe. My favorite places are the woods, the mountains, and the ocean. My passion is documenting the moments, emotions and connection between two souls in love, in wild places. I travel to Arizona, Colorado, California, Scotland, and beyond to photograph wild elopements and small destination weddings.