Why Elope in Michigan?
Whether you live in the mitten and want to elope close to home, or you are from somewhere else but are thinking of eloping in Michigan, here's why it's a fantastic location for your elopement:
Michigan has some of the richest, diverse landscapes in the Midwest.
There are ancient forests with towering trees, like Hartwick Pines or Proud Lake State Recreation Area. Windswept sand dunes like at Silver Lake and Sleeping Bear. Mountains and waterfalls. And the longest freshwater coastline of any state, featuring absolutely gorgeous beaches. All of this makes Michigan a perfect backdrop for your elopement.
Michigan is a hidden gem as far as outdoor elopements go.
So if you choose to elope outdoors in Michigan, you won't have to worry about running into other eloping couples, like at some of the more popular elopement spots (think Horseshoe Bend, Joshua Tree, other trendy places). Plus, you're choosing a totally unique place to get married, instead of following the trends!
You can take advantage of the seasons.
You can choose to elope in Michigan during any of the four seasons, and each one has its own wonderful advantages. Let me explain:
SPRING is a season of growth and renewal, signifying new beginnings. The earth starts to come alive!
SUMMER is warm- sometimes hot- and is a great time to take advantage of the Great Lakes or any of the pristine inland lakes.
FALL in Michigan is amazing. The temperatures start out mild and then start to cool off. And the colors are absolutely spectacular!
WINTER in Michigan can be some of the most beautiful in the world, in my humble opinion. Snow blankets the ground and it's a perfect time to get cozy with your love.
Where to elope in Michigan?
If you're eloping in Michigan, you have so many amazing options for ceremony locations! As a Michigan elopement photographer with years of experience, one of the things I do is provide a customized list of location recommendations. When you work with me, I'll ask you some questions, and then send ideas with details and everything you need to know about each place.
10 Places to Elope in Michigan
Here are 10 ideas for places to elope in Michigan to ignite your imagination:
1. On a beach.
Michigan is FULL of amazing beaches! You don't have to look far to find places to have a beach elopement in Michigan.
2. At the top of a mountain.
Yes, there are mountains in Michigan. The Porcupine Mountains are located in the western Upper Peninsula. There are other mountains in the UP that make great spots to elope, like Sugarloaf in Marquette. And you can find mountains in the Lower Peninsula as well.
3. In the woods.
Woods and forests are abundant in Michigan. My favorite spots feature towering pine trees, like at Proud Lake State Recreation Area, or Provin Trails in Grand Rapids.
4. On a hillside.
Michigan has a lot of rolling hills, and eloping on one makes for a beautiful, timeless setting.
5. By a tree.
Trees are amazing and powerful centers of energy. They absorb carbon dioxide and change it into oxygen, but they can also absorb negative energy and turn it into positive. With roots reaching down into the Earth and branches rising high into the sky, a tree is a symbol of balance.
6. On some rocks.
There are some really unique, rocky landscapes in Michigan that I think are amazing spots to elope.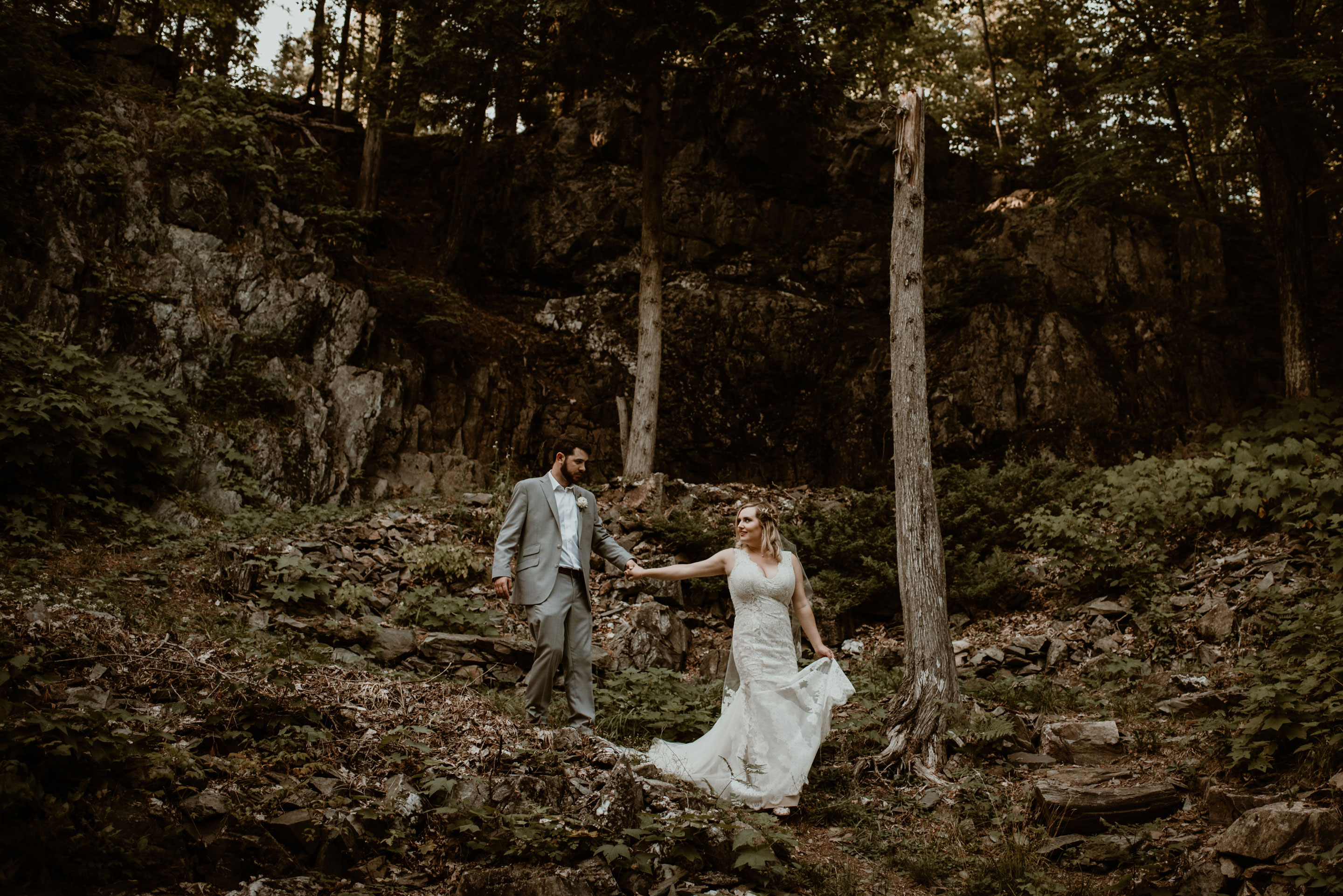 7. At the dunes.
Michigan has miles and miles of sand dunes along its lakeshore. You can find dunes in many spots in both the Lower and Upper Peninsulas. Some of the dunes could even pass for a desert landscape from another country or even planet!
8. On the water.
In Michigan you're never more than 6 miles away from a natural water source. It's surrounded by the Great Lakes, and it's FULL of beautiful, natural lakes and streams. You can have a lakeside wedding ceremony, or even get married on a boat!
9. At a unique venue.
There are many unique wedding venues in Michigan that are perfect for a small wedding or elopement. Too many for me to list here! Here are just a few:
10. At a cabin or campground.
You can have an intimate elopement at a cozy cabin tucked away from the distractions of day-to-day life, or get married at one of Michigan's great campgrounds!
Design the elopement of your dreams in Michigan!
Can you imagine having a wedding day in one of these AMAZING places? Where you'll get to commit your lives to one another within the incredible natural beauty of Michigan?
I'm a Michigan elopement photographer, but I'm also passionate about making sure you have the most unforgettable, stress-free wedding day ever. One with no regrets, that you'll remember as one of the BEST days of your lives! Working together with you, I'll create an environment where you'll be able to relax and be 100% yourselves.
When you work with me you get:
Amazing, meaningful photographs that tell your unique wedding story so you can experience all the feels and emotions over and over again.
An experienced guide who will help you plan the perfect wedding day. From choosing the right location, planning your day-of timeline, to designing a more meaningful ceremony, and more!
A friend who will take the time to get to know you and what's important to you before ever getting my camera out. It's important to me that I tell your story as honestly and intentionally as possible.