Northern Michigan Elopement in Leland
I have to admit that winter elopements are pretty awesome. Sure, it can be cold. But it also can be beautiful, and the cold can be juxtaposed with warmth and coziness, like this unforgettable winter elopement in Northern Michigan.
The couple chose Leland- a small town on the Leelanau Peninsula- as the setting for their Michigan elopement. Leland is charming and quaint and features Fishtown- a historical fishing village from the 19th century. Close to Leland, you'll find lots of wilderness, including Houdek Dunes Natural Area (the setting for their ceremony).
Eloping in Northern Michigan
There are so many gorgeous places to elope in Northern Michigan. It isn't very hard to find a beautiful Northern Michigan elopement spot! Of course, if you're planning a Northern Michigan elopement and aren't sure where to go, I'm happy to help. I know lots of amazing elopement locations in Michigan that are both popular and off the beaten path (like this one!).
The couple chose to rent an Airbnb in downtown Leland to get ready and celebrate after the ceremony. After getting dressed and having a light lunch, they did a first look- one with the bride's father and then just the two of them. I love first looks because they can be such a memorable and heartwarming moment.
The Ceremony
After the first looks, we drove to Houdek Dunes and hiked back into the woods. The couple chose a small area deep in the woods, sheltered by gorgeous pines, and next to a small creek. The trees helped keep everyone warm. It was a beautiful spot for an elopement ceremony!
The ceremony was officiated by Abbey of The Just Rite, and included a tree-planting ceremony and a handfasting. The handfasting cord was hand-made by the bride- a loving and thoughtful touch!
It was perfect. Afterward, everyone hugged and cried and laughed. We did a group photo with everyone there, and then the family headed back to the Airbnb.
Wedding Portraits in Northern Michigan
The couple and I wandered around Houdek Dunes for a while, exploring the area. It was peaceful and nice to be totally alone for a bit.
Then we left the dunes and drove back into Leland, for pictures at Fishtown (kind of a must-do!). The sun had already set and gave the light a magical quality, set against the colors of the water and the buildings of Fishtown. It was pretty cold at this point, so we finished up and headed over to the house.
Cozy Celebration at the Leland Airbnb
Back at the house, the table was set, music was playing, and there was homemade hot cocoa bar waiting for us. Everyone was relaxed and in a great mood. I loved the cozy, warm atmosphere and energy.
The couple hired Forrest, a private chef based in Traverse City, to cook and serve dinner. It was a mouth-watering 5-course meal worthy of royalty! There were toasts and laughter around the table. Everyone shared stories and conversed over the most delicious food.
The night wrapped up with a first dance, and then everyone changed into comfy clothes and relaxing by the fire. Drinks were plentiful, as were smiles. :)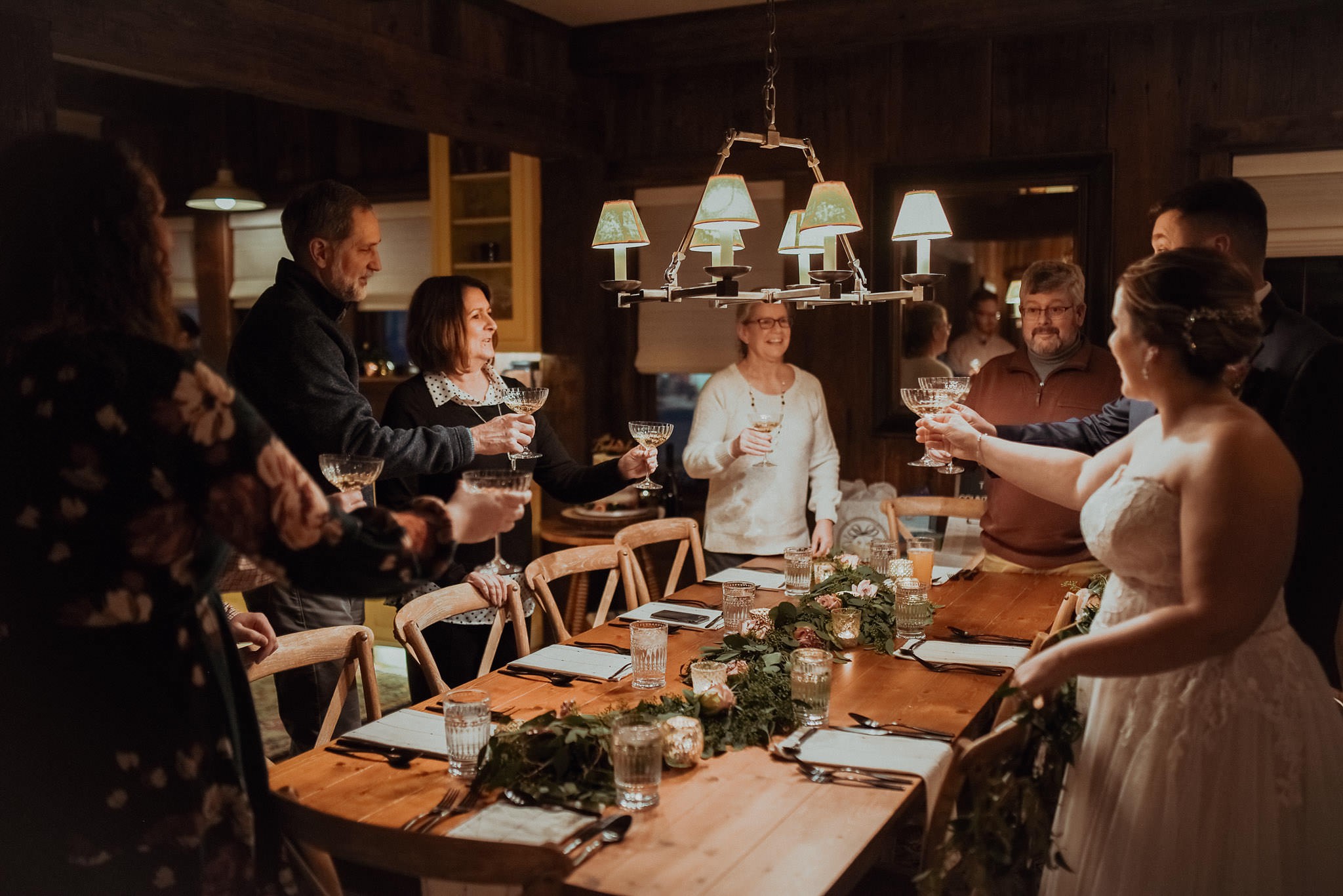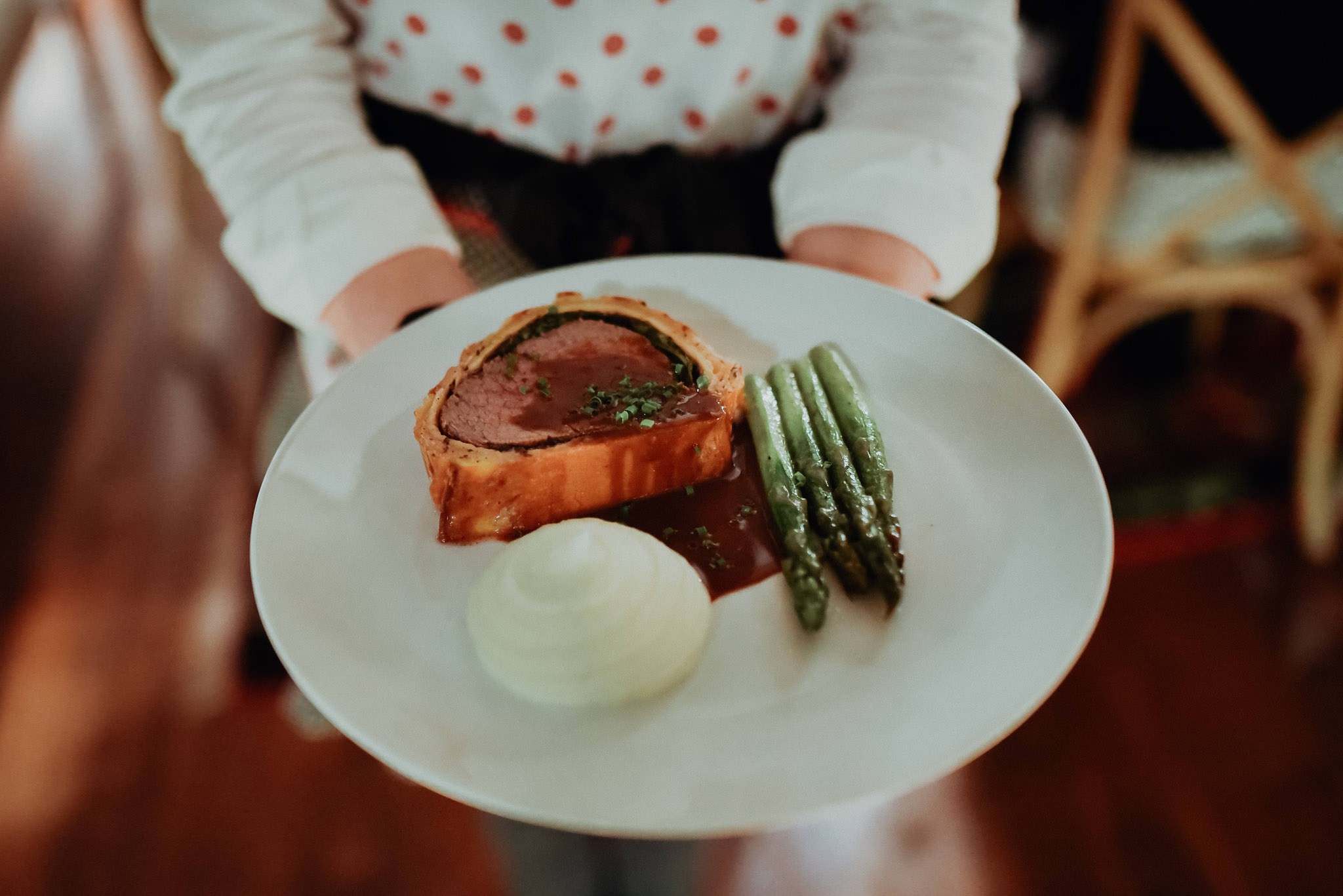 ---
I specialize in Upper Peninsula elopements & intimate weddings and elopements all over Michigan. If you are planning a wedding or elopement in Michigan and are looking for someone to document your story in amazing, meaningful photographs like these, please reach out!