Sample Elopement Timeline
How To Plan An Elopement
Elopements are awesome because you get to do whatever you want on your wedding day! Your elopement can be anything you want it to be. You get to craft your day in a way that is meaningful to you. You don't have to follow the rules! Maybe you want to do your ceremony in the morning, and then spend the rest of the day on an adventure. Maybe you want to include a super fun activity on your wedding day like a hot air balloon ride, horseback riding, or stargazing. The possibilities are endless!
I've put together this sample elopement timeline so you can see an example of what a full day of photography might be like for an elopement.
Sample Elopement Timeline
Brunch/Hair & Makeup 12:30-1:30
Getting Dressed 1:30-2:00
First Look 2:00-2:30
Get to location 2:30-3:15
The Ceremony 3:30-3:45
First dance/champagne toast 3:45-4:00
Couple's Portraits 4:00-5:00
Go to dinner 6:00-7:00
Chill out together 7:30-8:30
Keep in mind, this is just a SAMPLE elopement timeline! Every elopement is unique- there's no right or wrong way to plan your timeline.
As an experienced elopement photographer, I can advise you on how long to plan for the different parts of your day, when the best time is for photos and other things you might not even think to consider. I'm also happy to give you ideas for your ceremony, activities to incorporate into your day, and more!
Breaking It Down
Brunch/Hair & Makeup 12:30-1:30
Your wedding day starts with you rolling out of bed, brushing the sleep out of your eyes, and realizing that this is it- it's really happening! Today's the day you get married to your soul mate! You stretch your body, go grab a cup of joe, and start getting ready. You have plenty of time, so you can relax and take things one at a time, never feeling rushed.
I like to start documenting your story by "setting the scene". Like at the beginning of any good story, it's important to know the details as the story starts to unfold. I want to capture where you were, and what you were doing. What the weather was like that day. What season it was. What you were feeling. All the elements that come together as part of your unique story.
Getting Dressed 1:30-2:00
It's up to you if you want to get dressed together, or separately. I kind of love when couples get ready together- it can be a cozy, tender moment. But it can also be exciting to build some suspense for "the big reveal"!
Do you need photos of you getting ready and getting dressed? Well, that's all part of your wedding day story, so I say YES. I promise to not take any "revealing" photos that show too much while you're getting dressed. So you don't need to worry about that.
First Look 2:00-2:30
If you haven't heard the term, a First Look is a planned time before your ceremony, where the two of you meet and share an intimate moment together. If you haven't seen each other yet, or if you got dressed separately, this is a great time to "reveal" your wedding looks.
If you decide to do a First Look, I'll help you choose a spot, give you options on how to do it, and help direct if needed. This is usually a very powerful, emotional moment that you won't forget!
Get To Your Ceremony Location 2:30-3:15
For the sake of this example, let's say you're going to drive 15 minutes to your ceremony location, park, and then walk/hike another 15-20 minutes to the exact spot you'll do your ceremony.
I'll be taking photos along the way, capturing the excitement and the details. We might stop along the way to grab some portraits.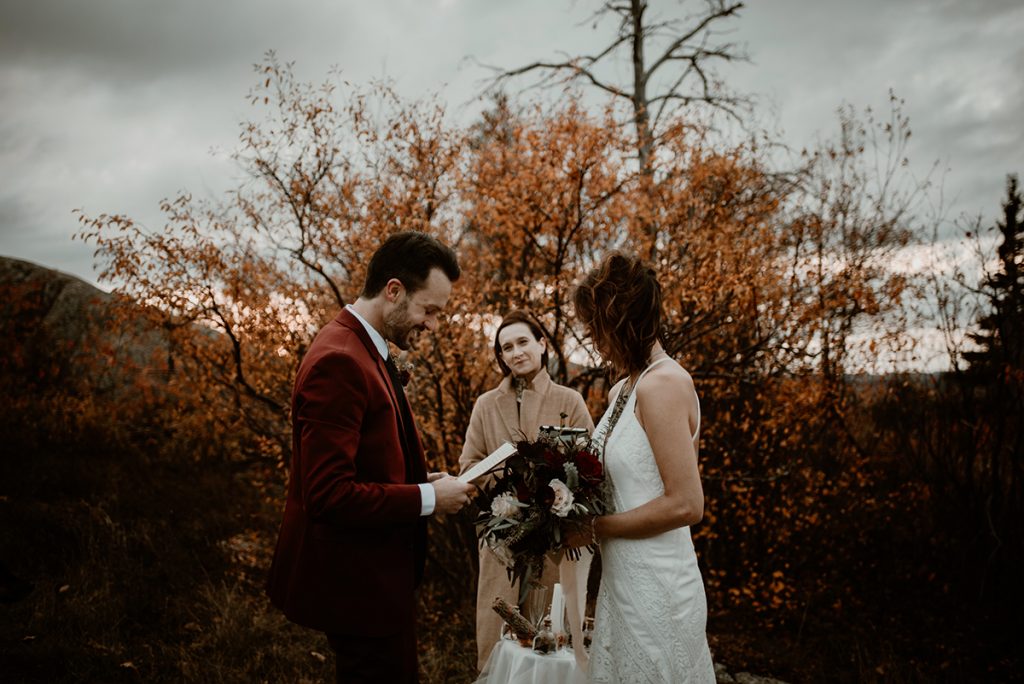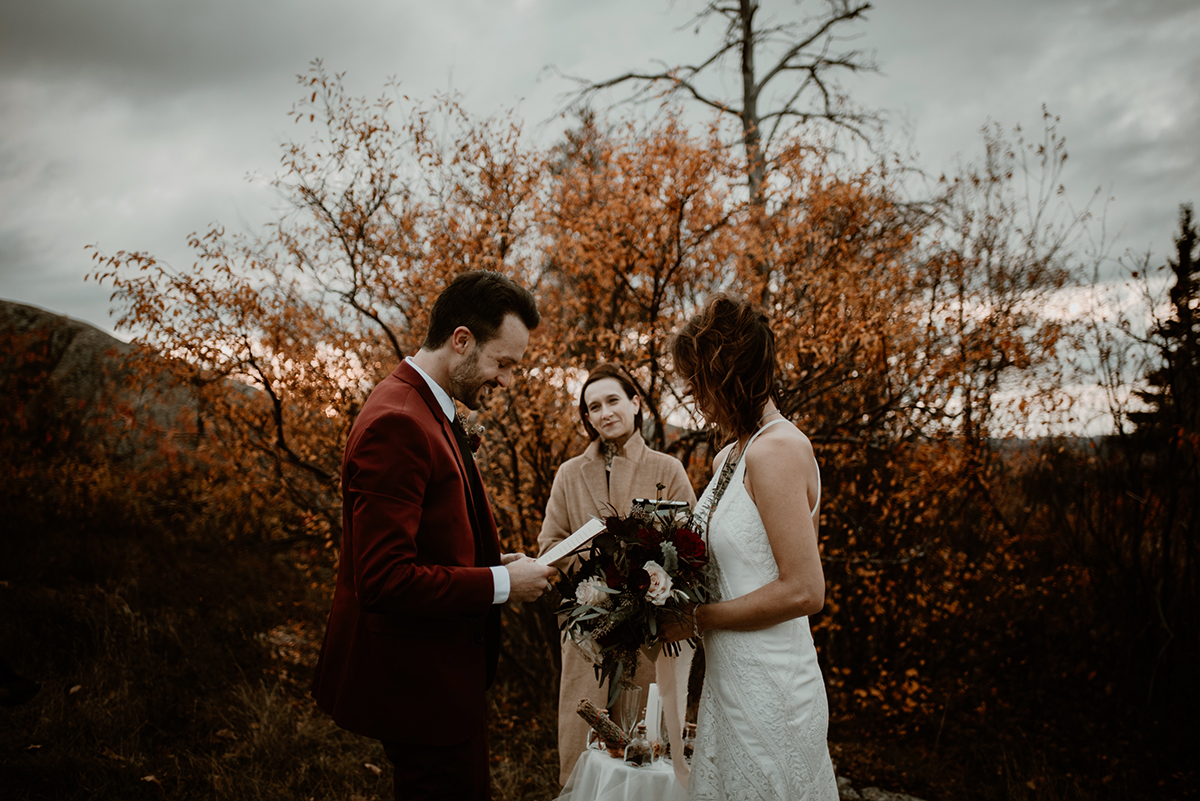 The Ceremony 3:30-3:45
After you get to your ceremony spot, you can take a quick break, freshen up, and get everything ready. Then it's time for you to make it official! Your ceremony isn't long, but it's super special- you did it YOUR WAY and it's absolutely perfect.
You can design a ceremony that's totally unique and feels perfect for you. All ceremonies usually include vows, exchanging rings, a declaration of marriage, and a kiss. Here are some ideas for elements that can make your ceremony special:
Sage smudging ceremony
Handfasting ceremony
Tying an actual knot
Adding cultural or religious elements
Tree planting ceremony
Dipping your rings in saltwater to purify them
Surprises or gifts
Singing a song
Honoring those who couldn't be there
First dance/champagne toast 3:45-4:00
After your ceremony, you sign your marriage license. I'm happy to sign as a witness! I'm also a certified wedding officiant with the Universal Life Church. Although I can't actually perform your ceremony (I'll be taking photos), I'm happy to help you self-officiate and do the legal paperwork for you!
Your song comes on a Bluetooth speaker, and you get to share your first dance together as a married couple. It's magical. And then it's time for a toast- to the happy couple!
Couple's Portraits 4:00-5:00
We'll spend this time relaxing and hanging out while I capture some stunning photos that focus on your connection. We don't actually take photos the entire time- we can explore, look for amazing light, take breaks, eat cake, do shots, whatever!
The BEST time for portraits is when the sun is low in the sky- about two hours before to 30 minutes after sunset. This is when the light is the most flattering and magical! Sometimes it's not possible to do portraits at this time, and that's ok. I can find great light at any time of the day, some times are just easier than others.
Go to dinner 6:00-7:00
After we wrap things up, you head back to the car and go to the place where you have dinner reservations. You share an intimate, romantic dinner together, glowing from the day's events. I'm happy to recommend some superb places, if you need ideas!
Chill out together 7:30-8:30
This is your time to celebrate! You can do it any way that feels right to you. You might want to go get drinks at a local hotspot. Or you might want to cozy up in front of a fireplace. The possibilities are endless, but here are some ideas to get you inspired:
Go to a brewery and sample craft beers
Have a bonfire
Read letters from family and friends
Make s'mores
Create a painting together
Open gifts
Hopefully, you can see from this sample elopement timeline that your wedding day is a WHOLE day- not just a few hours for a ceremony and some photos. Your wedding day story is worthy of being documented in beautiful photographs.
--- Visit my Pinterest boards for elopement ideas, locations, tips, and more planning info. I love helping couples design the wedding day of their dreams. My years of experience as an elopement photographer and guide makes it possible for me to help you with everything from nailing down your ceremony spot, planning out your timeline, to all the logistics. If you're stuck in the planning process or want a helping hand, reach out to me! I'd love to daydream with you and help make your dreams a reality!
---
Lume Photography is a fine art elopement and wedding photographer based in Michigan, travelling worldwide. Behind the camera you'll find me (Andrea)- a girl who loves animals, the wilderness, and love stories. I believe in magic, soulmates, and the hidden forces of energy that connect everything and everyone in the universe. My favorite places are the woods, the mountains, and the ocean. My passion is documenting the moments, emotions and connection between two souls in love, in wild places. I travel to Arizona, Colorado, California, Scotland, and beyond to photograph wild elopements and small destination weddings.