I thought it might be a good idea to show you a sample wedding timeline, and what that looks like from my perspective as a wedding photographer. So you can get an idea of why timelines are so important. Plus, you might learn something that you can use at your own wedding!
Here's how it looks on paper:
Hair & Makeup 11:00-1:00
Getting Dressed 1:30-2:00
Before the Ceremony 2:00-3:00
The Ceremony 3:30-4:00
After the Ceremony 4:00-4:15
Cocktail Hour/Guest Entertainment 4:00-6:00
Family Portraits 4:10-4:20
Wedding Party Portraits 4:20-4:30
Couple's Photos 4:30-5:30
Reception Entrance 5:45-5:50
Speeches 5:50-6:00
Dinner 6:00-7:00
Cut the Cake 6:45
First Dance 7:15
Other dances 7:18-7:30
Dance Floor Opens: 7:30
And next I'll break it down for you. Each part of your wedding day will have it's own significance- it's own chapter in your story.
Hair & Makeup 11:00-1:00
You wake up feeling excited and anxious. Today's your wedding day! You grab a coffee & light breakfast and get started with pre-wedding activities. First things first- hair and makeup. You might choose DIY (like me) or get some professional styling. If you're having your hair and makeup professionally styled, you can plan on it taking around an hour. That's just for you. If you have bridesmaids, add an extra 30-45 minutes per.
When I arrive to start documenting your day, I start by "setting the scene". I want to tell the story of your day as it actually happened, so when you look back on your photos you can re-live it over and over. All the details matter- where were you at? What were you doing? What was the weather like that day? Who was with you? What was the energy/mood like?
Getting Dressed 1:30-2:00
You might notice I left a half hour between Hair & Makeup and Getting Dressed. That's because I'm a firm believer in allowing extra time for unplanned stuff. Maybe your hair and makeup takes a little longer than you expected. Maybe your anxiety does its thing and you need a longer bathroom break. I was at one wedding recently where a glass fell in the bathroom and exploded. We had to wait for someone to come with cleaning equipment to get the bathroom safe to walk in. It's better to leave extra time in your plan than to have to stress if something happens and you don't have extra time.
Getting dressed on a wedding day will take longer than you think. On any other day it takes just a minute or two to get your clothes on, and you're ready to face the day. But weddings are different. Guys might have to figure out how to tie a tie, fold a pocket square, or even press a shirt. Girls have the dress to do up, which is usually quite an undertaking.
No need to worry…
I promise I won't take any embarrassing or "revealing" photos of you while you're getting dressed, but I think it's important to include some as part of your story.
Before the Ceremony 2:00-3:00
It's a good idea to leave an hour or so before your ceremony. You might want to spend a few minutes along with your parent(s). Eat a light snack so your blood sugar levels out. Exchange gifts or letters with your fiancé. Or do a "first look". You'll want plenty of time to wrap up last minute details, gather your necessities, and get to the ceremony location.
If you do a First Look, you might want to do wedding party and/or family portraits at the same time. This gets them out of the way and frees up time after your ceremony. Plus, everyone's fresh and looking their best!
Depending on the circumstances, I might take a few other portraits during the time before the ceremony. As you know, I like to focus on moments rather than portraits, but now's a good time to grab some quick photos of you alone, with a parent, or with anyone else who happens to be around.
The Ceremony 3:30-4:00
Once you arrive at your ceremony location, you should have a few minutes to get ready and get in your places. Then, it's time for the main event! A typical ceremony lasts 20-30 minutes, with some ceremonies lasting an hour or more.
My goal is to capture your ceremony in a natural, artistic way. From walking down the aisle, to the reactions when you see each other, the reactions of your parents and guests, to your first kiss as a married couple, I'll be stopping time in every image.
After the Ceremony 4:00-4:15
You'll exit the ceremony, charged with excitement and joy! People will hug you, cry tears of happiness, and congratulate you. You might need this time to sign your marriage license and gather your family for some quick portraits.
Fun idea for the ceremony exit: Have your guests line up on two sides as you exit the ceremony location. Then they can cheer you as you exit. It makes for a great photo! If the venue allows it, you could even have them throw petals or eco-friendly confetti.
Cocktail Hour/Guest Entertainment 4:00-6:00
If your ceremony and reception are in the same place, and we aren't driving anywhere to do photos, your cocktail hour can probably fit into the traditional "hour". We do your family and wedding party photos right after the ceremony, at the altar or right near it. Then we go do your couple's photos. Just remember, the longer we have to do your couple's photos, the better your photos will be, and the more time you'll have to relax before the events of the reception begin.
If your ceremony and reception are at different locations, or if you plan on traveling to a separate location for photos, you'll need more time. If your guests have food, drinks and a little entertainment, they'll be having a great time and we can go get your photos done.
Ideas for guest entertainment:
Photo booth
Games
Live music
Firepit/roasting marshmallows
Food stations
Strolling magician/card tricks
Crafts
Polaroid cameras
Guest signing book or similar
Time capsule for guests to add advice and well-wishes, that you'll open on your first anniversary.
Family Portraits 4:10-4:20
This is where the online worksheet I sent you really pays off. We already have all the formal family group photos planned out, so it's just a matter of doing them. If everyone's present and cooperative, this will be a breeze! And then everyone can get back to the celebration.
Wedding Party Portraits 4:20-4:30
I like to keep these as simple and quick as possible. One nice, formal portrait of the entire party. Each side of the party. And a few more casual ones. Think about how important these photos really are to you- do you absolutely NEED the cheesy wedding party photos you saw on Pinterest? If it means you'll have less time for more important things? After these are done, you can take 5 minutes to freshen up and get ready for your couple's photos.
Couple's Photos 4:30-5:30
45 minutes, up to two hours, is ideal for doing couple's photos with me. Why so much time? Because this is when you get to relax, be together, and really savor the moment on your wedding day. We don't spend every minute of this time taking photos, but the more time we have, the better your photos will be!
Example scenario:
We have to drive to get to a separate location where you can be away from distractions (10 minutes). When we get there, we walk until we find a good spot with perfect lighting (5 minutes). Before we start taking photos, I go over the directions for you and tell you exactly what we'll be doing (5 minutes). We start taking photos and exploring the location, looking for great light (10 minutes).
Time Alone
In the middle of this time, I want the two of you to spend some time alone- no photos, no distractions- just to be together and enjoy it (5 minutes, or as long as you'd like). We walk back, grabbing some more photos on the way (5 minutes), and then drive back to the celebration (10 min). You'll want to be back in time to walk in, drop off any belongings, freshen up if needed, and get in your places for the wedding party entrance (15 min). That's a total of one hour and five minutes.
Depending on how far away the location is, you might need more time than an hour. If you don't want to leave the wedding or the area directly surrounding it, I at least recommend we go far away enough that you can focus on each other without distractions. I'm happy to provide suggestions for locations that will work well!
How important are these photos to you?
I'm guessing one of the reason's you loved with my work to begin with was because of the photos you saw in my portfolio. Those stunning, emotional photos that focus on the connection between two souls in love. It takes some time to get images like those. So it's up to you how important these are, and how good you want them to be.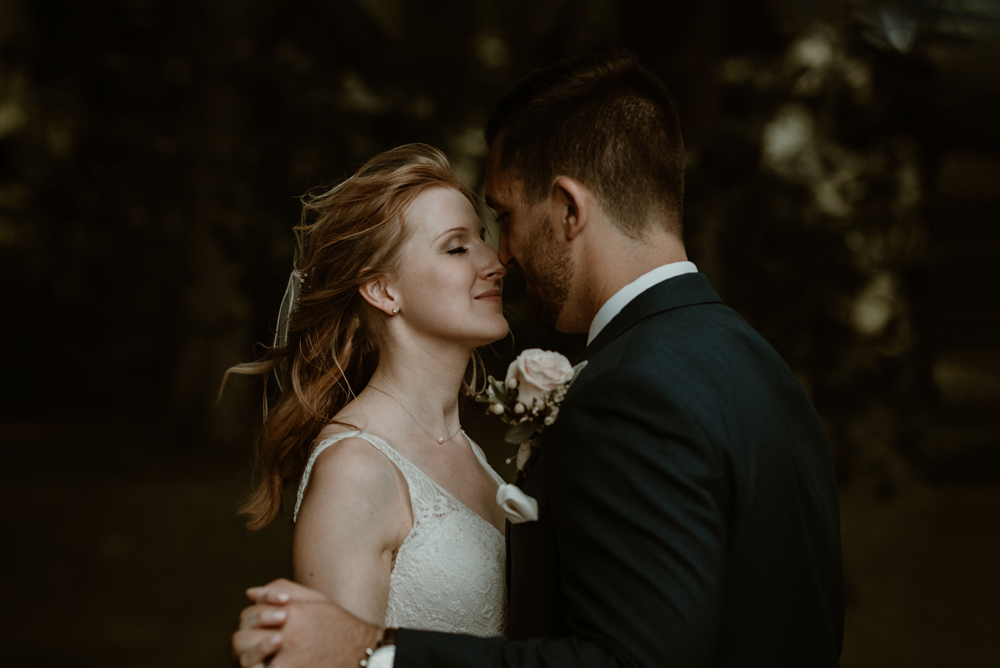 Reception Entrance 5:45-5:50
Your guests have been waiting and the excitement has been building! Now's the time for your wedding party to get formally introduced, followed by the newly wedded couple- you!
Here's a fun idea for the entrance: Have everyone walk in when announced, do a crazy dance, then line up on the dance floor in two parallel lines to form a "tunnel" when the two of you are announced.
Speeches 5:50-6:00
Dinner 6:00-7:00
Cut the Cake 6:45
First Dance 7:15
You'll share your first dance together as a married couple, surrounded by loved ones. Any other special dances can follow this. If you want to get the dance floor open as quickly as possible, consider condensing the parent dances. Like combining them into one dance (you're all dancing to the same song) and then invite everyone on to the floor!
Dance Floor Opens: 7:30
Now's the time to let it all out! Your wedding day was AMAZING and you're ready to celebrate, as you should!
Of course, every wedding is different with a unique timeline. But I hope this sample wedding timeline gives you some insight on how to plan your own timeline to avoid stress and unnecessary pressure on your wedding day. So when you look back on your photographs, years down the road, you'll re-live the most amazing day together!
---
Lume Photography is a fine art elopement and wedding photographer based in Michigan, travelling worldwide. Behind the camera you'll find me (Andrea)- a girl who loves animals, the wilderness, and love stories. I believe in magic, soulmates, and the hidden forces of energy that connect everything and everyone in the universe. My favorite places are the woods, the mountains, and the ocean. My passion is documenting the moments, emotions and connection between two souls in love, in wild places. I travel to Arizona, Colorado, California, Scotland, and beyond to photograph wild elopements and small destination weddings.