The Wedding Photography Contract
Why the Contract is Important
Having a legal agreement in place is a good idea, for me as a business and for you as well. It explains all the terms of our relationship, what to expect, and protects everyone in case something goes wrong. I know it's easy to just skim through and sign at the bottom (a habit I'm guilty of myself), but I'd really like you to read it thoroughly before you sign. I've put a ton of time and effort into it, to make sure it's crystal clear and even had my attorney help me with it to ensure it's solid.
In Plain English
To make it super easy for you to understand, I'll go through the most important clauses that you'll find in my wedding contract and explain, in plain English, what they mean.
Fee and Retainer
The retainer is necessary to reserve your wedding date in my books. It makes it so I'm not available to book any other weddings that day. Because of that, the retainer is non-refundable. The retainer amount goes toward the total amount due for your collection.
Location & Vendor Recommendations
I'm more than happy to recommend locations and other vendors to you! It's one of the things that I think makes Lume Photography awesome. I'm really good at scouting out locations that are a perfect fit. And I have a HUGE network of vendors I work with.
That being said, I'm not a wedding planner. So if I recommend a vendor, it's your responsibility to contact them and decide if you want to reserve them or not. Even though I use my best judgement when making recommendations, I can't be liable for the work of 3rd parties. Or if something goes wrong with the location. But I promise to do my best to make sure nothing will go wrong!
Exclusive Service Provider
You're hiring me because you like the work I do, feel my style is a good fit, like me as a person, and trust me to document your story. And I'm really excited to do it! But it's important that I be the only professional photographer who's capturing the photos. It wouldn't be cool for you to go and book another photographer- that would mean you actually don't trust me. I've actually NEVER had this happen, but it's in the contract because you never know.
Just to be clear- I'm TOTALLY ok with any of your guests bringing their camera and taking photos, if you are! As long as they're not using the photos for commercial purposes or trying to start a photography business with them. And as long as they don't interfere with me. I'm very easy-going, and move like a ninja, so it would take a lot to get on my nerves, lol!
Quality of Service and Communication
I know your photos are important to you, otherwise, you wouldn't be working with me. So it's important that we communicate with each other. Communication is key! Let me know if you need anything, are worried about anything, or have any questions. And I'll do the same. That way no one feels left in the dark.
Artistic Style
By the time you've decided to book me as your wedding photographer, you've had plenty of time to look at my photos and see what they look like. And you've been given tons of information on my approach and what my style is like. So you know what to expect from me. What you'll get is consistent with what you see on my website and online presence.
Non-Guarantee
I do guarantee to you that I'll be doing the best I can to make sure your photos are the best they can be, and that you have the best experience possible.
However, I can't guarantee that I'll be able to get every. single. photo. that you expect. Life is unpredictable. If I could guarantee that I would. But I promise to do my best!
Meals and Breaks
I'm a human being and have basic needs. Although I wish I could go all day on my feet without going to the bathroom or eating, I can't.
I'm experienced enough to know when the best times are for me to take a bathroom break. And it's actually pretty great if I get to share a meal with your guests. It gives me a chance to mingle and make people more comfortable with me, which means better photos for you.
Image Selection, Processing, Retouching and Edits
That's a mouthful. Lol! But seriously- this is important stuff! I want you to know exactly what to expect. After I am done with taking photos, there's a lot of work for me to do. I have to select the "keepers" out of all the photos I captured. I'll be honest- I deliver a LOT of photos. You don't have to worry about me keeping photos from you or anything like that. If certain ones don't make the cut, it's because of a good reason- maybe I was testing my settings and the photo is all black. Or maybe it's a photo of my foot (it happens!). Or, it could be a duplicate of another photo. Point is, I don't deliver every single frame, but you won't have to worry.
When I edit the photos, I process them all with tender loving care. I want every single photo you receive to be the best it can be.
Delivery
I want you to have your photos as soon as possible, but I also want to make sure when you get your photos that they're AMAZING. So I guarantee you'll have all of your photos within six weeks of your wedding. I'll even give you a sneak peek within a few days, so you have something while you wait. The wait is worth it, I promise!
Client Use of Images
These are your photos, and you can use them however you'd like, as long as it's for personal use.
You can post your images on social media! Just don't change the way they look by adding color filters or anything like that. Thank you for respecting the work I do!
And if you're able, please credit or tag Lume Photography (@lumephoto). It's very much appreciated! It's the best way to spread the word and help me out, and it doesn't cost a thing!
Copyright
Copyright refers to the legal right of the owner of intellectual property. The person who created the property (in this case, photographs) automatically holds the copyrights. In simpler terms, copyright is the right to copy. This means that the original creators of products and anyone they give authorization to are the only ones with the exclusive right to reproduce the work.
The photography contract includes a clause that gives you the right to use your photos in any way, as long as it's for personal use, forever.
Click here for more info on photo copyrights.
Release
Essentially, you're giving me permission to put images on my website, and use for advertising. In order for me to get business, I have to show what I do. so this is kind of important. :)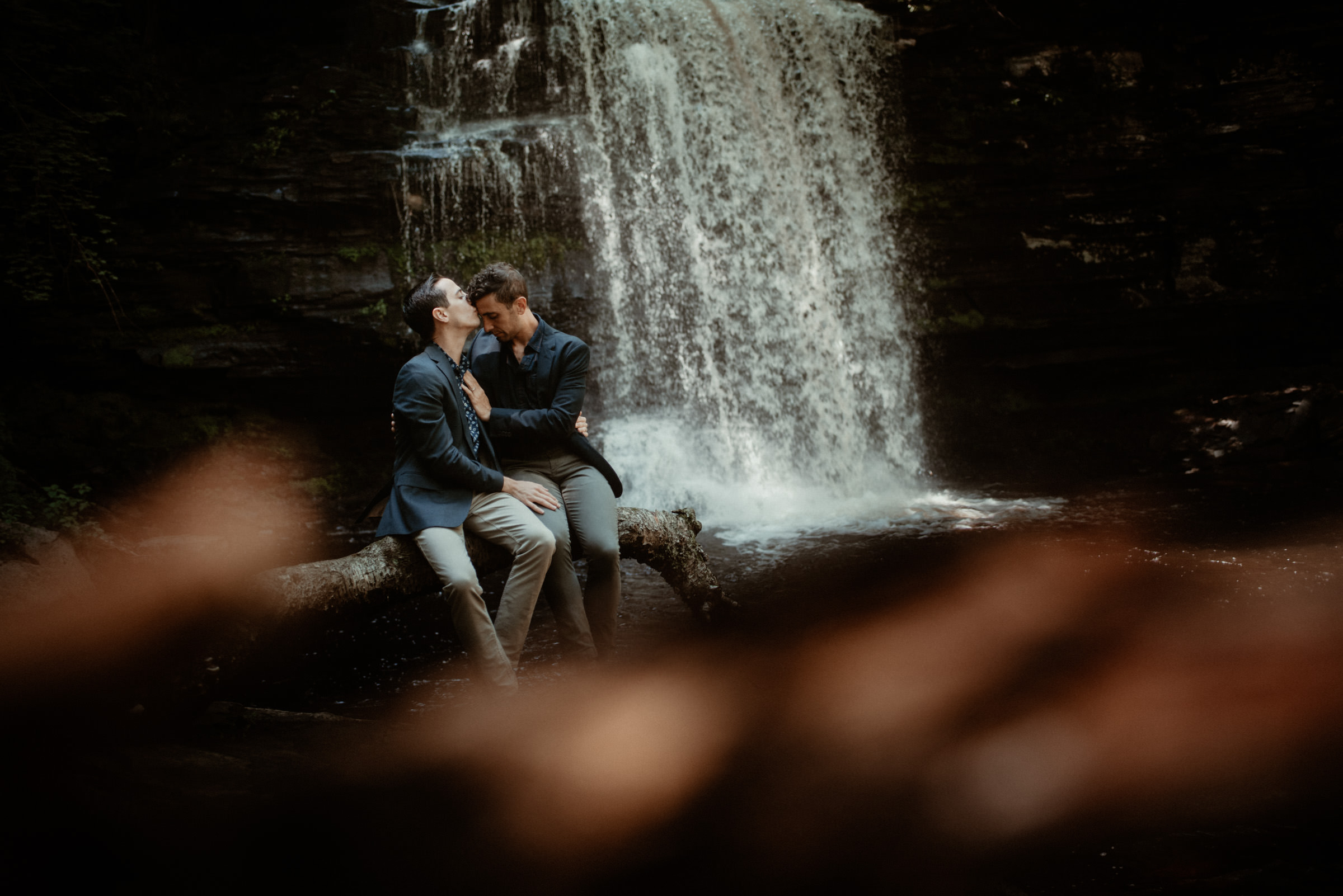 Rescheduling/Cancellation
Sometimes the totally unexpected happens. Lightning strikes. Auto accidents. The plague. It's never good, but this clause protects us all in the case of such an emergency. If something happens to you that's a major emergency or act of God, you have the ability to reschedule or cancel.
If you cancel and it's outside of 30 days prior to your wedding, I'll refund all the money you've paid (except for the non-refundable retainer. That's because I blocked that day off just for you and now I have to try to re-book it.) If you cancel within 30 days of your wedding, there is no refund. That's because in all likelihood, I won't be able to re-book that date. I do have a heart, though, and if I can re-book a date, I will refund you in full.
I'm more than happy to reschedule in the case of an emergency. As long as it's a date I'm available! If the reason you're rescheduling isn't because of a major emergency, there is a $250 rescheduling fee, but all the money you've paid & your retainer will transfer to the new date.
Location Limitations & Leave No Trace
The Earth is our home and it's our responsibility to take care of it. I'll do my best to protect and preserve nature and wild places. If there are park rules or regulations, I will follow them. Don't expect me to tread on land that is off-limits, or enter spaces that are closed off. Don't litter. Don't be a jerk.
Click here for more info on Leave No Trace.
Travel & Additional Costs
I want to keep things simple and straightforward. My prices are a flat rate. They include all additional expenses and costs that might come up. I'll take care of everything on my end.
If there are permits required for locations, that's something you'll need to provide. Although I usually know if one is needed, it's ultimately up to you to check and obtain the correct permits.
If I'm traveling outside the US, I know the protocols to do so without conflict. I'll do everything I can to make sure I'm where I'm supposed to be, when I'm supposed to be there. Ready to give it my all.
Failure to Perform
Hopefully, we'll never have to worry about this, but I have to have a backup plan just in case. If something were to happen to me and I couldn't make it to your wedding- like a terrible car accident or something- I have your back. I'll have one of my photography associates step in for me. They are trained by me to provide the same level of service, the same quality of photos, and the same great experience on the day-of. I'll try to make sure you get to meet them before your wedding day, so it's not like a total stranger is showing up.
In the EXTREMELY unlikely even my associates aren't available, then I'd find another photographer, from within my network, who I'm confident will do the same.
Liability & Indemnification
Also HIGHLY unlikely, but necessary because you never know what can happen. If, on the way home from your wedding, my car is struck by lightning, catches fire, my equipment and cameras melt, and your wedding photos are lost, I will refund all the money you paid.
If you or a guest is injured by tripping over my camera bag, or if you really want me to take a photo of you standing together on a boulder, and you fall, I can't be held liable for that. I won't ever ask you to do anything you're uncomfortable with, and safety is one of my biggest priorities, but again, things can happen.
If one of your wedding guests takes my camera from me and throws it into a lake where it's un-reachable, I'm not liable for the photos that are missing.
Like I said, HIGHLY unlikely. ;)
Right of Withdrawl
This clause gives me the right to cancel this contract if something happens like: you change your wedding date and I'm not available, you refuse to pay, or you drop off the face of the earth and I'm unable to contact you after trying for months in every way possible.
Arbitration
If there ever was any kind of dispute about this contract, we would take it to a mediator, instead of having to go through the whole court system. It's easier, less expensive, and faster for everyone.
Peace of Mind
Hopefully that explains everything and all your questions are answered. I know it's a lot of information, but it's important to me to be transparent and let you know I have all of us covered. Your peace of mind is important to me! If you ever have any questions, just let me know!
I'm so excited for us to get started- and I can't wait to photograph your wedding day!
---
Lume Photography is a fine art elopement and wedding photographer based in Michigan, traveling worldwide. Behind the camera you'll find me (Andrea)- a girl who loves animals, the wilderness, and love stories. I believe in magic, soulmates, and the hidden forces of energy that connect everything and everyone in the universe. My favorite places are the woods, the mountains, and the ocean. My passion is documenting the moments, emotions, and connection between two souls in love, in wild places. I travel to Arizona, Colorado, California, Scotland, and beyond to photograph wild elopements and small destination weddings.