Tips For A Perfect Winter Photoshoot
Winter in the Upper Peninsula can be a magical time for photos. Frozen rivers and waterfalls, a blanket of snow, and frosty pines all make up a winter wonderland. It can be cold. Very cold. But don't let that deter you- as long as you are prepared, you can have an amazing time!
Here are some tips for making sure you have all the essentials for a dreamy winter photoshoot.
To make things easy and convenient, I'm going to include links to some of my favorite items. These are all things I own that I love and recommend without hesitation. I might receive a small commission if you buy something from a link, which helps me out a little, too!
Warm Layers
When planning for a winter photoshoot, make sure to bring along layers of clothing in order to stay warm and adjust to any changes in temperature. This will allow you and your partner to look comfortable during the whole session!
Start with a lightweight layer, then add a medium-weight, insulating layer like a sweater or fleece jacket. Finally, add an outer shell that's waterproof and windproof – for example, a down-filled coat – to ensure you stay warm and dry no matter the weather conditions. Remember: the more layers you have on hand, the better prepared you can be for whatever winter throws your way!
Outfit Colors
I recommend choosing darker neutral colors and earth tones for your winter photoshoot. The muted shades of nature – like slate and forest greens, grays, browns, rusts, and blues – compliment the snow-covered backdrop of a winter scene. They provide a subtle contrast against the bright white snow without looking too flashy or overwhelming.
Hand/Foot Warmers
Hand and foot warmers can come in handy when you need an extra source of warmth on colder days. These should be easy enough to carry around in your pockets while taking photos together.
Gloves, Hats, & Ear Warmers
Gloves and something to keep your ears warm are essential items that couples should bring along with them while preparing for a winter photoshoot. These will help keep you both insulated against icy winds and cold temperatures.
Something Warm To Drink
Hot cocoa or tea are great options for keeping warm from the inside out. Not only are they tasty, but they'll provide warmth throughout your time together. If you drink alcohol, bringing along some of those little liquor bottles to pour in your beverage or drink as shots can be a great way to warm the belly. Bring one for me, too!
Fleece-Lined Leggings (for Dresses)
If someone has opted for a dress during their photoshoot, they should consider adding leggings underneath for extra warmth! Look for ones with fleece lining if possible since they offer maximum coziness during wintry days. Nude-colored leggings like these work great and if they end up in a photo they are barely noticeable! I love that they're available in so many different colors and sizes.
Warm & Comfortable Footwear With Good Traction
Couples should consider bringing shoes or boots that are both warm and comfortable but also have good traction on slippery surfaces such as snow and ice. This way everyone is able to move around comfortably without worrying about slipping hazards!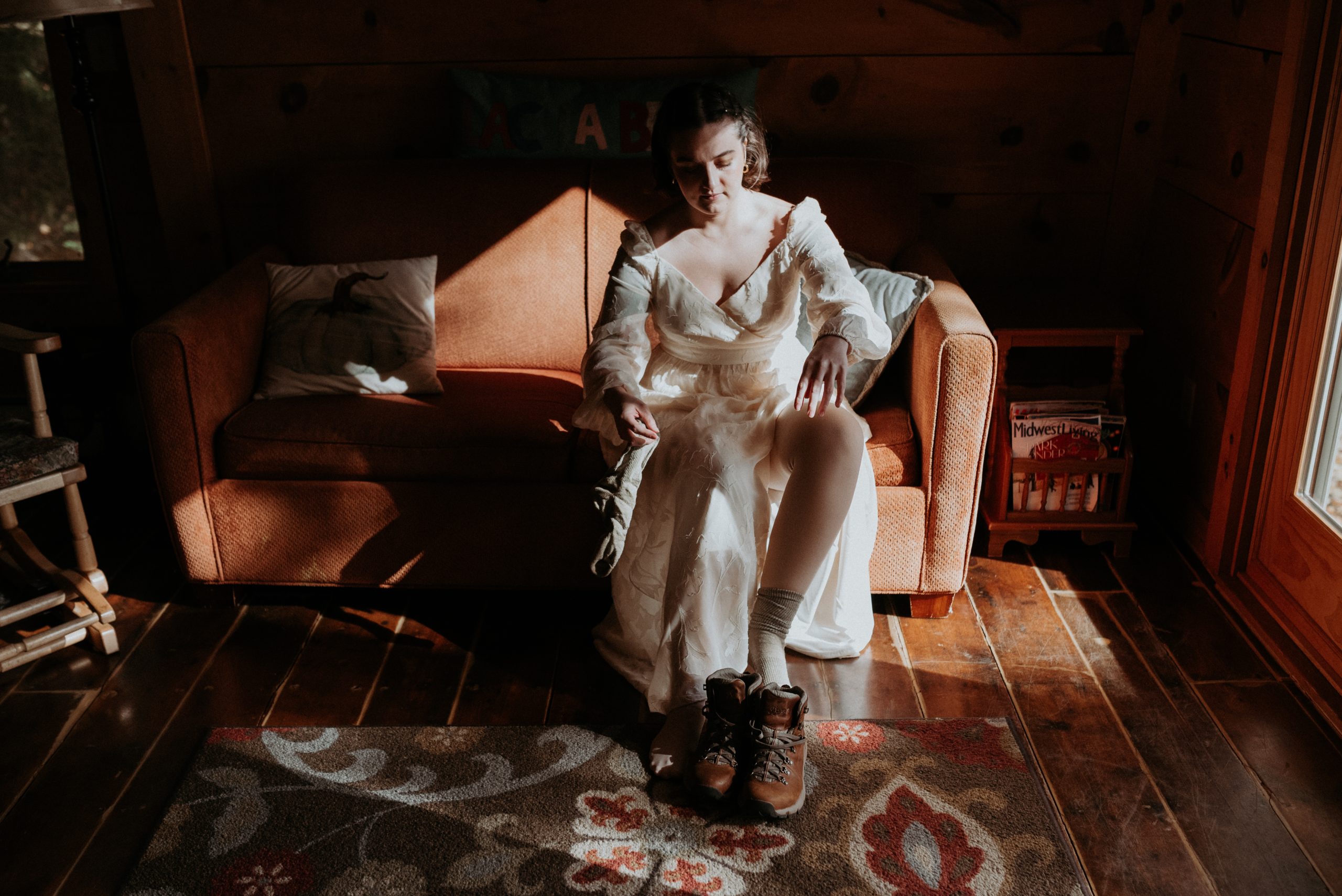 Snowshoes & Crampons
Crampons attach to shoes or boots and provide extra grip on icy surfaces. I highly recommend them if there might be packed snow and/or icy patches in order to avoid any further slipping hazards. I rarely take mine off during the winter! These are the ones I have and love.
When there are more than a couple inches of snow present at the shoot location, couples should make sure to bring along snowshoes for easier movement.