Top 20 Airbnb's for your Michigan Elopement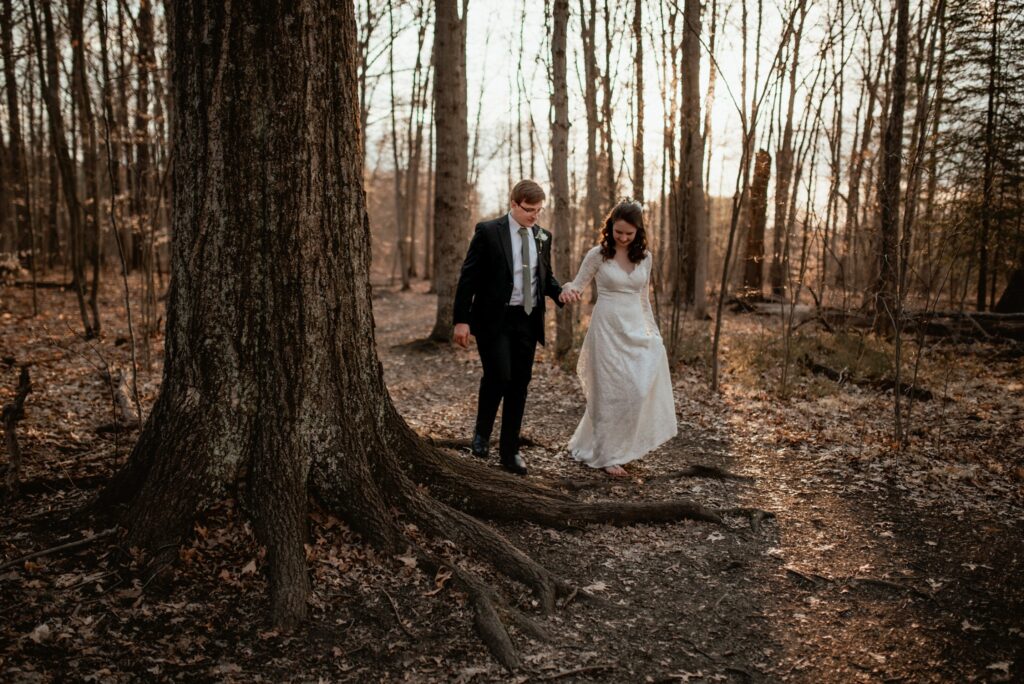 20 of the best Michigan Airbnb's for your elopement or intimate wedding
Michigan is home to a lot of great features. From its beautiful lakes, wonderful forests, and quaint towns – Michigan has something for everyone! If you're looking for the perfect spot to tie the knot with your significant other then check out my list of 20 Airbnb's in Michigan that can suit all types of couples- from those who want an intimate ceremony to those who are more interested in an unforgettable adventure in "the mitten."
Here are my favorite Airbnb's in Michigan for elopements and intimate weddings:
Keweenaw Peninsula Airbnb's
Located in the far north of the Upper Peninsula, Michigan's Keweenaw Peninsula is home to volcanic Lake Superior shoreline, rugged landscapes, waterfalls, mountains, and lots of wildlife. It's my favorite place on earth (and my home, now that I moved here!)
1. Keweenaw Castle, Eagle Harbor
2. The Nest at Great Sand Bay. Eagle Harbor
3. Cozy Log Cabin on the Water, Copper Harbor
4. Spyglass, Grant Township
5. Sand Point Chalet, Lac La Belle
Upper Peninsula Airbnb's
Michigan's Upper Peninsula is a treasure. It's a land of wildlife such as bears, moose, wolves and eagles. There are mountains, waterfalls, sand dunes, thousands of miles of shoreline, and even Michigan's own Grand Canyon!
6. Lake House on Lake Michigamme, Champion
7. Point of the Point, Marquette
8. Valhalla on Monocle Lake, Brimley
9. Gitchee Gumee EcoLodge, Ontonagon
10. Private Lake Michigan Chalet, Garden
Northern Michigan Airbnb's
The northern part of Michigan's Lower Peninsula is an area of relaxing nature, outdoor adventures, and fun activities. From historic Mackinac Island to the Grand Traverse region, all the way to Lake Huron's coastline, there are plenty of hidden treasures.
11. Cross Trees Cottage, Mackinac Island
12. Driftwood & Stones, Suttons Bay
13. Clarity House Chalet, Glen Arbor
14. Brothers Bay Retreat, Alpena
15. Fernside A-frame, Indian River
Other Michigan Airbnb's
I don't want to leave out Michigan's west side, the lower part, or the "Thumb" area, so here are a few favorite elopement stays in those locations!
16. Seaside Retreat, Whitehall
17. Deer Path River Retreat, Buchanan
18. Lakefront Getaway, Port Hope
19. Victorian Romance, Frankenmuth
20. Romantic stone house, Ludington
Whether you're looking for a secluded cabin in the woods or an idyllic lakeside retreat with all of your friends and family nearby, there are Airbnb's to suit every style. If you're planning a Michigan elopement I want to help! I'd love nothing more than to help you design an unforgettable experience and document this perfect day for you! What do YOU think? I would LOVE to hear from you!
Andrea