This is a guide for my couples that want to have amazing wedding photos that they'll love and cherish for generations. If you aren't my client and came across this guide, that's ok- read it anyway! Everything here will still be a great benefit to you if you care about having the best wedding photos possible!
Since I have many years of experience in photographing (and planning) weddings, I want to share with you some of the things that will help you have the best photos, but also significantly reduce your stress on the day of your wedding.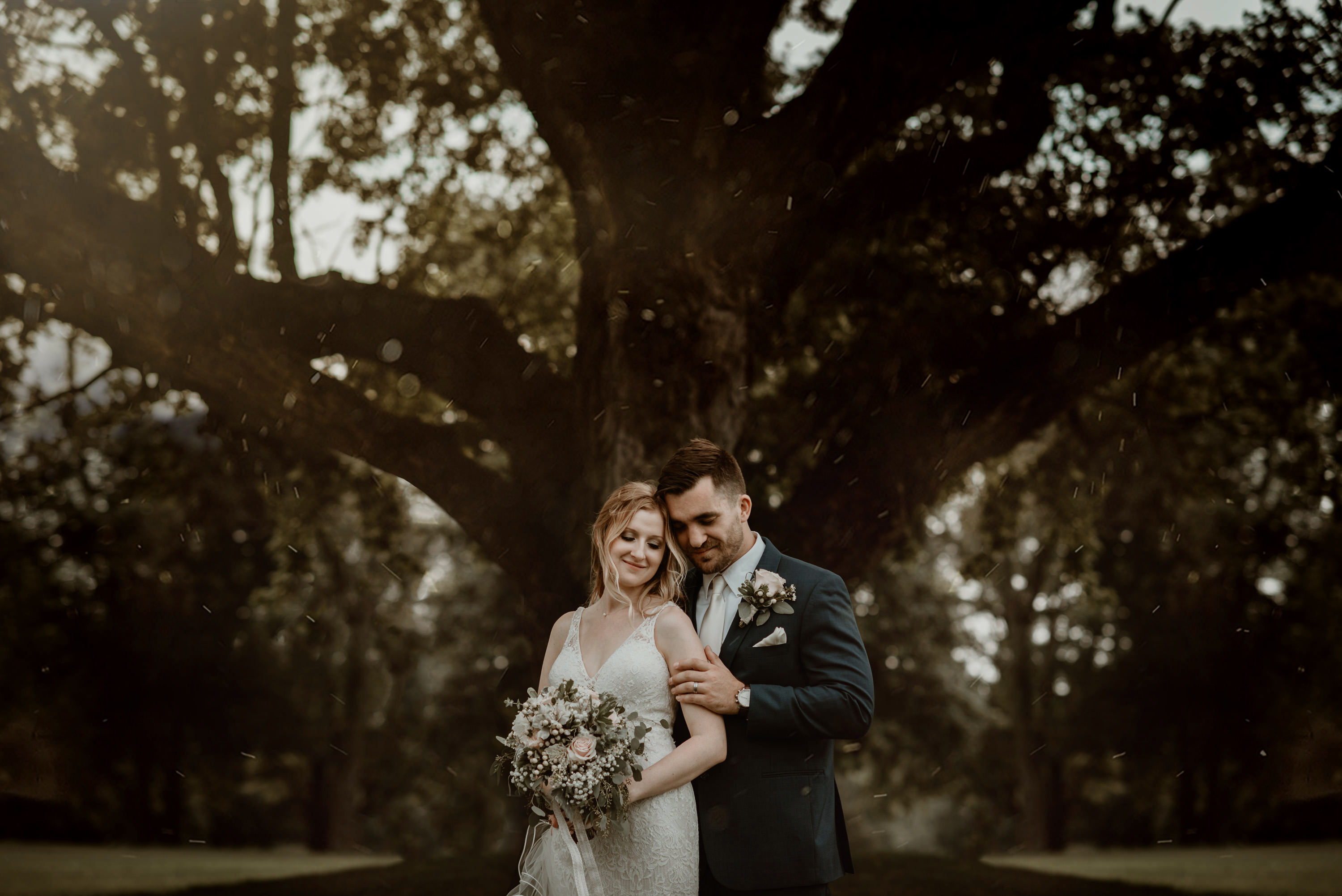 YOUR WEDDING CLOTHES
Clothing has such an impact on how your photos turn out. Think about some of the best movies and TV series- the wardrobe is well thought out and goes perfectly with the time period and feeling that you get while watching. Clothes can influence your emotions, and have an effect on the quality of photos, just like the setting can.
Clothing can influence us by colors, fabrics, textures, movement, and style. A long, flowing dress with lots of movement can be very soft and romantic. Lace and intricate beaded details can invoke a vintage style. Patterns and textures on men can take a boring suit to the next level and give it some character.
If you're buying a wedding dress, look for a dress that compliments your shape, but that also enhances the vibe of your wedding. If you're buying or renting a suit or tux, make sure it meshes with the overall theme of your day. (If you'd like professional advice and 20% off tuxedo and suit rentals, let me know and I'll hook you up with my personal concierge at The Black Tux.)
Make sure your wedding day attire fits properly! Clothing that doesn't fit correctly will not photograph well. Bulges, tight spots, and looseness will be amplified in photos. I highly recommend getting your clothing/dress professionally fitted and checked again not long before your wedding day.
Click here for some Wedding Wardrobe Inspiration!
LIGHTING
The setting and clothing are very important to how your photos will turn out, and lighting is the third factor. Great lighting can turn just about any photo into a masterpiece, and bad lighting can ruin a photo even in the most gorgeous setting.
Inside, I look for natural light- light that isn't coming from lamps or ceiling lights. When you have different light sources in a room, each light tends to have a different color (fluorescent lights are green, led lights are blue, incandescent lights are orange) and even though your eyes don't notice it, mixing them together can be awful in photos. The best indoor light is next to a big window, with the rest of the lights turned off.
If your ceremony is indoors, you might not have much control over the lighting. If it's not possible to have natural light coming in, consider adding mood lighting like string lights, candles, or lanterns to warm up the space (if the venue allows it).
Outdoors, the best light is when it's overcast or in open shade. The worst light is full, mid-day sun and speckled light usually caused by sunlight filtering through trees overhead. It's important for the lighting to be as even as possible, and to avoid harsh light coming from directly above. If you're having your ceremony midday outside, try to have the light coming from behind you (the couple).
Good lighting examples: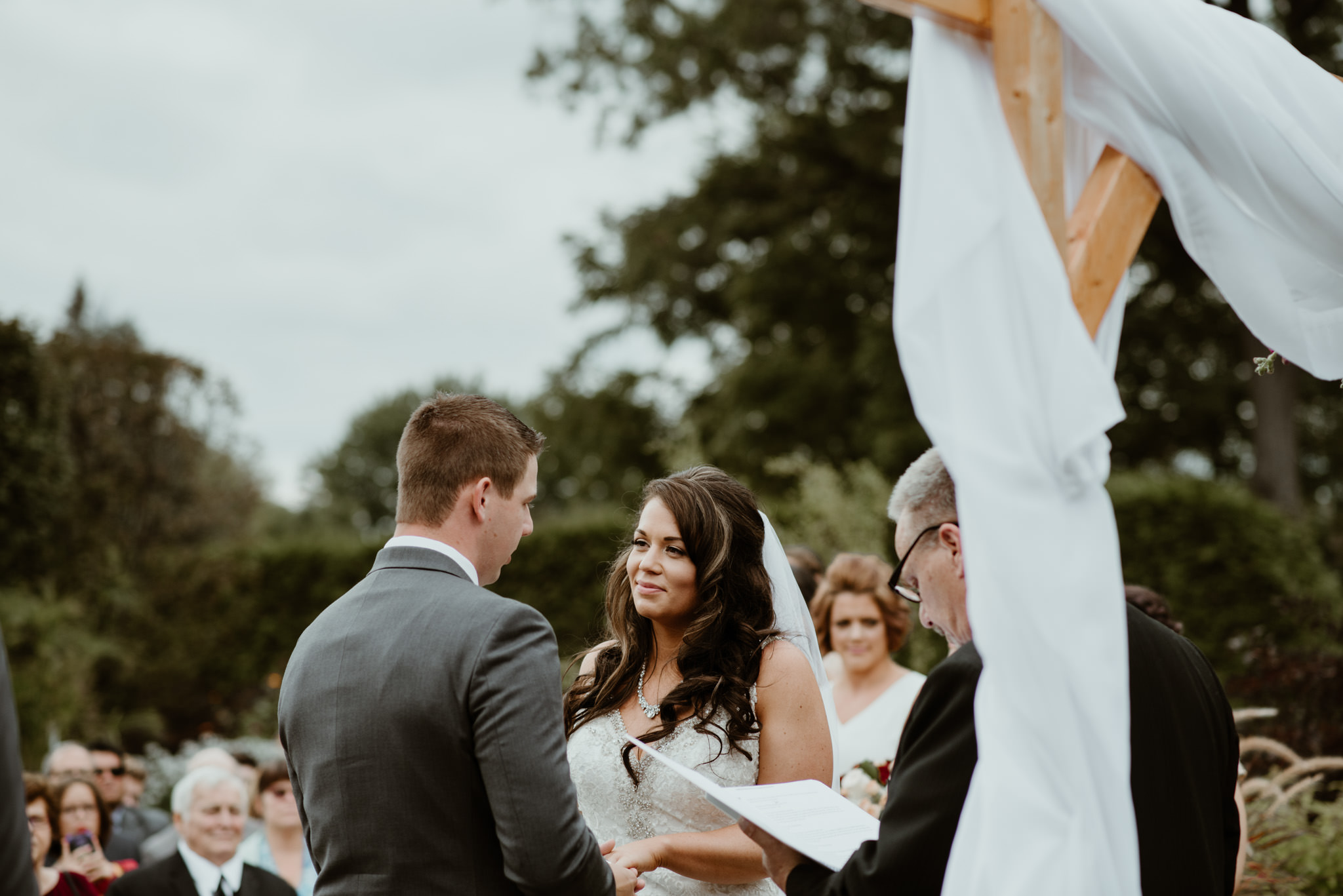 Soft daylight on a cloudy day is flattering.
More soft, even lighting.
Soft lighting in a white tent.
Not-so-good lighting examples:
Spotty light for the ceremony (can be avoided by having the sun behind the altar).
Direct sun that isn't diffused by clouds causes harsh shadows.
Overhead indoor lights cause dark shadows under the eyes and accentuate flaws.
GETTING READY
The portion of the day before your ceremony, when everyone is preparing for the main event, is a great time for me to capture some beautiful images! The energy is full of anticipation, and everyone is fresh and excited! Putting some thought into the location where you'll be getting ready can help these photos turn out better.
TIMELINE: Although this party of the day is usually the most relaxed, things can run behind schedule. I'm rarely ever at a wedding when hair & makeup is done on time, people are getting dressed when they're supposed to, and everyone is leaving for the ceremony on time. Keep these things in mind and try to plan extra time so that if things fall behind you don't need to stress. And if everything is on time, you can have a little extra time to relax and prepare!
STYLE: Keeping with the overall style of your wedding day is an important thing that most people don't even consider, but if you want your wedding photos to be consistent and flow together as a story, the locations you choose should have a similar look/feel. If you're having an elegant vintage wedding at a gorgeous venue, and are getting ready at a generic, poorly lit room at the nearest hotel, it's not cohesive. Consider looking into renting a well-lit Airbnb. Oftentimes you can find a beautiful flat or house with decor that will match your style!
CLUTTER: Try to keep all of your bags and random items picked up and put in an area out of the way. The cleaner the area, the more options I'll have for different angles. It's nearly impossible for me to get any wide shots when there's purses, luggage, fast food bags, and heaps of other random stuff scattered throughout the room.
LIGHTING: The best light for me (and makeup/hair stylists) is natural window light. Like I mentioned before, indoor lights have different color temperatures than natural light, and when you mix the two it causes all kinds of weird chaos on skin tones. So if the room you're getting ready in has a window, try to get ready in front of it- and don't be surprised if I ask to turn off all the lights in the room! :)
GETTING DRESSED: Give yourself plenty of time to get dressed! Things usually start running behind, the closer to the ceremony start time. Give yourself at least 15 minutes just to get dressed, and then leave yourself extra time to take care of any last-minute things. It's also a good idea to reserve a little bit of time to share with your parents, if they'll be present before the ceremony. Another idea is to do a "First Look" with a parent or parents!
HAIR & MAKEUP: make sure you communicate to your stylists what time you need to be ready at. Be on time, make sure the stylist has an accurate idea of how many people will need styling, and plan a little extra time just in case. I recommend doing a trial with your stylist. That way you can decide on the look you want and try different ideas without being on a wedding day schedule.
DETAIL PHOTOS: Being present is important for me to be able to capture fleeting moments as they happen. In my mind, this is way more important than getting staged shots of your dress, shoes, rings, etc. If it's important to you that I take photos of any of these items, I suggest having them laid out and ready so that I can grab some photos of them as quickly as possible.
CONSIDER: getting ready together. If you're up for it, there just might be some really beautiful moments. My husband and I went this route, and I wouldn't change it. He helped me get into my dress, I helped him with his tie, and we'll always remember those moments together, sharing laughter, nerves, and anticipation for our ceremony.
FIRST LOOK
A First Look is when the couple chooses to see each other before the ceremony. It's becoming more and more popular, especially with non-traditional couples. When you take a few moments to see each other for the first time, you'll share an intimate moment together away from everyone else, before the craziness starts.
PROS: It takes all of the pressure off and helps calm your nerves before you walk down the aisle. You're also looking fresh- your hair and/or makeup looks great, and you're not all sweaty yet. Your clothes are dirt and wrinkle free.
It also makes your timeline a lot easier to work with. Many couples who do a First Look also decide to do wedding party and/or family portraits before the ceremony as well. I think this is a great idea, because it gets those out of the way early, and that way everyone can enjoy more of the cocktail hour. Plus, it's much easier to round everyone up before the ceremony. ;)
CONS: By doing a First Look you'll miss out on that climactic moment when you each see each other from opposite ends of the aisle. Of course, it's totally up to you if you want to do a First Look! If you'd rather have the experience of seeing each other on your wedding day for the first time at the start of the ceremony, I completely respect that.
OPTION: If you choose not to see each other before the ceremony, there's always the option to exchange letters or gifts. You could arrange to meet somewhere but not actually see each other (around a corner, door, etc.).
If you decide to do a First Look, it's best to keep this moment just between the two of you. No moms, no wedding party, only the two of you (and me there to document it). This is such a beautiful moment, meant for the two of you to cherish alone, and I recommend keeping it as private as possible! It's hard to be able to enjoy such an intimate moment when you have friends oohing and aahing from behind the bushes!
TIMELINE: A First Look usually only takes around 10-15 minutes.
GROUP PORTRAITS
Even though it's not usually anyone's favorite part of the day, group portraits are important. This might be one of the only days in your lives that these people are all gathered together (and looking their best)!
For family portraits, I do 6 groups, including the couple. Each set of parents, each immediate family (brothers, sisters, parents) and each extended family (brothers, sisters, parents, grandparents). These are the most important formal family portraits. Portraits that will probably be framed and kept as heirlooms. Any additional groups (Aunts, Uncles, Cousins, etc. we can grab later on the dance floor when we're not so rushed).
It's best to appoint a family member (or friend that knows everyone) who you can rely on to gather missing people for portraits. The most time spent during these photos is usually waiting for certain people to make their way over.
In the online Wedding Worksheet I'll send you, we will plan out your family portrait groups ahead of time, so we can get these done quickly and easily on the day of.
For the wedding party, I take a few portraits of each side of the wedding party, then entire wedding party together. Very easy, no stress, no being made to pose in front of a camera for long periods of time while you're missing the celebration.
TIMELINE: After your ceremony, you're going to need to allow 10-20 minutes before the group photos start. Then around 20 minutes for family photos, and 15 minutes for wedding party photos (if you have a wedding party). Check out the timeline planning section at the bottom of this page for more detailed info.
LIGHTING: You might have your heart set on a certain location or backdrop for your photos. However, sometimes the light doesn't want to cooperate with your intentions, bringing harsh shadows streaming across your faces, spotty light coming from trees, or blinding light coming in your eyes causing you to squint constantly. As I mentioned above, if the quality of light isn't good, then your photos won't be good. I'll move you to a better spot if I can.
THE CEREMONY
RAIN PLAN: I don't mind shooting in the rain at all- unless it's a torrential downpour. :) Dark skies and wind can add amazing mood to photos! But if it's seriously, miserably wet, I recommend having a backup plan- whether that be an alternative, indoor spot, umbrellas, or a covered area or tent. Like the Scouts say: Be Prepared.
UNPLUGGED CEREMONY: A fairly common thing now (thankfully), an Unplugged Ceremony is when you kindly ask your guests to put away their devices and cameras, to be present and enjoy the wedding ceremony of the couple. I don't think people are trying to be rude, or even realize what they're doing- they're just caught up in the excitement and their reflex is to whip out their phones to grab a snapshot or video.
What they don't realize is that they're missing out on the beauty of just being present to enjoy this incredible moment in time. They probably aren't thinking about how ridiculous your wedding photos will look when you're about to land the first kiss and everyone is holding a device up in the air! It also helps me out, because it's so stressful when I'm concentrating on capturing a split-second moment and all of a sudden Uncle Larry pops up in front of me trying to get a video with his iPad.
I've seen some really cool and creative signs that couples put up around the guest seating. You can also ask the officiant to make a short announcement before the ceremony begins, asking guests to please turn off their phones and put away their cameras and devices to minimize interruptions. I haven't met an officiant who wasn't more than happy to do this, so please ask :)
TIMELINE: Sometimes the ceremony doesn't start exactly when planned because of unexpected things happening just before (example: bride accidentally dumps her mineral powder makeup all over her dress 5 minutes before the ceremony- true story!), or guests coming in late, etc. So factoring in a little extra time for your ceremony is always a good idea. If you're planning on your ceremony being 20 minutes, add an extra 10-15 just to be covered if something happens. And if it doesn't- hey! You'll have more time to do photos and relax afterwards!
RECEIVING LINES: The second most common reason for wedding day delays. These usually eat up a lot of time, and many of my couples opt instead to greet and mingle with guests during dinner. That being said, I do love the short time immediately after the ceremony, when everyone is so extremely happy and excited for you, and your close friends and family want to hug and congratulate you!
COUPLES PORTRAITS
This part of the day is my favorite! I love capturing just the two of you, together on the day that you committed your lives to one another. Seriously, it's usually one of the best parts of the day for the couple- probably the only time you'll get to take a breather, relax, and just enjoy each other!
It's all about your love, your connection, your emotions, and your energy together. These are the photos that you'll treasure and share for the rest of your lives with your family and friends.
TIMELINE: I would love it if you'd plan on spending at least 30 minutes to an hour with me for these special photos. The more time I have with you for these, the better they'll be! Also, the more time you plan for these, the less rushed we can be. If I only have 15-20 minutes, I'm going to have to run through my process quickly and miss out on a lot of things. You'll probably feel pressured and therefore your photos won't be as good. With more time, I can be more intentional and give you plenty of time to yourselves to hang out together and just relax.
The best time for portraits is two hours before sunset until just after sunset. Sometimes it's not possible to do your photos during that time, depending on how the events of your day fall. That's ok. If it's possible, try to time these photos so they're not mid-day, when the sun is high in the sky, or we can find a location that has lots of shade like in the woods.
If your wedding schedule permits it, and the weather is cooperative, I might suggest stepping out of your reception for a few minutes at sunset to capture some of that magical light in your photos.
THE RECEPTION
I'm all about capturing the mood and ambiance of your wedding in a natural way, without influencing things, as much as I can. When I have a choice, I prefer using the available light already in the space, and one or two small flashes (if needed). I don't like lugging around a bunch of lighting equipment, and it also helps me to blend in better. Besides, guests act way more natural around me if I'm not carrying around a bunch of lighting equipment. :)
The best lighting for receptions is soft, warm, well-lit spaces. While it's pretty in-person, colored up-lighting can be tricky to photograph and also cast colors on people's skin. Spotlights are also notoriously difficult to photograph- whatever's in the spotlight will be exposed correctly while everything else photographs super dark, sometimes black. And those crazy little colored DJ lights? They make everyone look like they have rainbow chicken-pox.
For receptions that are outside, please make sure there is enough light. If you want that dark, moody, romantic ambiance string lights, candles, and lanterns are wonderful, and provide a soft, warm glow.
TIMELINE
Making sure you have enough time is THE MOST IMPORTANT THING to ensure your day will flow smoothly and be as stress-free as possible. No one likes feeling pressured or rushed, and I don't want you to feel like that on this day, especially!
Most couples have never planned a wedding before, and you'd even be surprised how many wedding planners/coordinators I've worked with that don't understand how important it is to allow enough time!
Try to make sure you allow plenty of time for each part of your day. Refer to this guide as needed, and share it with your planner if you'd like! I'm happy to help in any way because if you're feeling rushed, so am I.
Typically, this is the least amount of time you should plan on for these photography portions of your day:
First Look: 15 minutes
Family Portraits: 15 minutes (6 groups)
Wedding Party: 10 minutes (3 groups)
Couple Portraits: 30 minutes to an hour. The more time, the better.
Don't forget to add time for people to get where they're supposed to be. Couples and/or planners usually don't take into consideration things like:
*Don't schedule your family portraits to start immediately after your ceremony ends! You'll need some time to exit the ceremony, get congratulated by people, cool down, get a drink, and possibly sign your marriage license.
*Add an extra few minutes on to group portraits in case someone is missing, or to get to the spot where we're doing the photos.
*You'll probably want to grab another drink of water, change into comfortable shoes, and we need to get to the place where we're doing couples portraits, so please account for that!
*Don't schedule your reception entrance immediately after your couples portrait time- you'll need 10 minutes or so to freshen up and get into your places.
I would rather you schedule extra time and then not have to worry about things if they run behind (which they do more than not), and so you can relax and enjoy your day together instead of being rushed from one event to the next all day long.
SAMPLE TIMELINES:
To give you a better idea of what this looks like, I've put together two sample timelines- with a First Look, and without. Of course, these are just an example, to give you an idea of how things could go, but are customize-able to your own wedding timeline.
With a First Look:
3:30-4:00 First Look
4:00-4:15 Wedding Party Portraits
4:20-4:40 Family Portraits
5:00-5:30 Ceremony
5:30-5:45 Cool down and sign marriage license
6:00-6:45 Couples Photos (guests are at cocktail hour)
6:45-7:00 Get in place for reception entrance
7:00 Reception begins
*8:45-8:55 Sunset Portraits
Without a First Look:
3:30-4:00 Ceremony
4:00-4:15 Cool down, sign marriage license
4:20-4:40 Family Portraits
4:40-4:55 Wedding Party Portraits
5:00-5:45 Couples Portraits
5:45-6:00 Get in place for reception entrance
6:00 Reception begins
*8:45-8:55 Sunset Portraits
*Sunset times vary by season.
A NOTE ABOUT PADDING: Like I mentioned, wedding timelines can be tricky and oftentimes things get delayed for one reason or another. It's a good idea to "pad" your timeline so that if things run over or get delayed you won't be crunched for time. It's the worst feeling when you've spent all this effort getting your timeline perfected and something ends up taking longer than expected and then you're stressed out the rest of the day or feel rushed. Some of the things that typically take longer than planned or are:
Will my guests be bored when we're doing pictures?
This is the most common question I hear regarding timelines. If you aren't doing a first look and portraits before the ceremony, and you've only scheduled an hour between when your ceremony ends and your reception begins, I guarantee you aren't going to have enough time. You're going to feel extremely rushed, and I won't be able to do the best job I can for you.
It takes time for me to be able to get the quality of photos you see on my website and social media. And those awesome photos are probably what made you want to work with me in the first place! It would make me sad if I wasn't able to do a good job because I didn't have enough time.
I always tell my couples- as long as your guests have food and drink, they will be fine! Everyone knows at weddings to expect downtime between the ceremony and reception, and they will mingle. If you have games or activities that can help, but it isn't totally necessary! If you're really worried about it, I suggest letting your wedding party and/or close family members know the reason why you need extra time- because you have invested a lot in your photography and want the best photos possible, and you don't want to feel rushed. They will understand and help relay the message to other guests if they ask!