As a professional wedding photographer, I've learned that it's important to pack as lightly and efficiently as possible. That way, I can avoid any unnecessary strain on my body during a long day of shooting. Carrying around heavy gear can be tough on the back and legs, so I try to keep my load as light as possible.
My typical gear includes a couple of cameras, lenses, batteries, memory cards, and a few other essentials, but I try to keep those to a minimum. By packing light, I can move more easily and quickly throughout the day, and that makes for happier clients and better photos.
*just a note: this post contains links to products and I'm not affiliated with these businesses and don't make any money if you click on them or make a purchase.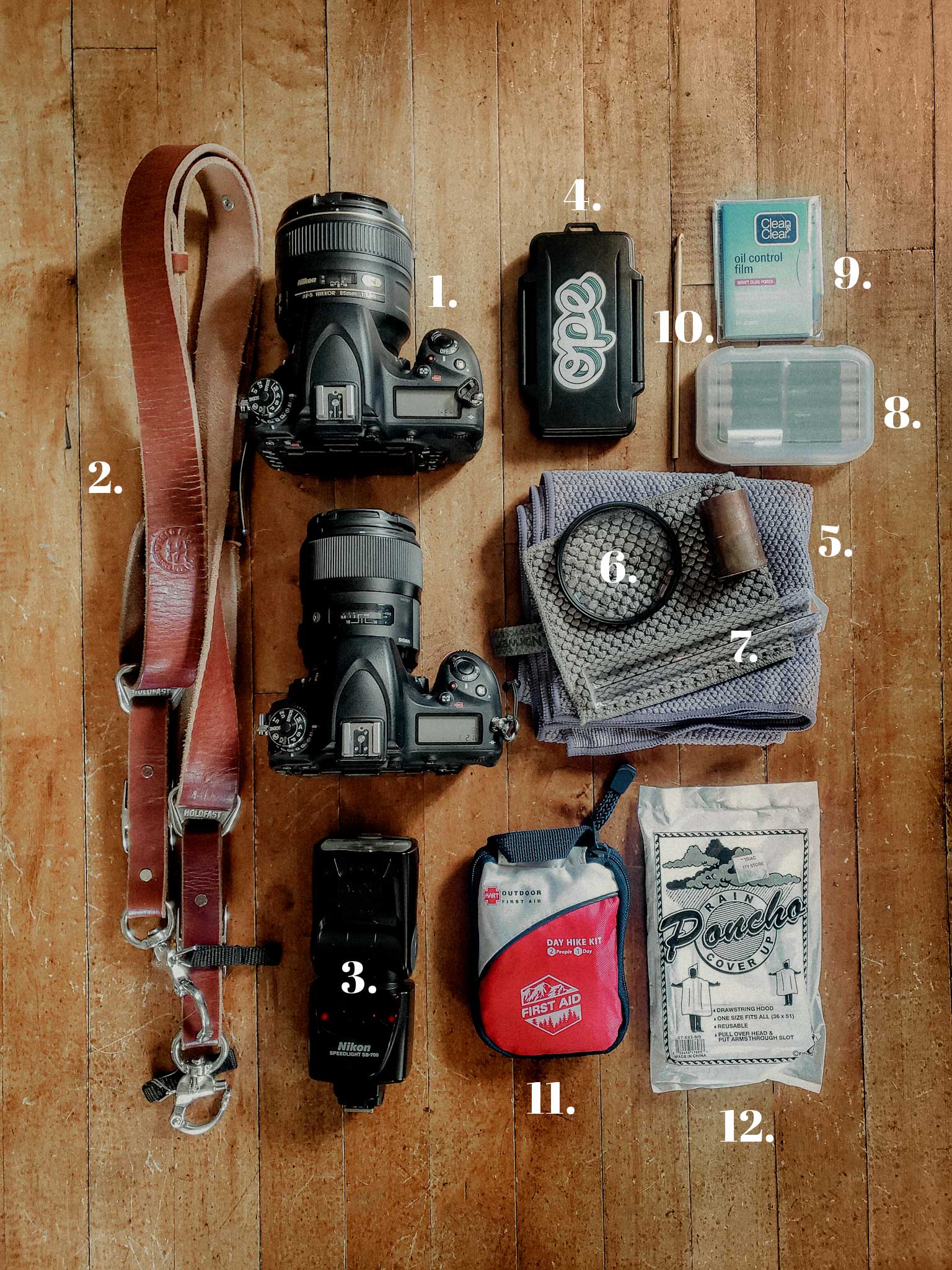 1. Two Cameras
I use two Nikon D750 bodies that are set up exactly the same way, so I don't ever have to think about settings or anything. I love my D750's! They might be older camera bodies, but they are tried and true, and I trust them in any situation!
On one camera is my Sigma 35mm f1.4 Art Lens, on the other is my Nikon 85mm f1.4. This allows me to photograph an entire day without needing to change lenses. The 35mm gives a wider, more true-to-life view, while the 85mm is for isolating the subject from the background. Yep, I use these two lenses 99% of the time for everything!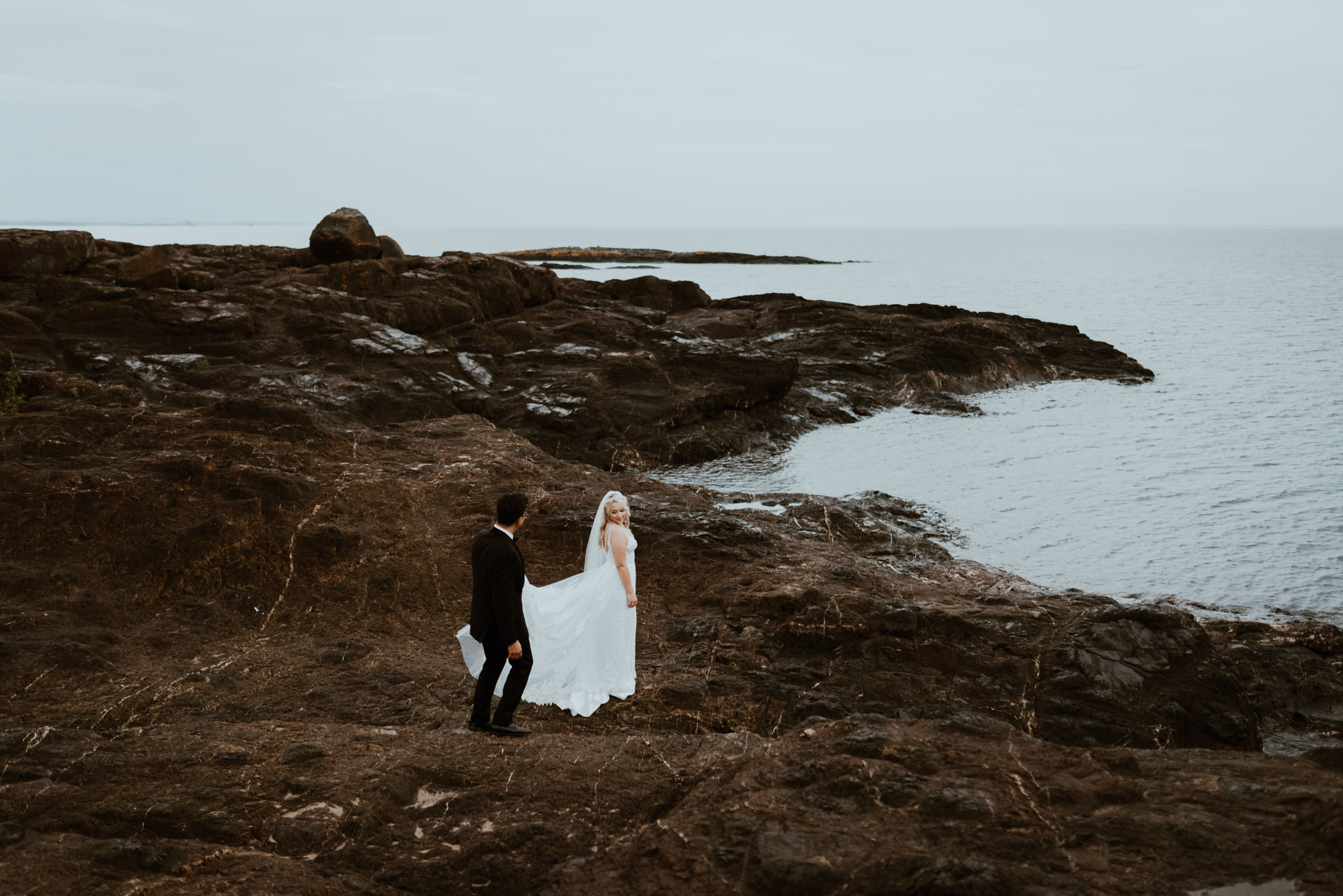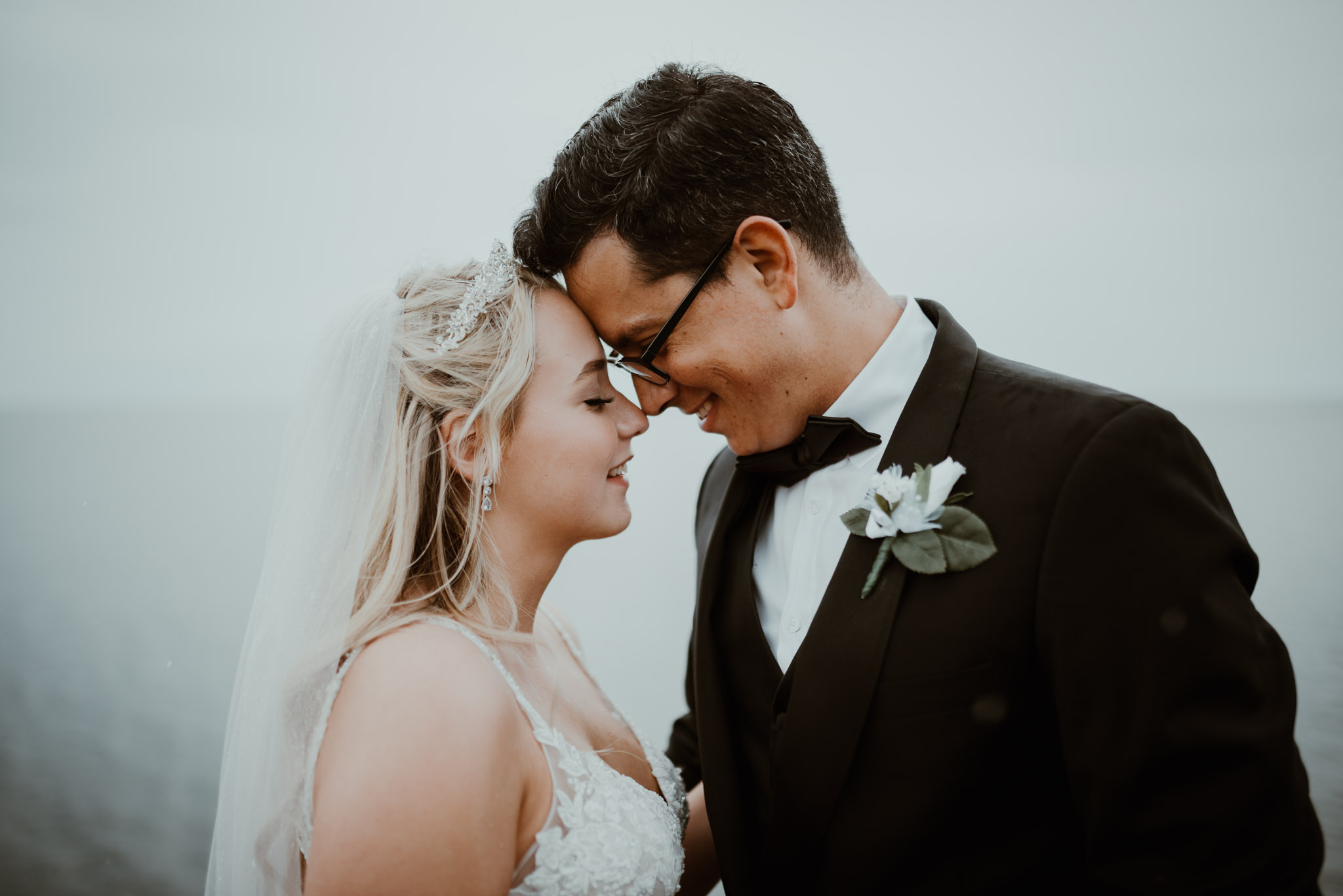 Prime lenses, or lenses that have a fixed focal length, are essential for weddings and events where you need the ability to take fast, sharp photos in all kinds of lighting situations!
I have lots of other lenses, but I only use them on occasion if needed.
2. Holdfast Moneymaker
This is my lifesaver (and back & shoulder saver!). I attach my two cameras to this harness, and am ready for anything! I've tried many different harnesses, straps, and systems over the years, and nothing even comes close to the Holdfast Moneymaker. It's rugged durability, comfort, and stability are unmatched.
If you read reviews of the Moneymaker or ask a lot of people who use them, you're bound to hear that the hardware pinches your arms. This can be true depending on how you set it up. Also, if you get the model that has D-rings and you have long hair, your hair can get caught in there and it's no fun.
I always put my hair up when I'm working (I don't want it in my way anyway). And I have the slider hardware up high enough that it doesn't pinch my arms.
3. Nikon Speedlight
I use this Nikon SB700 Speedlight at wedding receptions after the lights go down and in very dark situations where I absolutely need a source of light (outside, at night, no ambient light). I've also tried many other Speedlight models and methods, but this flash is my favorite. It's small, lightweight, packs a powerful punch, recycles fast, and has the ability to swivel, pivot, and angle in any direction.
My usual setup for this flash is on my camera with the 35mm lens, and I use it to bounce light off of nearby walls, ceilings, or objects to get nice directional light coming in. If I can't bounce it or if I want a different effect, I will use it pointed forward but up at a 45-degree angle with the white card out.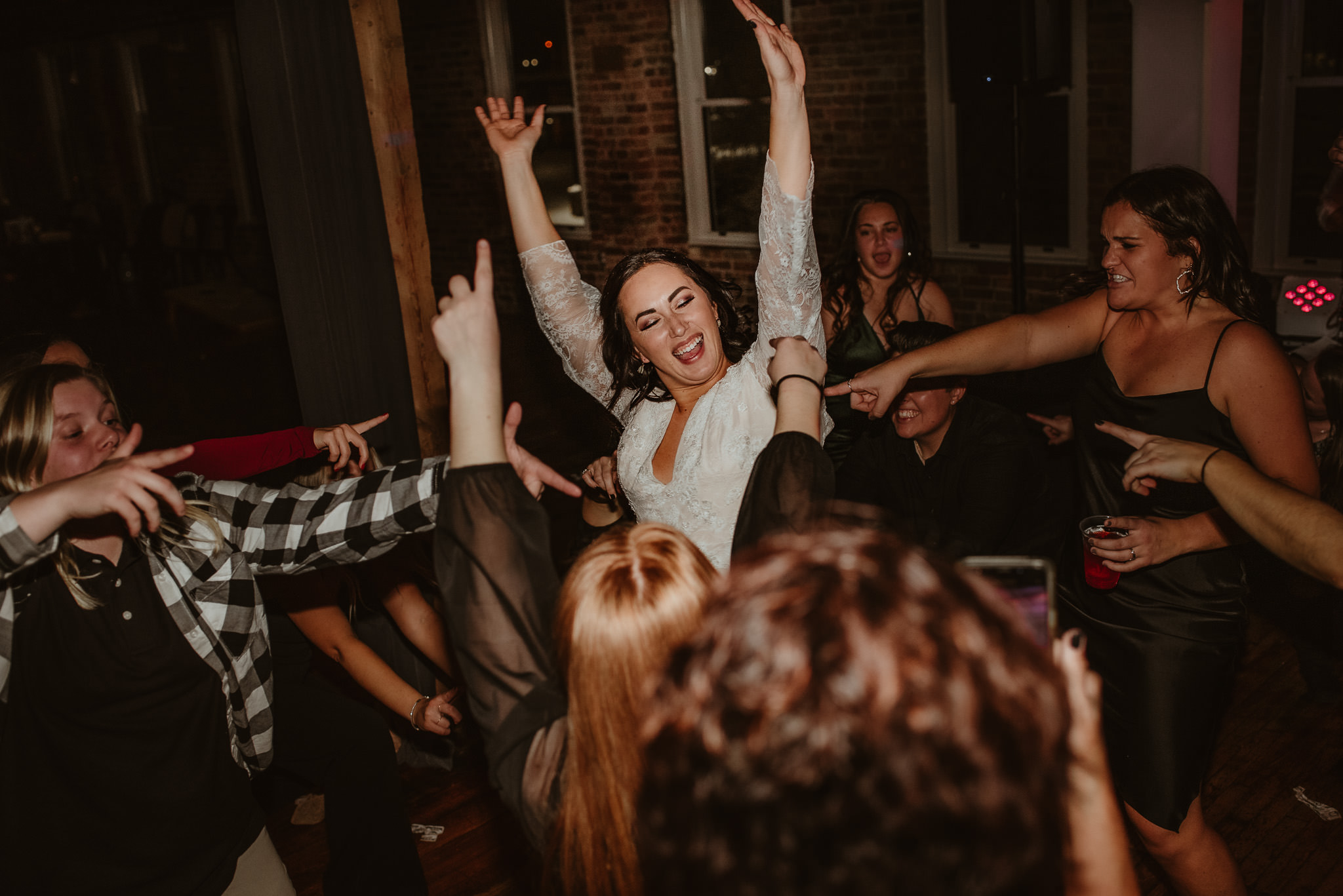 4. Memory card case
I keep my memory cards in this inexpensive case I bought on Amazon. 64GB or 128GB SanDisk Extreme Pro 170 MB/s memory cards are my go-to's. I always shoot with two cards in my camera- one for backup, because you can never be too careful!
5. Norwex Microfiber Cloths
I'm a HUGE fan of Norwex. Their microfiber cloths have technology that allows them to remove up to 99% of bacteria from surfaces using only water. I use them to wrap my cameras and lenses in for padding, to wipe water off of them, and to clean my lenses (the optic scarf is my favorite!).
6. ND (Neutral Density) Filters
I actually have a set of these for both of my lenses (they're different sizes). I use Gobe brand filters and have two different light-reductions: 2-stop and 6-stop.
You can think of ND filters like sunglasses for your camera. When it's really bright outside (imagine mid-day, full sun, on the beach) and you want to be able to use a wider aperture so you still get that soft, creamy background in your photos, you won't be able to (unless you want extremely over-exposed photos!). An ND filter darkens the scene down, so you can use a wide aperture and still expose the image correctly.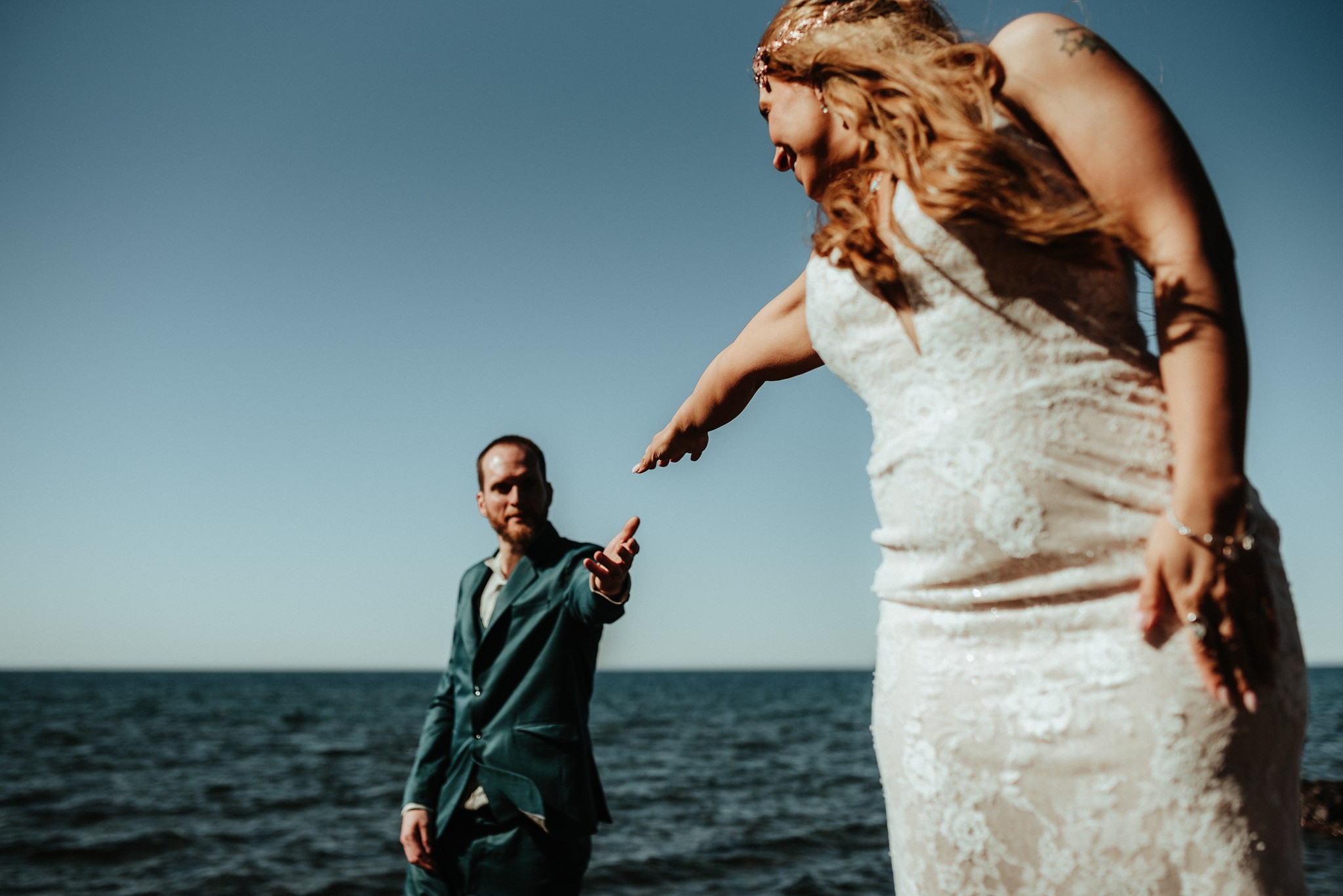 7. Creative tools
Using creative tools like prisms and other items to shoot through is fun and allows me to maximize my creativity. I always bring a couple of my go-to creative tools such as:
Prisms
Copper pipe
Plastic baggies
8. Extra batteries
My Nikon SB700's use AA batteries, so I always bring extra. I also bring extra camera batteries, because it's better to be safe than sorry!
9. Oil blotting paper
This comes in handy when the people or person you're photographing get oily/shiny skin. I often find in the summer when it's hot and muggy these papers are like magic.
10. Crochet hook
When a bride has a wedding dress that has buttons up the back, this little guy is a lifesaver! Clients are always super impressed when I whip this out.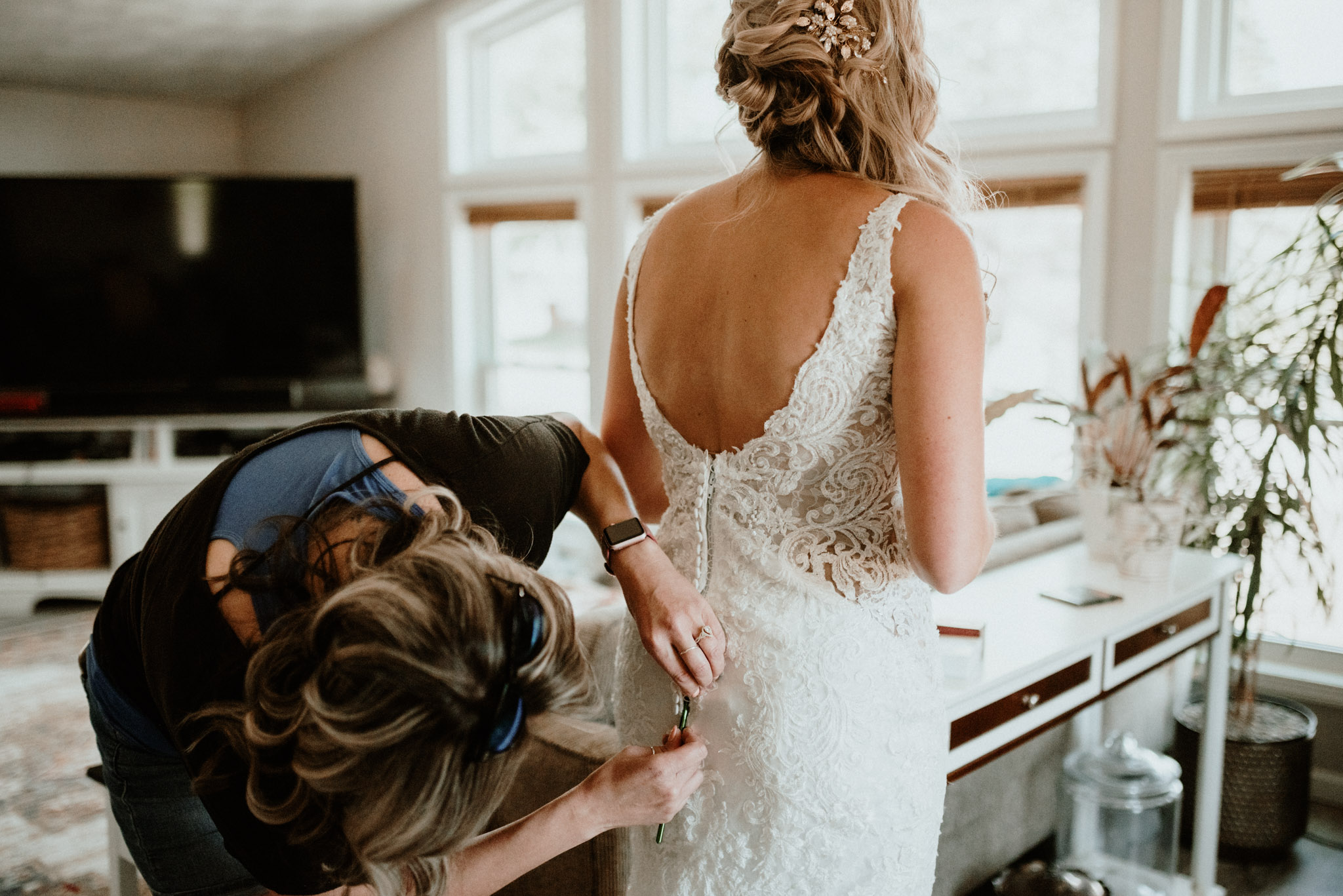 11. First Aid kit
Since I'm out in the wilderness a lot during my sessions, elopements, and weddings, I always carry a compact first aid kit. It's super important to learn basic first aid and be able to calmly handle any emergency that arises. I want the people I work with to know they're safe and in good hands when they're with me.
12. Clear ponchos
If it rains, these are great to have on hand! I carry 3 in my backpack at all times (one for me and two for the couple). Plus, if you over-prepare then you never have to worry!
How I carry all of this
Over the years I've tried many different camera bags and backpacks. My comfort and packing as lightly and efficiently as possible are my top priorities.
Right now I have THIS BACKPACK that I keep EVERYTHING in. It's lightweight, sturdy, has tons of room, and keeps the weight on my hips instead of my shoulders. I bring it everywhere. It's amazing for hiking elopements and sessions!
If I'm traveling, I wrap my cameras in the Norwex cloths and keep them in the main compartment along with my Moneymaker harness, Speedlight, and extra cloths. If I'm working, I have my cameras attached to the harness at my sides, and the backpack is either on my back or I set it down somewhere nearby.
---
So there you have it- all the typical gear I use when I photograph weddings, elopements, and couples sessions! Of course, this is just what works best for me and is by no means the "right" way. The key is experimenting, trying different gear, and knowing how to use what you have in order to create beautiful images. What are your favorite pieces of gear to photograph weddings and couples sessions with?