Top Airbnb's For Your Michigan Elopement Or Small Wedding
Are you looking for the perfect Michigan-based Airbnb for your small wedding or elopement? As a photographer who specializes in Michigan elopements, I'm all too familiar with couples searching for that special spot to make their day extra special.
Renting from Airbnb or VRBO can be a great option for couples, but is best suited for small, intimate, and quiet weddings. An Airbnb wedding in Michigan might provide the perfect combination of comfort, privacy, and convenience.
Here at Lume Photography, I'm passionate about making sure my couples' wedding experiences are unique, stress-free, and full of magical moments. So below, I'll share some of my personal tips for finding houses to rent for weddings in Michigan.
How to find an Airbnb for your Michigan wedding
From its beautiful lakes, wonderful forests, and quaint towns – Michigan has something for everyone!
And there's no doubt that Airbnbs have become incredibly popular amongst travelers in recent years. I love them because they offer a unique experience and make traveling easier by providing everything you need for a comfortable stay, and sometimes extras! The right Airbnb could also offer the perfect backdrop for a small wedding or elopement ceremony.
If you're on the hunt for an Airbnb rental in Michigan for a wedding with room to host your friends and family (or just the two of you!), here are some tips to keep in mind before you book:
Ask questions. Make sure to reach out directly to potential hosts with any questions about your stay — specifically ask if weddings/elopements are allowed on their property and if there are any restrictions around noise levels or trash disposal during your visit. Let them know your expected number of guests, what activities would be taking place, and/or if they will allow items to be moved or brought in for the wedding (like chairs, tables, etc.)
Look up reviews! You can better understand what other people experienced when they stayed there and if they had noise control or neighborliness issues. Read any house rules carefully so that you don't run into problems down the road.
Think about location – Does this location align with your style? What kind of activities do you have planned during your stay — swimming? Hiking? Exploring nearby towns?
It is also essential that when searching for an Airbnb rental for a small wedding/elopement event you respect the local laws regarding noise levels and waste management. Before booking the rental, ensure both parties understand what will be expected – especially regarding attending guests, decorations, and noise levels after dark (if outdoor ceremonies are taking place). Many properties forbid loud music past 9pm so check ahead before adding music to your plans.
Don't forget to leave a review!
Good reviews can also be extremely helpful in inspiring future couples looking into hosting their own special events by sharing how wonderful your experience was. Leaving a good review can help you as well. As a renter, getting a good review from the Airbnb owner is a good idea if you plan to rent other properties in the future.
Consider sending off thank-you cards or gifts along with kind words about how enjoyable it was staying at their property… chances are it will get shared online which never hurts!
Some of my favorite Airbnb's in Michigan for elopements and cozy, intimate weddings:
*DISCLAIMER: These are Airbnb rentals that I have either photographed a wedding or elopement ceremony at, that have been used for "home base" by my clients, or that I think would be a great spot to host a small, quiet wedding ceremony or reception. The current availability and/or policies of these properties have NOT been verified by me, so you will need to do your own research!
Keweenaw Peninsula Airbnb's for weddings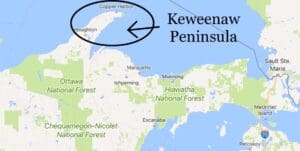 Located in the far north of the Upper Peninsula, Michigan's Keweenaw Peninsula is home to volcanic Lake Superior shoreline, rugged landscapes, waterfalls, mountains, and lots of wildlife. It's my favorite place on earth (and my home, now that I moved here!)
Keweenaw Castle, Eagle Harbor
The Nest at Great Sand Bay. Eagle Harbor
Cozy Log Cabin on the Water, Copper Harbor
Spyglass, Grant Township
Sand Point Chalet, Lac La Belle
Upper Peninsula Airbnb's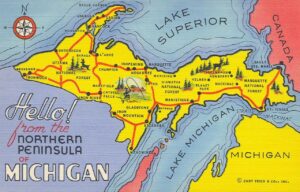 Michigan's Upper Peninsula is a treasure. It's a land of wildlife such as bears, moose, wolves and eagles. There are mountains, waterfalls, sand dunes, thousands of miles of shoreline, and even Michigan's own Grand Canyon!
Lake House on Lake Michigamme, Champion
Point of the Point, Marquette
Valhalla on Monocle Lake, Brimley
Gitchee Gumee EcoLodge, Ontonagon
Private Lake Michigan Chalet, Garden
Northern Michigan Airbnb's
The northern part of Michigan's Lower Peninsula is an area of relaxing nature, outdoor adventures, and fun activities. From historic Mackinac Island to the Grand Traverse region, all the way to Lake Huron's coastline, there are plenty of hidden treasures.
Cross Trees Cottage, Mackinac Island
Driftwood & Stones, Suttons Bay
Clarity House Chalet, Glen Arbor
Brothers Bay Retreat, Alpena
Fernside A-frame, Indian River
Other Michigan Airbnb's
I don't want to leave out Michigan's west side, the lower part, or the "Thumb" area, so here are a few favorite elopement stays in those locations!
Seaside Retreat, Whitehall
Deer Path River Retreat, Buchanan
Lakefront Getaway, Port Hope
Victorian Romance, Frankenmuth
Romantic stone house, Ludington
Whether you're looking for a secluded cabin in the woods or an idyllic lakeside retreat with all of your friends and family nearby, there are Airbnb's to suit every style. If you're planning a Michigan elopement I want to help! I'd love nothing more than to help you design an unforgettable experience and document this perfect day for you! What do YOU think? I would LOVE to hear from you!
Andrea