What If It Rains On My Wedding Day?
Sometimes it rains. And sometimes Mother Nature decides to water the earth on the same day as your wedding. What to do about that? Well, there isn't any way we can change the weather, so I recommend being prepared and just going with the flow!
Rain is always a possibility if you're going to be outside
Maybe you envisioned a perfect, sunny gorgeous day for your wedding. That's awesome. But think about this: no matter what the weather does, it's still YOUR wedding day! It's going to be full of joy, love, magic and celebration no matter where you are or what the weather is doing!
Rain doesn't mean your photos are ruined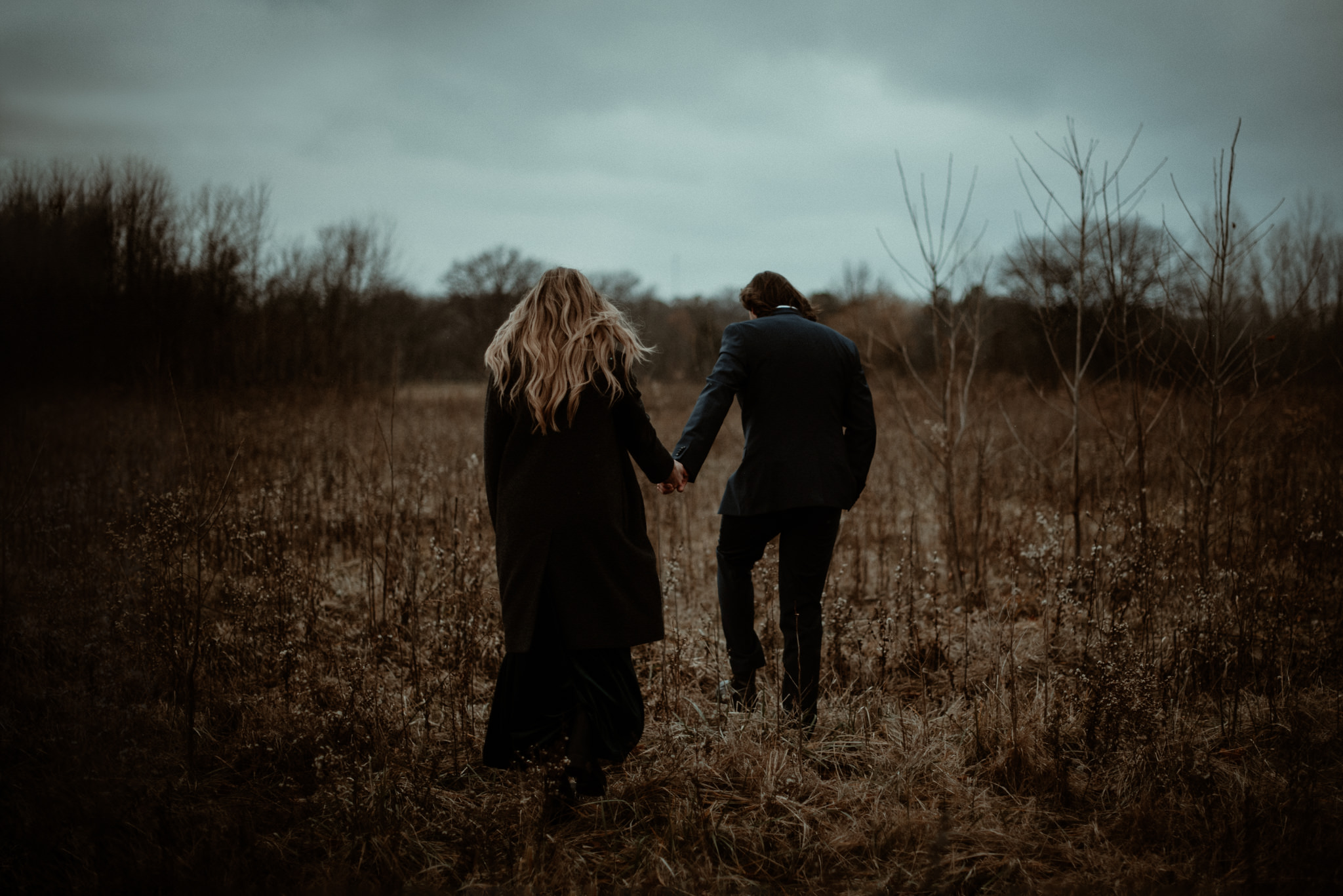 There are lots of reasons why a day that isn't a perfectly sunny dry day actually makes for some AMAZING photos! Let's look at some of them:
Rainy days have the most amazing mood and atmosphere.
Dark clouds in the sky make for awesome photos!
The light is softer and more diffused when it's cloudy, which makes skin look GREAT.
When there's rain, sometimes there's RAINBOWS.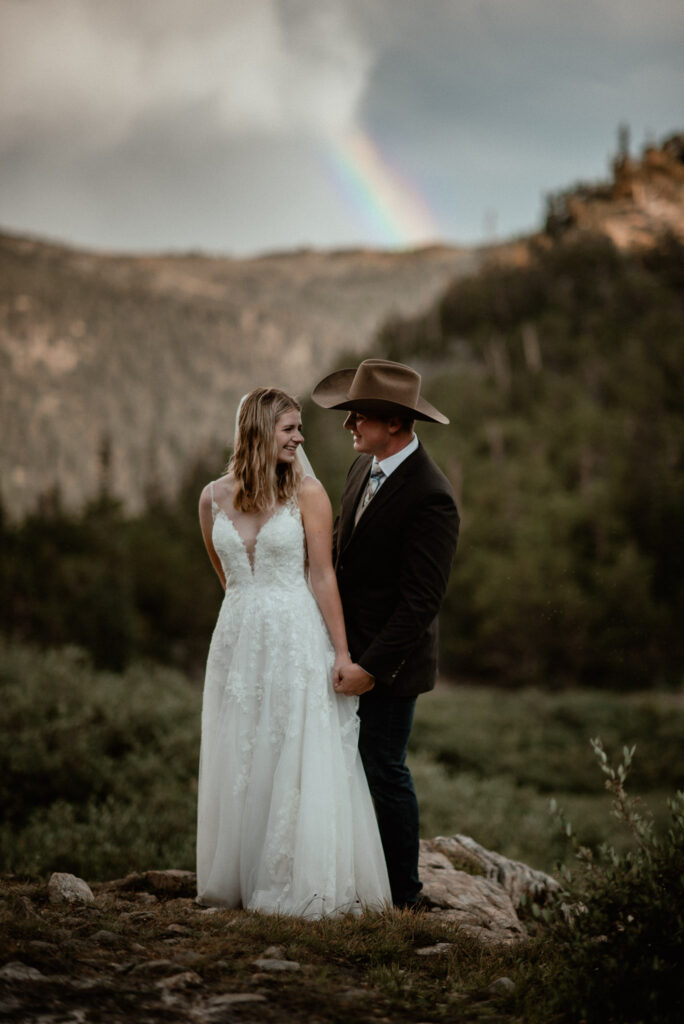 So what's the plan if it rains?
Being prepared is key if it rains on your wedding day. First, if you're really anxious and worried about if it rains, I recommend asking yourself why you're feeling this way. Is it because you don't like the idea of getting wet and your hair/makeup getting drenched? Is it because you are worried your photos won't turn out as good? Think about what's causing you anxiety and then go from there to figure out a plan.
Here are some options for if it's raining on your day:
Go with the flow (pun intended)
…and don't make any changes to your day-of plans. If it rains, it rains! Sometimes this option can result in really amazing photos, and a memorable experience for the brave! I always bring along a bunch of clear umbrellas as well as several heavy-duty clear ponchos to stay dry (and they also look good in photos.)
Move indoors
If you aren't up for a wet wedding adventure you can always have a backup plan to move your ceremony indoors. You can book an Airbnb with a nice space you like for a backup plan, like a big stone fireplace or great room. Some campgrounds have yurts that would make a unique ceremony spot that's sheltered. Other ideas for small weddings are local restaurants, breweries, or wineries that have a suitable space. You should call ahead and check to see what the policy is for having a small elopement there. Explain the rain situation and they might even throw in some extras for you!
Find (or bring your own) shelter
You can try moving your ceremony to a covered location such as a pavilion or gazebo if there's one nearby. Or you can purchase a pop-up canopy tent or igloo and have your very own dry ceremony space anywhere.
Change your date
With my clients, I typically have the day before and after a chosen wedding date available. So if they're open to it and want/need to switch days because of the weather, that's an option!
Scotland inspiration. I've traveled to Scotland several times. It's my favorite place besides home and the Keweenaw Peninsula. It rains A LOT in Scotland. Pretty much every day. But it's amazingly gorgeous there, and the people who live there have learned to adapt. They go about their days, walk their dogs, go out and exercise, and even have weddings all the time!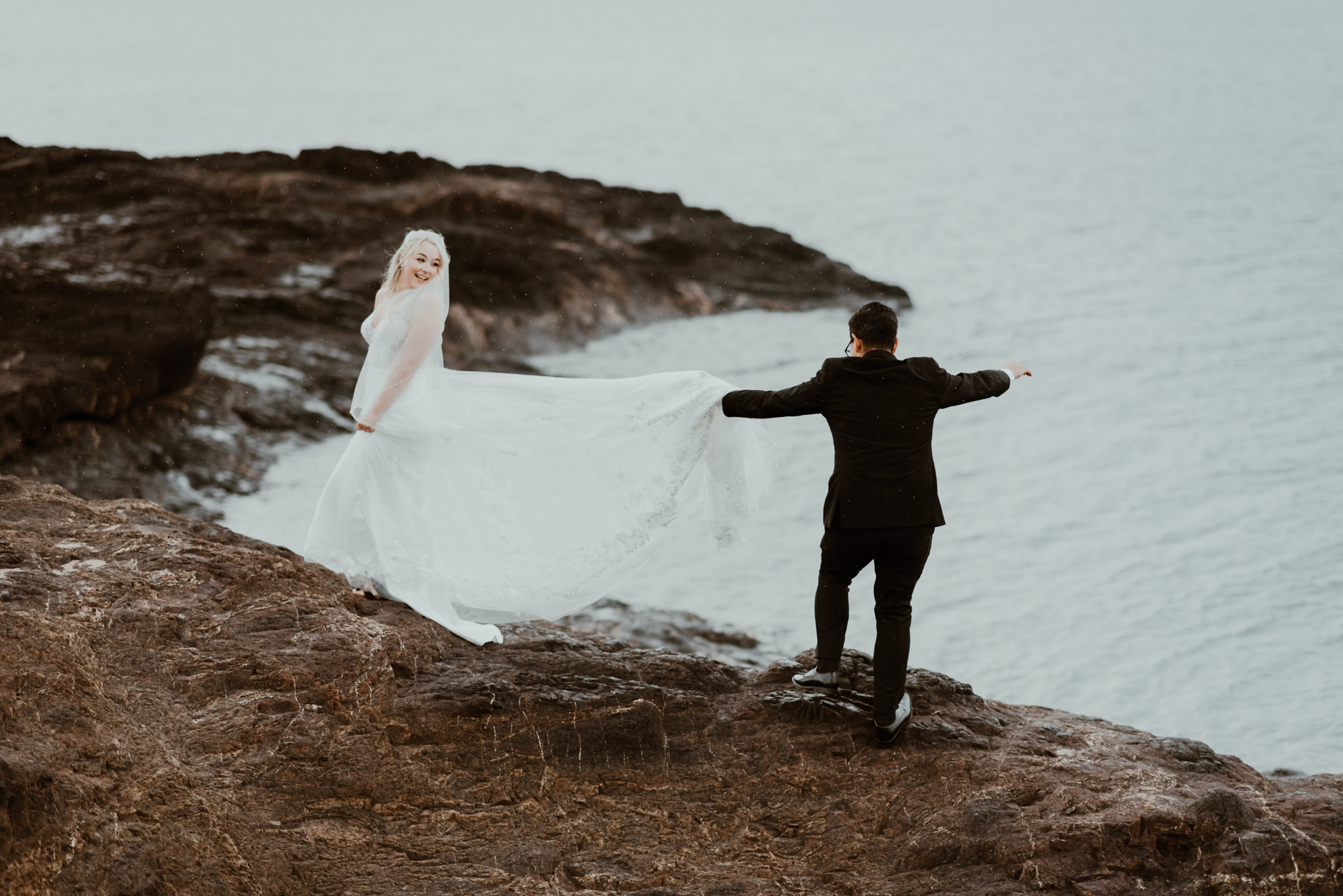 Staying Dry
If you don't want to get all wet, you'll need to prepare ahead. Purchase some clear plastic or black umbrellas. Bring raincoats. A nice raincoat is priceless when it's raining! And/or get some clear ponchos. You can stay dry and still be stylish for your wedding photos. I always have some of these on hand in case they're needed.
Dry footwear is also recommended. Waterproof boots or shoes will keep your feet nice and dry.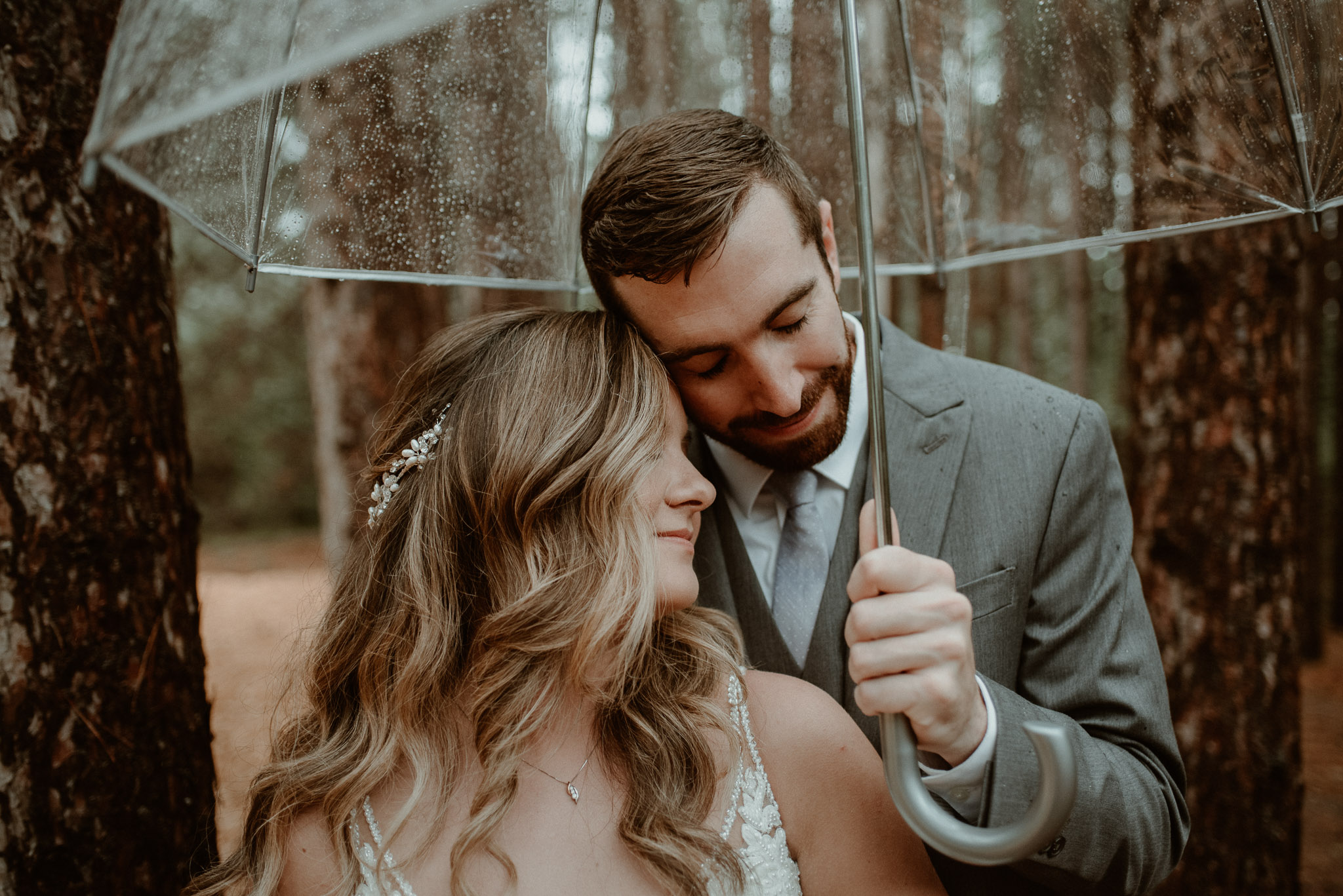 Don't stress too much over things you can't control
If it's going to rain, it's going to rain. But just because the forecast mentions a chance of rain doesn't necessarily mean it's going to be a constant downpour, or heavy rain the entire day. A sprinkle or light rain is easy to deal with. A heavy shower or two can usually be waited out. And if it does turn out to be a significant amount of rain all day, embrace it! The rain is symbolic of washing away negativity and the past, and nurturing new beginnings- a perfect wedding day gift from Mother Nature.
Check out this incredible wedding in the rain!
I don't normally share photos that aren't my own, but I absolutely love this brave couple who said "to heck with it" when it downpoured on their wedding day! I know this isn't everyone's cup of tea, but I hope it opens you up to possibilities.