How to Elope in Michigan – Plan Your Dream Elopement
Are you dreaming of a relaxed and romantic elopement or a small wedding in Michigan? From the amazing waters of the Great Lakes and the vibrant wildflowers of the Upper Peninsula to charming towns, to bustling cities with rich history, there's something for everyone looking to elope in the Mitten State.
This guide will walk you through every step of planning your perfect elopement or small wedding in the beautiful state of Michigan – from choosing the perfect location to securing all the necessary paperwork. Everything you need to know is right here!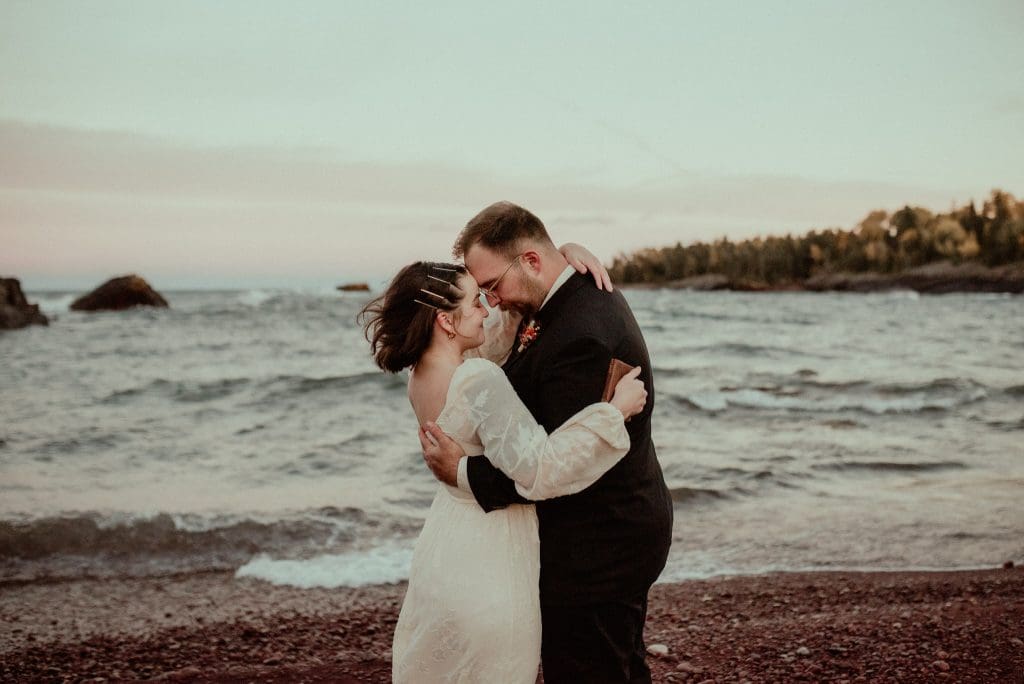 1. Envision your dream elopement.
When thinking about your dream elopement, the possibilities are endless. Think of what makes you and your partner happiest together, and how you can incorporate that into your wedding day. What does it look like? What does it feel like? Who is there? What time of year is it? Spend some time brainstorming and dreaming together!
2. Decide who will be there.
Your elopement should be tailored to reflect who you both are as a couple, so decide which friends and family members will share in your special day. Choose people that are important to you both, whether it's just the two of you, or up to ten loved ones – whatever feels right for you!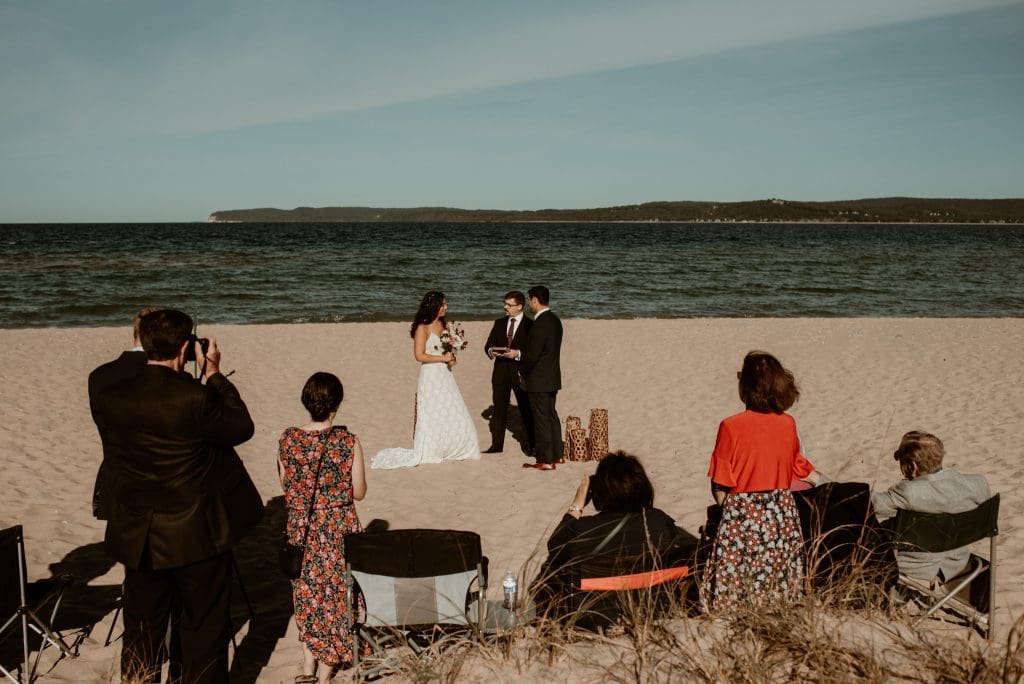 3. Find the perfect spot.
When it comes to choosing a location for an elopement or small wedding, the possibilities are endless. Consider the scenery, your guests, and any activities you may want to do afterward. Ask around to see if anyone knows of a unique or hidden spot off the beaten track that would make your special day even more perfect.
Most importantly, pick a place that both you and your partner love – one that holds meaning for you both – as this will guarantee a truly memorable celebration.
4. Decide how you'll celebrate.

Incorporating a celebration into your elopement or small wedding day is a great idea, whether you decide to invite guests or not.
Consider planning an intimate dinner, or hire a private chef to come and prepare something delicious for your special day. Do a romantic first dance together, have a champagne toast with your closest friends, and/or have a bonfire where you can exchange stories as you watch the stars come out overhead. Taking the time to incorporate celebration into your wedding day will make it all the more memorable!
5. Plan memorable activities.
There are many ways to make your wedding day extra special by incorporating activities that you and your beloved enjoy doing together. What are some things you love doing together or have always wanted to try?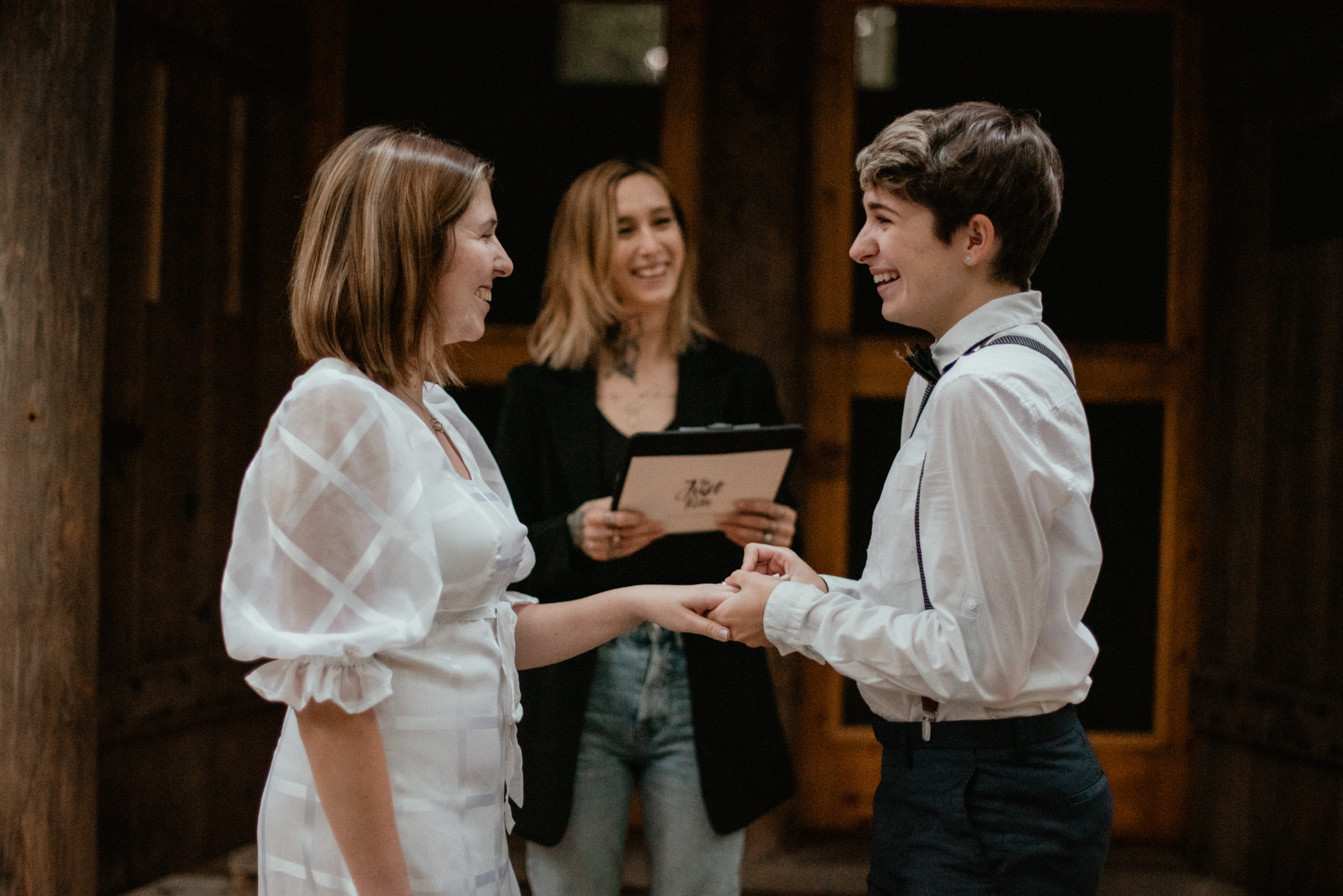 6. Decide who will officiate.
If you are planning an elopement in Michigan, there are a handful of options for having a wedding officiant. You can hire an officiant, have a friend or family member get ordained, self-solemnize the marriage by reading vows to one another and exchanging rings without an officiant, or do the paperwork separately before/after the ceremony if you choose to have just a symbolic ceremony.
Option 1: Hire an officiant
You can hire someone to officiate your wedding ceremony for you. An experienced officiant will guide your ceremony, and help you complete the required forms that make your marriage legal. Professional officiants are required to mail the forms in for you, so you won't have to worry about it.
You can expect to spend $200-$400 on an officiant, (or more if there is travel or long hours involved).
Pros to hiring an officiant:
Your officiant will guide you through your ceremony, so you won't have to worry about what to say. They'll take care of the legal forms.
Cons to hiring an officiant:
Some couples might not want another person present and being "in charge" of their wedding ceremony. Non-religious couples or non-traditional couples might have a hard time finding an officiant who can work with their needs.
Option 2: Friend or family member
Having a friend or family member officiate your wedding can be incredibly special. They can personalize the ceremony in a way that is unique to you, and it is often much more affordable than paying for an outside officiant. Luckily, there are online services that allow your friend or family member to get ordained quickly and easily.
Pros to having a friend officiate:
A pro of this option is the added personal touch and meaning of having someone close to you officiate the ceremony.
Cons to having a friend officiate:
It might be a challenge to find a friend or family member who is willing to go through the process of getting ordained and performing your ceremony. They are also most likely not an experienced wedding officiant and wouldn't have the expertise of writing a highly personal and meaningful ceremony script, along with the other things you can expect from a professional.
Option 3: Do the paperwork separately
Another popular option is to complete your legal paperwork separately from your wedding ceremony. You can hire a wedding officiant to meet with you somewhere (a coffee shop works just fine) and just complete your paperwork for you, either on the day of your ceremony or a different day.
Or, you can have a separate, civil ceremony (a judge at a courthouse will perform a legal ceremony) and then you can have your "real" wedding ceremony be anywhere and anyhow you dream of it!
Pros to doing the paperwork separately:
You'll be free to plan your ceremony yourselves and have it as private as possible. You won't have to worry about anyone listening in on your private vows.

Cons to doing the paperwork separately:
You will have to plan your ceremony and what to say to each other. Your official legal date will be different than the day of your ceremony.
Option 4: A self-uniting marriage
In certain states in the US, it is legal to marry yourselves in a "self-solemnizing" ceremony. That means you don't need an officiant- you can fill out your own paperwork, mail it in, and it's totally legal. With this option, you can even have a family member or friend "officiate" your ceremony if they aren't ordained. Currently, you can self-marry in Colorado, Wisconsin, Pennsylvania, and Washington D.C.
In Michigan, you need your marriage license to be signed by a legally ordained minister as well as two individual witnesses besides yourselves.
Pros to a self-uniting marriage:
You can take control of your wedding ceremony and do whatever feels right to you. It can be totally private. Your legal marriage date will be the same as your wedding day.
Cons to a self-uniting marriage:
It's only legal in certain locations, and Michigan is not one of them.
If you are interested in a "just us" marriage ceremony in Michigan, I can help with that! I'm a legally ordained wedding minister and am happy to help you by pronouncing your marriage, signing your marriage license, and providing or finding witnesses for you!
>> Check out this article that provides all the details on WHAT YOU NEED TO LEGALLY ELOPE IN MICHIGAN.
7. Book your vendors.
Think about any vendors that may need booking ahead of time such as food services, florists, etc. – contact them as soon as possible so everything gets locked into place before anyone else books them up! Also, think about getting rental items like tables & chairs if needed too – this allows more room in photos & prevents extra hassle on the day itself…no one wants chairs sinking into soft ground mid-ceremony!
Many elopement photographers (myself included) are experienced in helping couples plan their dream elopement, and are an invaluable resource from the start. So if you find one you like and think is a good fit, I recommend reaching out to them right away! It can save you lots of time and possible stress!
8. Book lodging & travel.
Lodging & travel should be booked well ahead of time when planning an elopement/small wedding in Michigan – if flying there look into packages from airlines offering special discounts for weddings/elopements including cabin classes at reduced rates etc; also ask friends & family coming along if they would want to share rentals car cost wise too, this always helps save money!
9. Craft your timeline.
Setting up a timeline for your wedding day can help make sure that everything runs smoothly. Start by when the ceremony will take place and how long you'd like it to last. Then decide what time to start getting ready, considering travel time, hair & makeup appointments, and any other pre-ceremony activities. After that, think about how much time you want to dedicate for taking pictures and celebrating afterward.
If you decide to work with me, I will help you with all of this to make sure you have freedom on your wedding day to relax and enjoy yourselves to the fullest, while optimizing your timeline to get the best lighting and flow!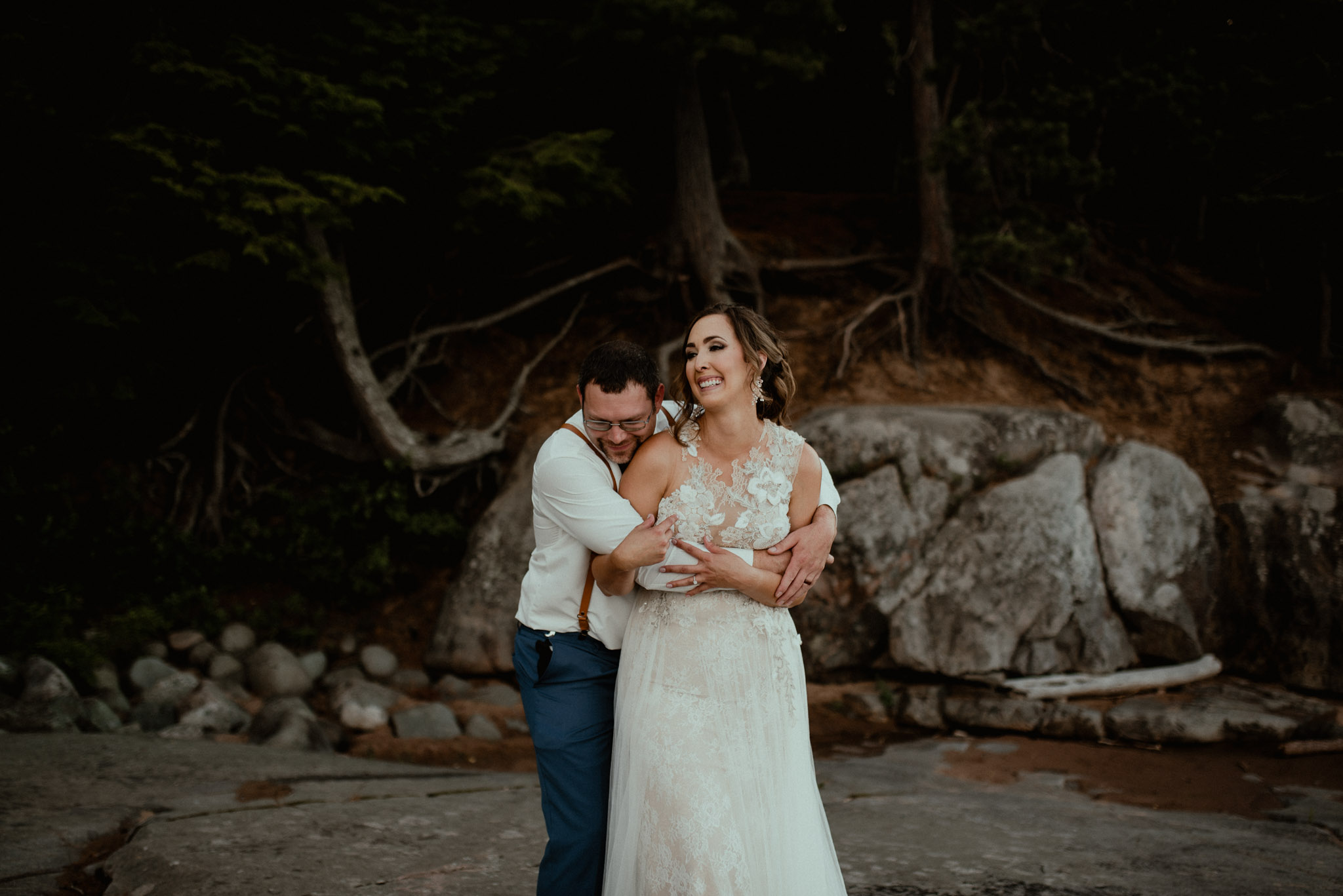 10. Have the best day ever!
This is probably the most essential part – enjoy yourself!! The whole point of an elopement actually IS being able to feel free to enjoy your wedding without worry ;) So sit back & allow yourself to focus on the most important thing…uniting in marriage with your soul mate and enjoying every second of the day!
WANT MORE HELP PLANNING A MICHIGAN ELOPEMENT?
My exclusive Elopement Planning Guide is a detailed resource that will help you plan your dream elopement! Get your free copy here:
WANT MORE?
If you want to elope in Michigan, check out these other valuable resources:
Are you planning an elopement or thinking about if an elopement is right for you? I'd love to help you have the most amazing, no-regrets, stress-free wedding day! Just reach out and let's talk about what your dream elopement might look like!
-Andrea