Where To Elope Outdoors In Michigan
Are you ready to get lost in Michigan's wild beauty and say "I Do"? Elopements in Michigan offer some of the most stunning and unique places for you and your partner to blissfully escape. Whether you're looking for majestic waterfalls, pristine beaches, or vast forested landscapes, Michigan has it all and more! Here' are the top 10 best places's where to elope outdoors in Michigan to make your elopement even more magical.
Pictured Rocks National Lakeshore
The Pictured Rocks National Lakeshore is one of Michigan's most iconic landscapes, offering visitors an unforgettable experience in nature. Located along the south shore of Lake Superior and stretching for nearly 50 miles, this stunning coastal area offers some of the best sightseeing and photography opportunities in the state. From its sheer sandstone cliffs to its vibrant blue-green waters, each visit to this national park is sure to be a memorable one!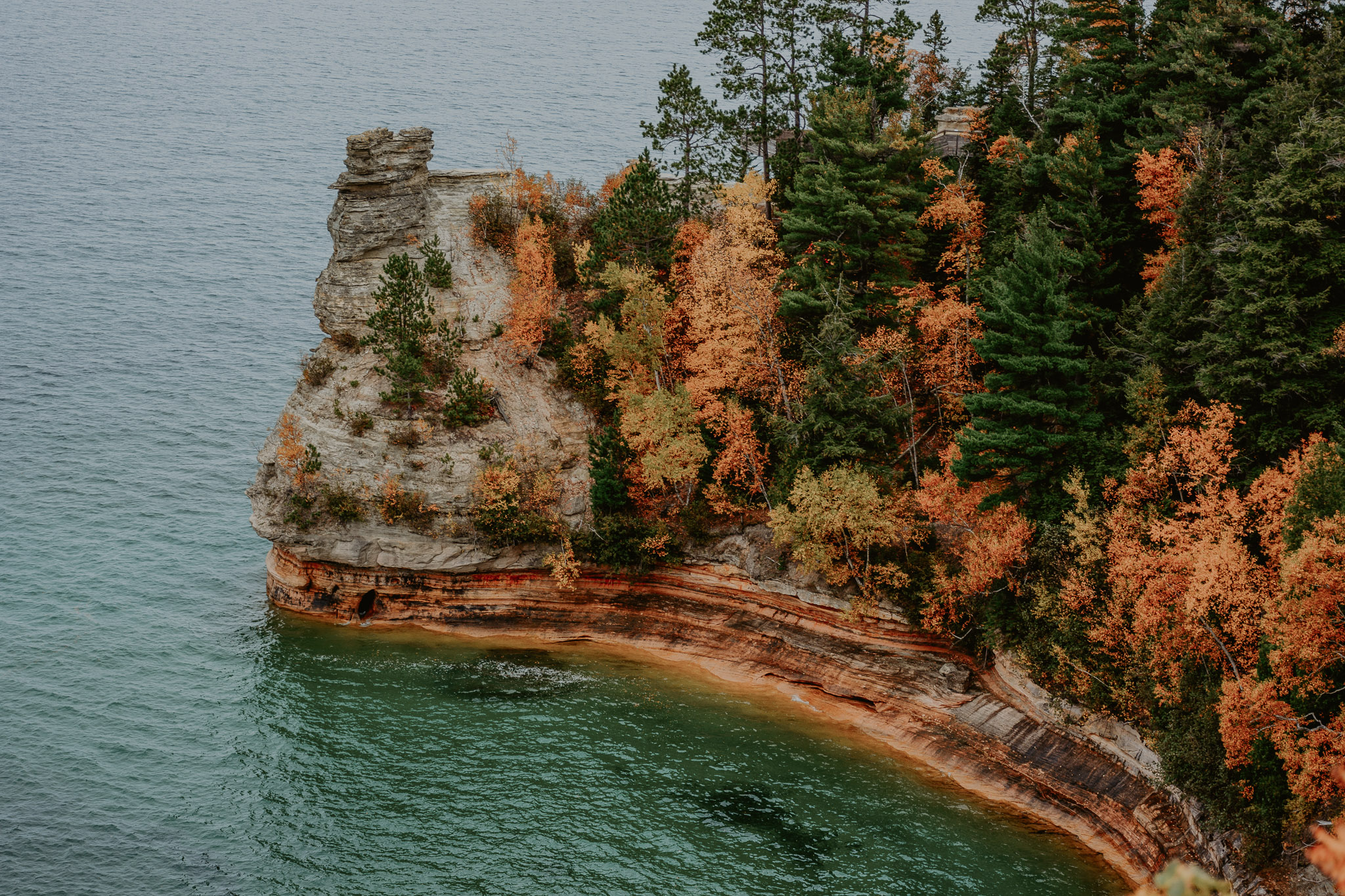 The Pictured Rocks are ideal for couples who love adventure and getting lost in nature. Couples looking for a spectacular backdrop for their elopement might consider setting their sights on this magnificent destination. My favorite spots here for a ceremony or photos include Miner's Beach, Miner's Falls, Twelve Mile Beach, and Log Slide. Regardless of your preference, there are plenty of stunning views to take advantage of at the Pictured Rocks!
You can read all about eloping at Pictured Rocks National Lakeshore in my detailed guide here.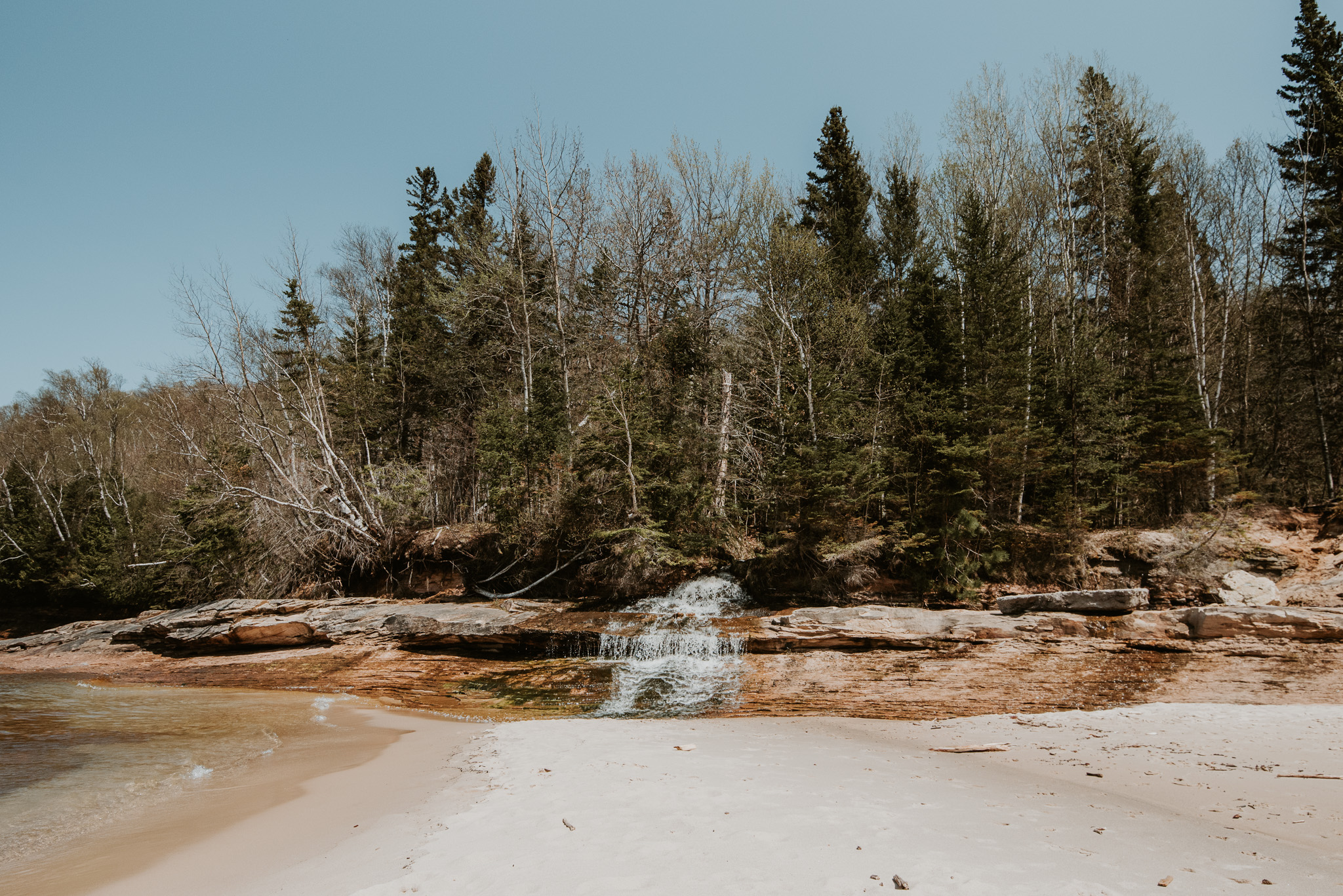 Pictured Rocks Elopements
Sleeping Bear Dunes
The Sleeping Bear Dunes National Lakeshore is a beautiful and unique region of Michigan. Located on the northern coast of the Lower Peninsula, it offers breathtaking views of Lake Michigan from high atop its vast sand dunes. The immense dune fields give visitors plenty of opportunity to witness the incredible power of nature with some of the tallest dunes reaching up over 450 feet in height!
There are abundant stunning photo opportunities for couples wishing to document their special day with a once-in-a-lifetime backdrop. One particularly popular spot is the iconic "Dune Climb" which gives newlyweds unparalleled panoramic views extending out towards Lake Michigan and back onto the park's heavily wooded landscape. Couples can also explore additional vantage points such as Pyramid Point, where they can admire sunsets along with some of the area's most spectacular rock formations.
If a beachside ceremony isn't quite what you're looking for, don't worry: there are plenty more options available. From picturesque walking trails that wind through quiet forests to rustic lighthouses perched along rocky shorelines – no matter the preference, there is something for everyone at this national treasure in Northern Michigan.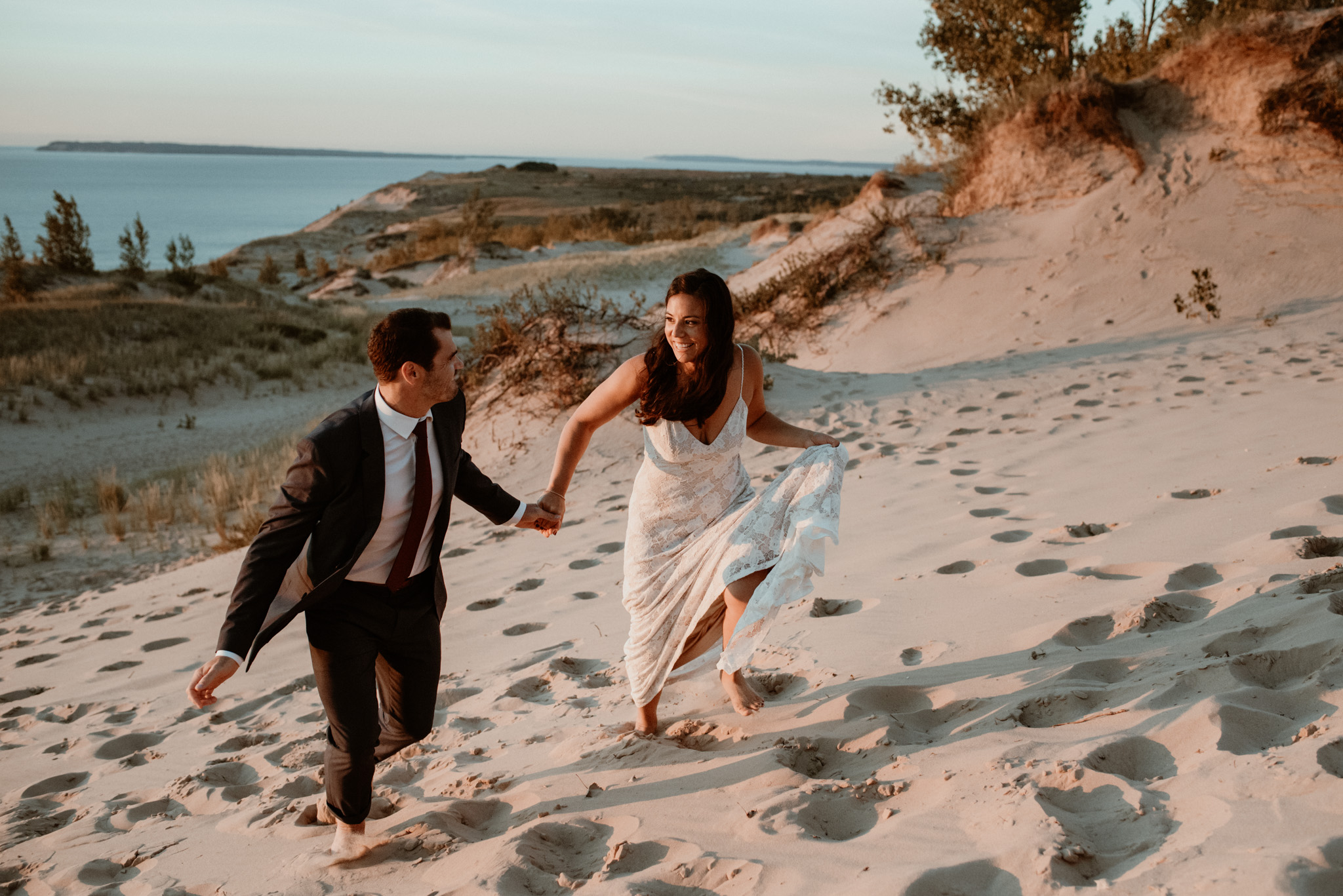 Sleeping Bear Dunes Elopements
Porcupine Mountains Wilderness State Park
The Porcupine Mountains Wilderness State Park is a wonderland of forests and lakes located in Michigan's Upper Peninsula. Spanning nearly 60,000 acres, it offers couples an unrivaled outdoor adventure for their elopement destination. From lush meadows carved out from ancient glaciers to rolling mountains – this breathtaking landscape is truly unlike any other!
Just inside the park lies Lake of the Clouds, offering couples an incredible view of its sprawling lake surrounded by towering trees and craggy cliffs. For those seeking a more intimate ceremony-on-the-go, hiking trails can lead you to hidden gems like Mirror Lake or Presque Isle Bay which offer serene and peaceful settings for your special moment together. Couples can also explore views of Union Bay as they wander through backcountry paths that wind along the shoreline.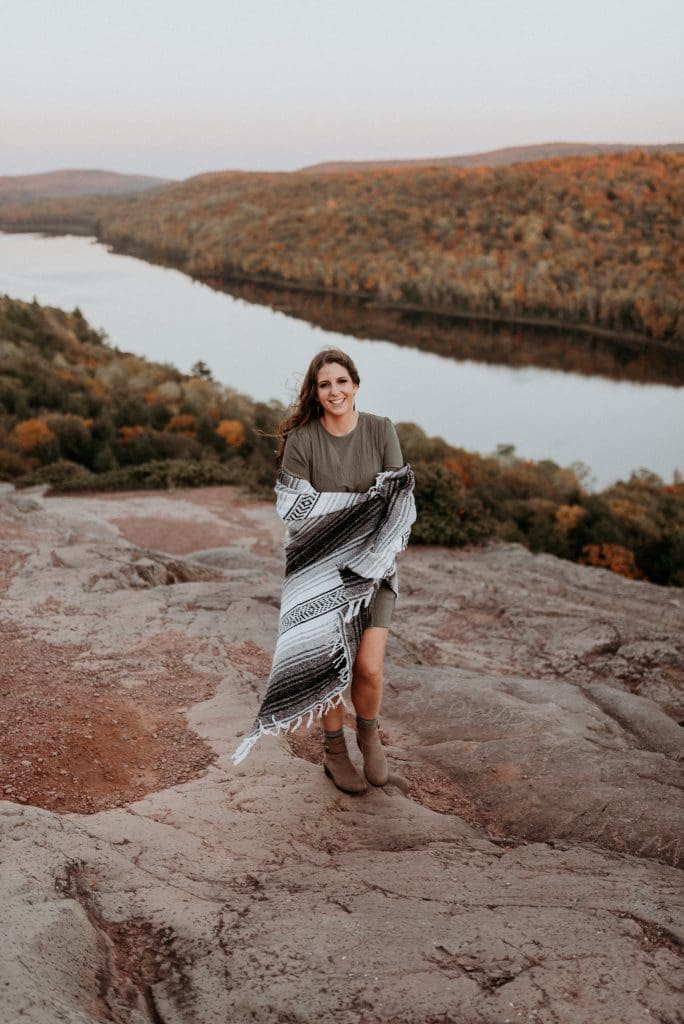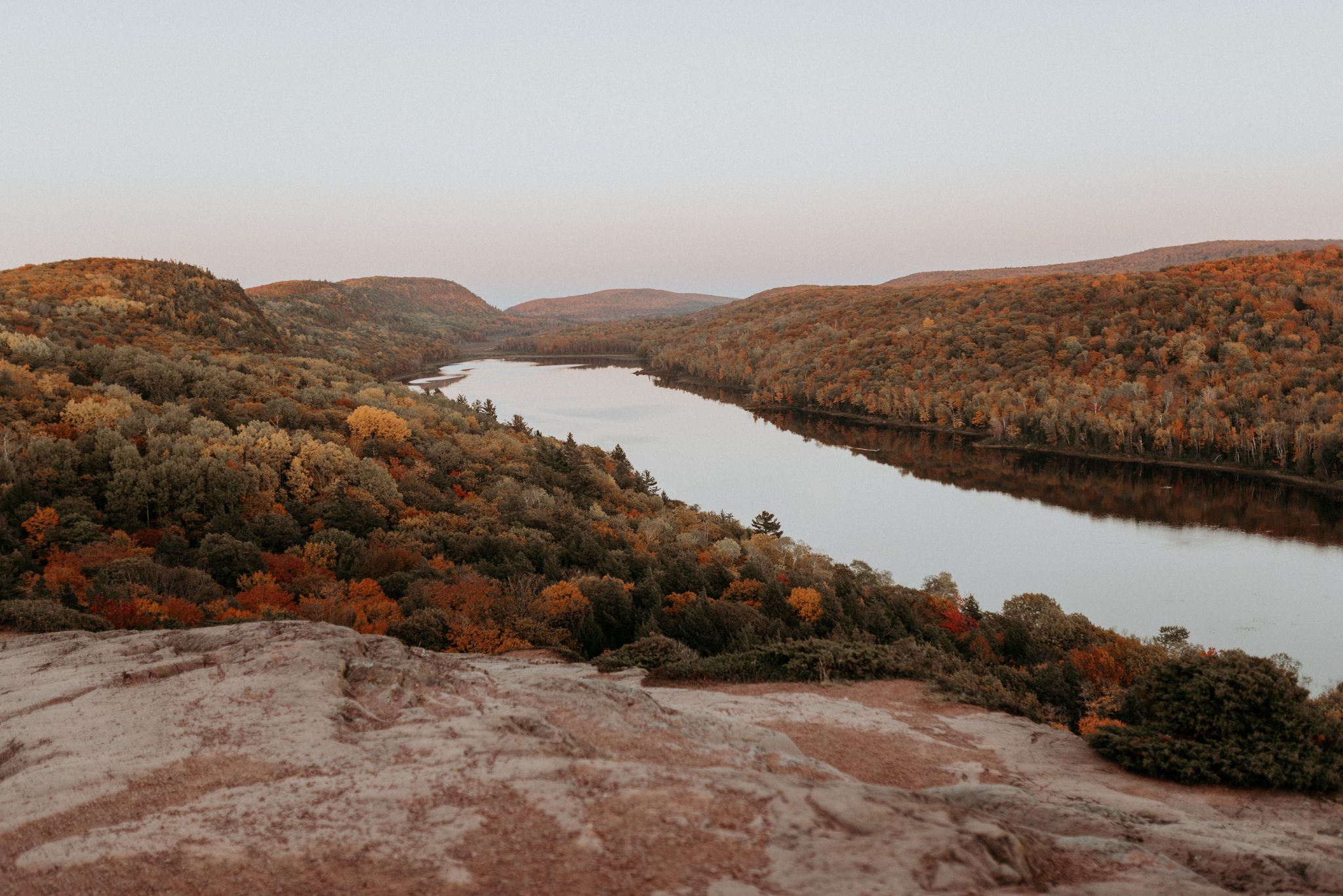 Porcupine Mountains Elopements
Canyon Falls and Gorge
Nestled in the heart of Michigan's Upper Peninsula, Canyon Falls offers couples an incredible backdrop for their dream elopement. Canyon Falls is easily accessible, and the gorge is impressive by Midwest standards. It's also known as "The Grand Canyon of Michigan".
A magical scenic trail along the Sturgeon River follows a series of rapids and small waterfalls before you reach Canyon Falls. The walk to the falls is around 15-20 minutes and is fairly easy. The river slides nearly 30′ over a large chute of smooth black rock into a box canyon. The trail continues up to the top of the gorge for some breathtaking views of the canyon below. There are several spots here that would make a unique and stunning backdrop for an elopement ceremony!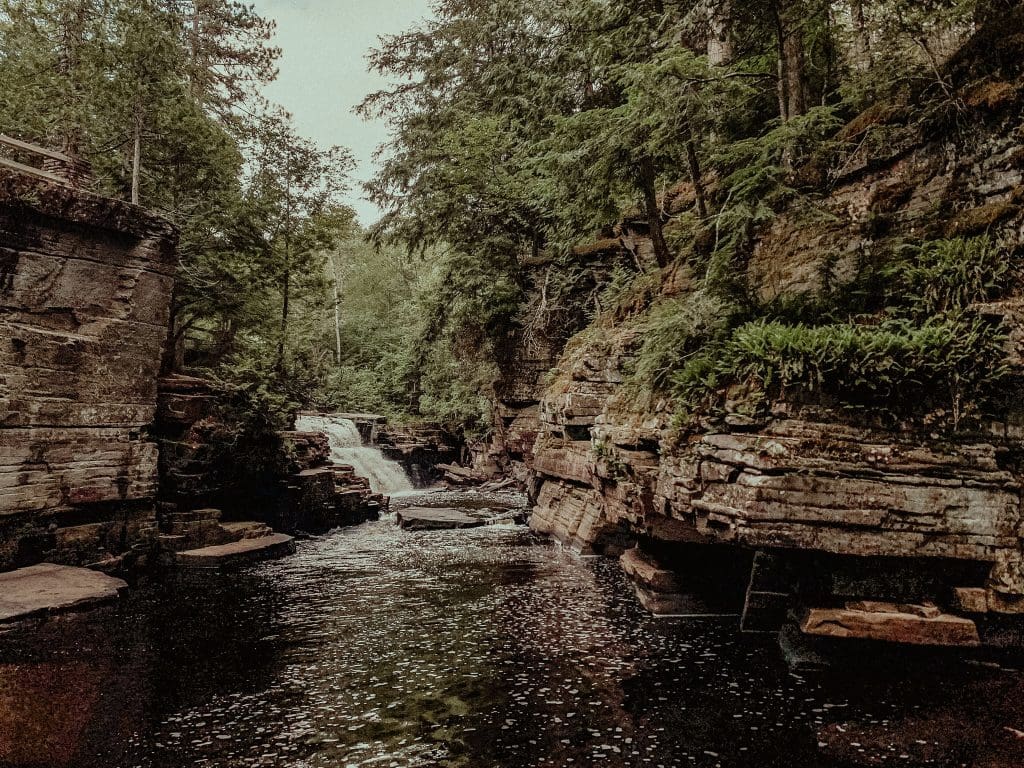 Copper Harbor
This quaint town near the tip of Keweenaw Peninsula offers couples plenty of stunning coastal scenery during their nuptial stay in Michigan's Upper Peninsula. There are several amazing spots in Copper Harbor that are perfect for an elopement ceremony or adventurous photos. I compiled a detailed list of them in this post.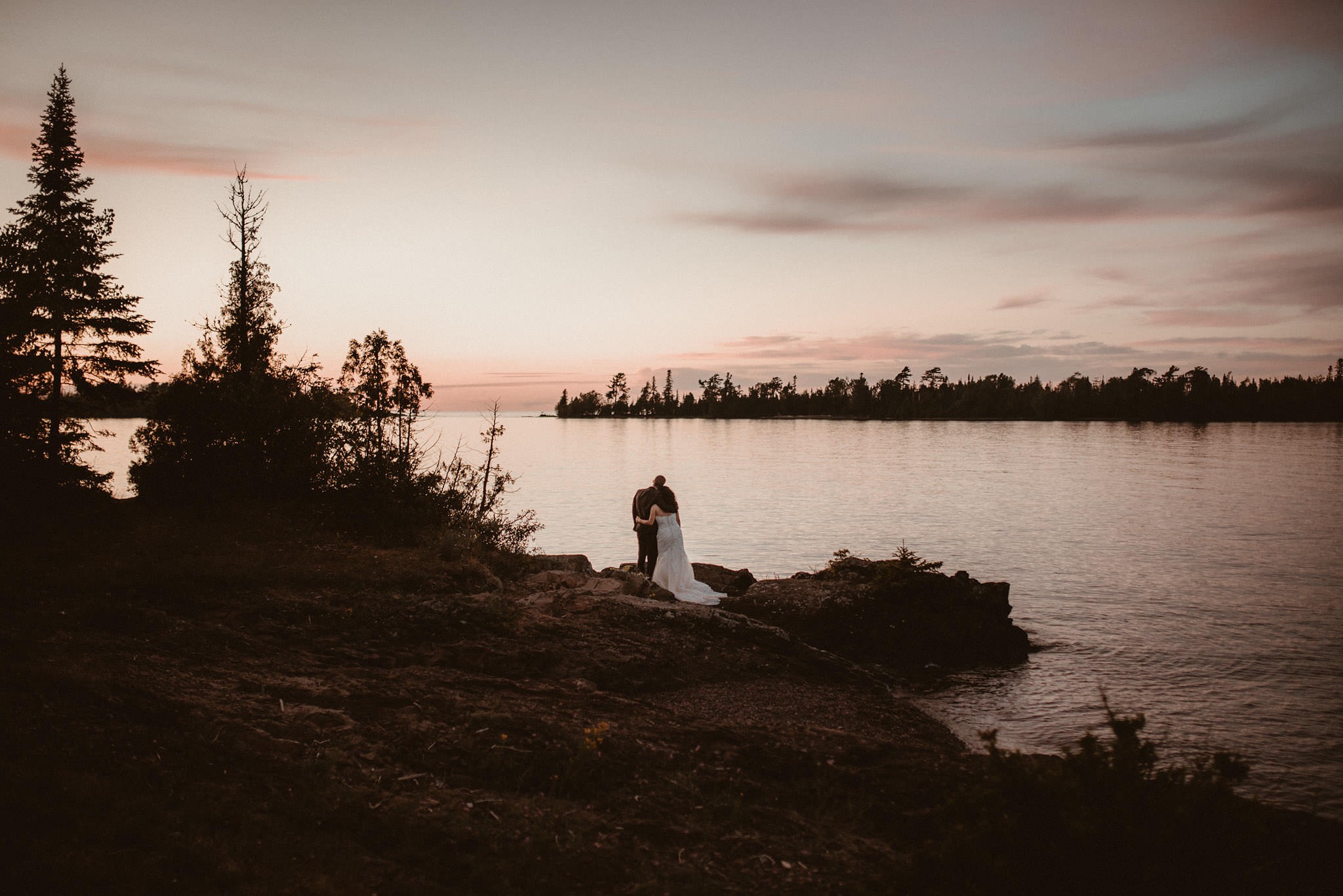 Drummond Island
Drummond Island's natural beauty is truly unique, from the clear blue waters to the serene forests that cover the island. This island has a whopping 34 inland lakes (on an island of only 249 square miles). The island features some very rare flora and fauna, and some unique geological formations. Drummond Island has the largest closed-loop trail system for off-road adventures in the State of Michigan. You can find a beautiful place in nature to elope, or if you're adventurous, trek over to the Fossil Ledges or Marblehead (4×4 required!).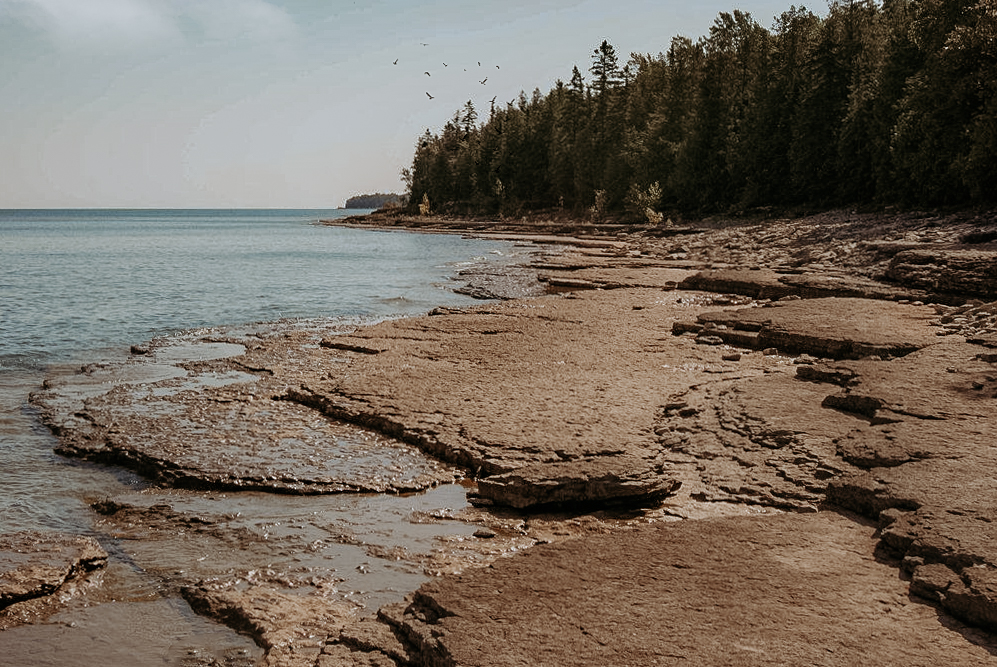 Drummond Island Elopements
Wilderness State Park
Located in Northern Michigan (in the lower peninsula) and boasting a variety of coastal ecosystems from wetlands to beaches to forests makes Wilderness State Park another great destination for outdoor elopements; explore the miles of trails and campgrounds prior or after saying "I do" amidst nature's beauty here!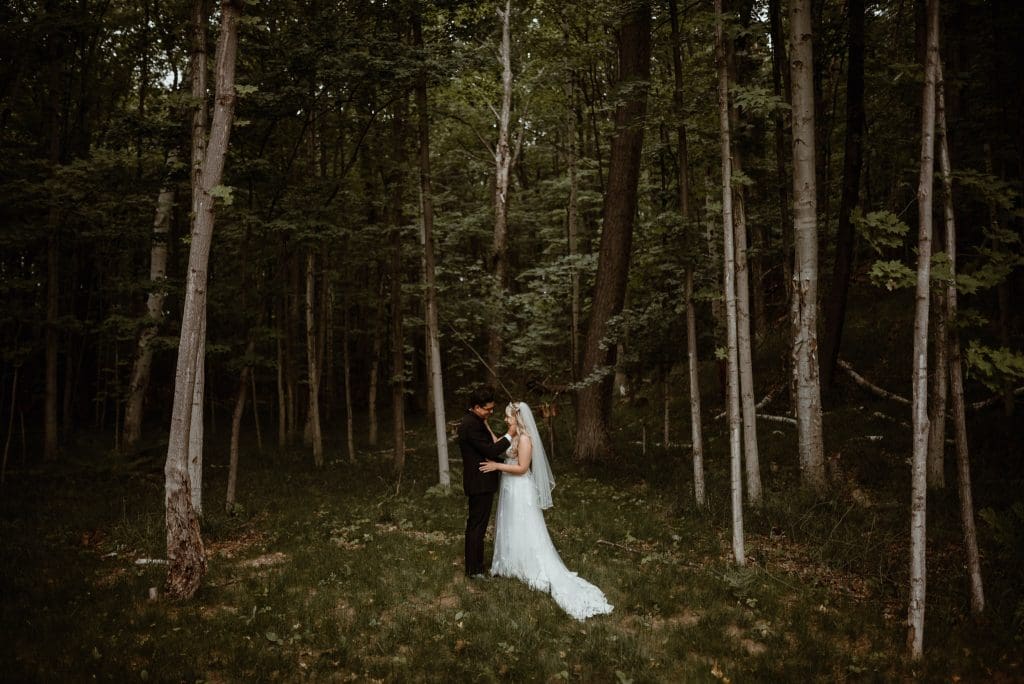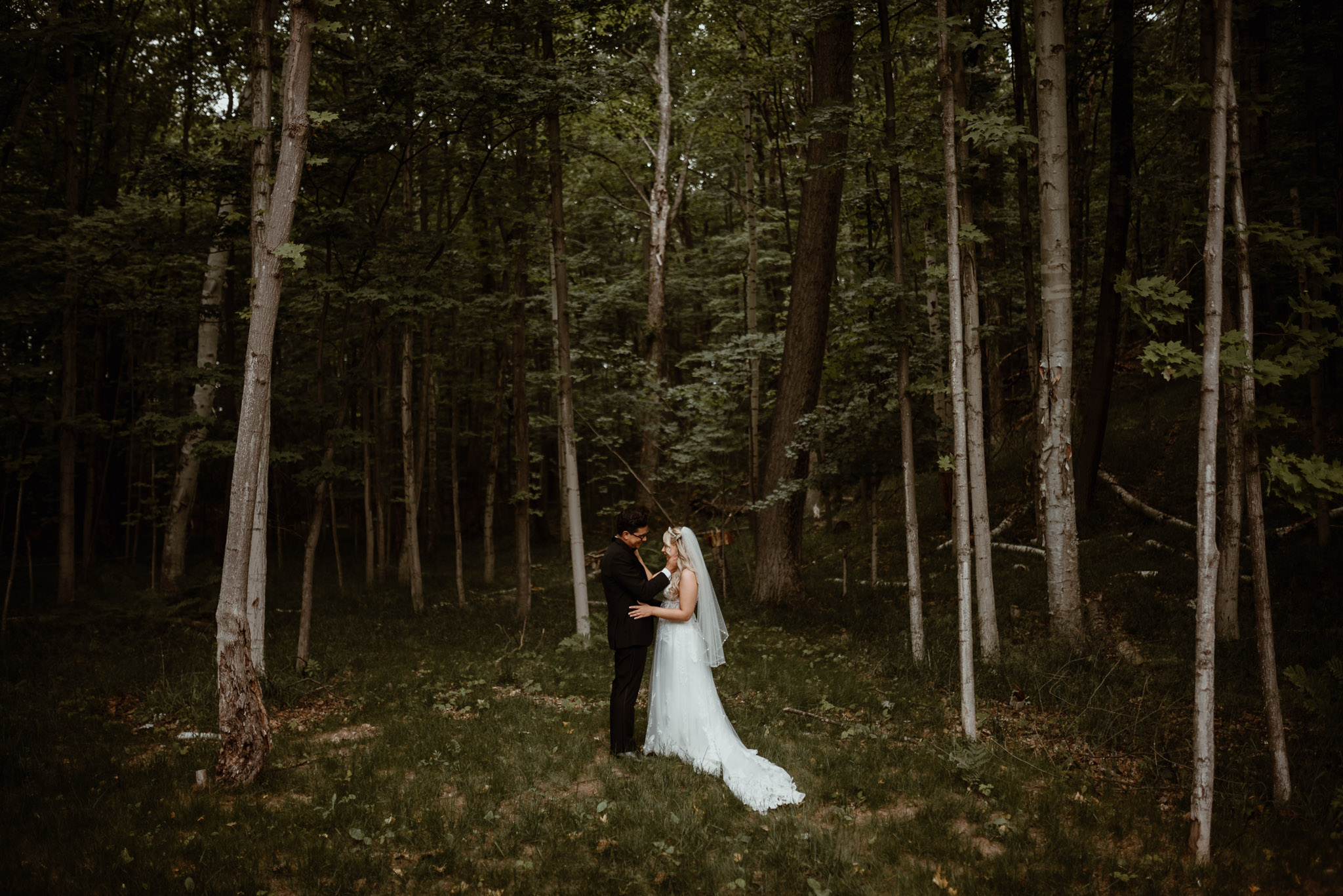 Wilderness State Park Elopements
Ludington State Park
Ludington State Park is an oasis of natural beauty in Michigan's Lower Peninsula that absolutely can't be missed. The sweeping sand dunes and beach along Lake Michigan are just a few of the breathtaking sights located inside the park. Say your vows under the stunning canopy of leaves in the forest, with sunlight filtering through the trees. Say "I do" with the sound of Lake Michigan's waves crashing against the shore as a backdrop. Ludington State Park is a hidden gem that combines natural beauty with unique landscapes – you won't regret eloping here.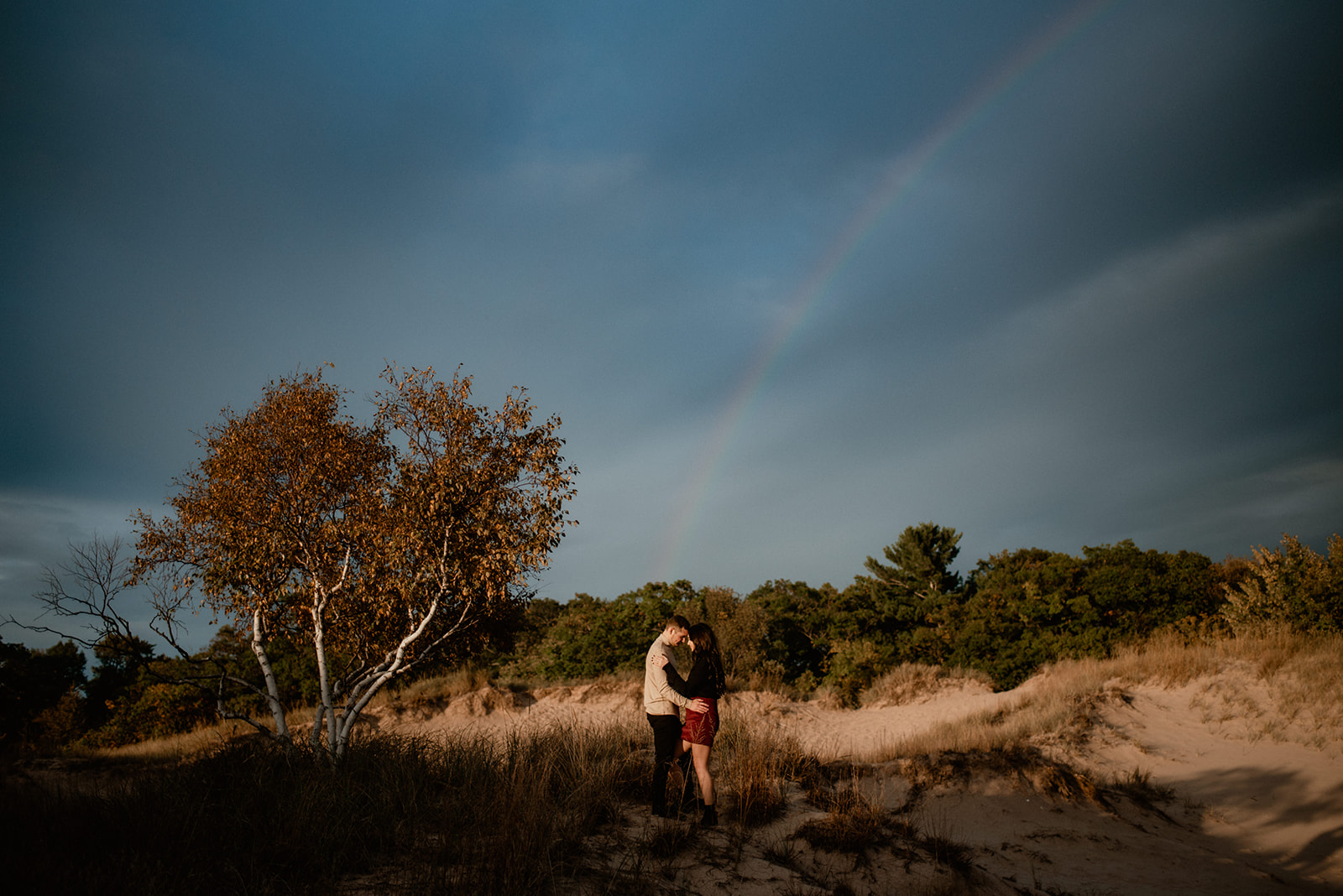 Ludington State Park Elopements
Marquette
Three of my favorite elopement locations in the world are located in Marquette, Michigan.
Presque Isle in Marquette, Michigan is a breathtaking destination for couples looking to elope, and one of my favorite places anywhere. With its sweeping views of Lake Superior, rugged shoreline, and otherworldly black rocks – it's truly a gem to be explored!
Wetmore Landing is a remote beach area on Lake Superior that feels like a secret, magical hideaway. It's one of my all-time favorites, because of the surrounding forest trails and the unique volcanic rocks here.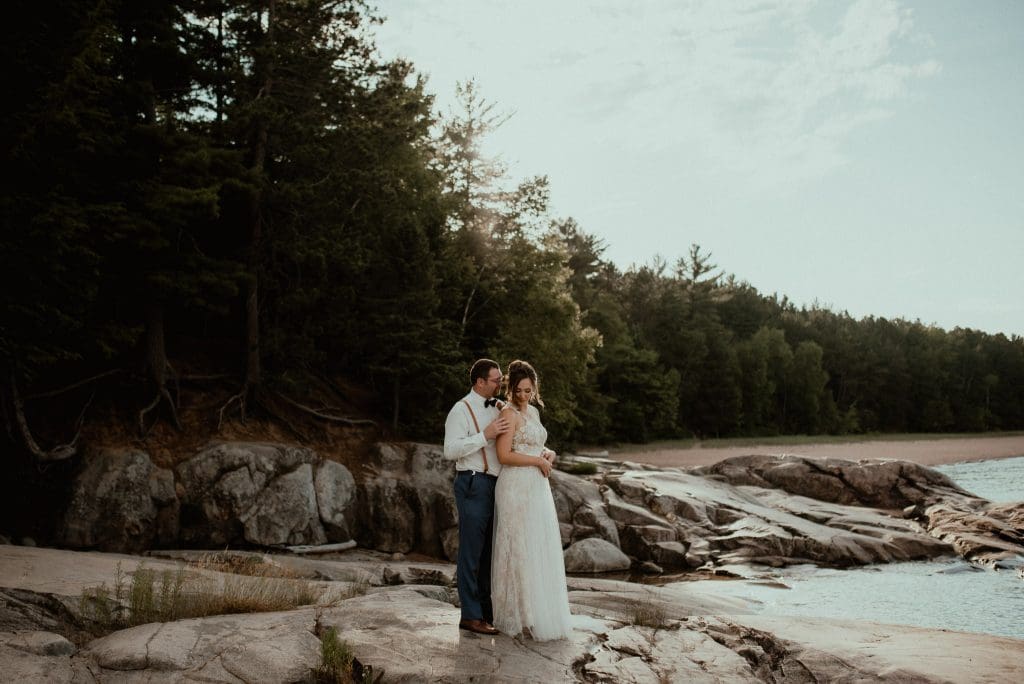 Sugarloaf Mountain & Hogback Mountain are both amazing and offer stunning views at the summit that don't take all day to get to. Sugarloaf is a fairly easy (other than tons of stairs) 30-minute hike to the top. Hogback is more remote and has a bit of a scramble at the top, but it's worth it!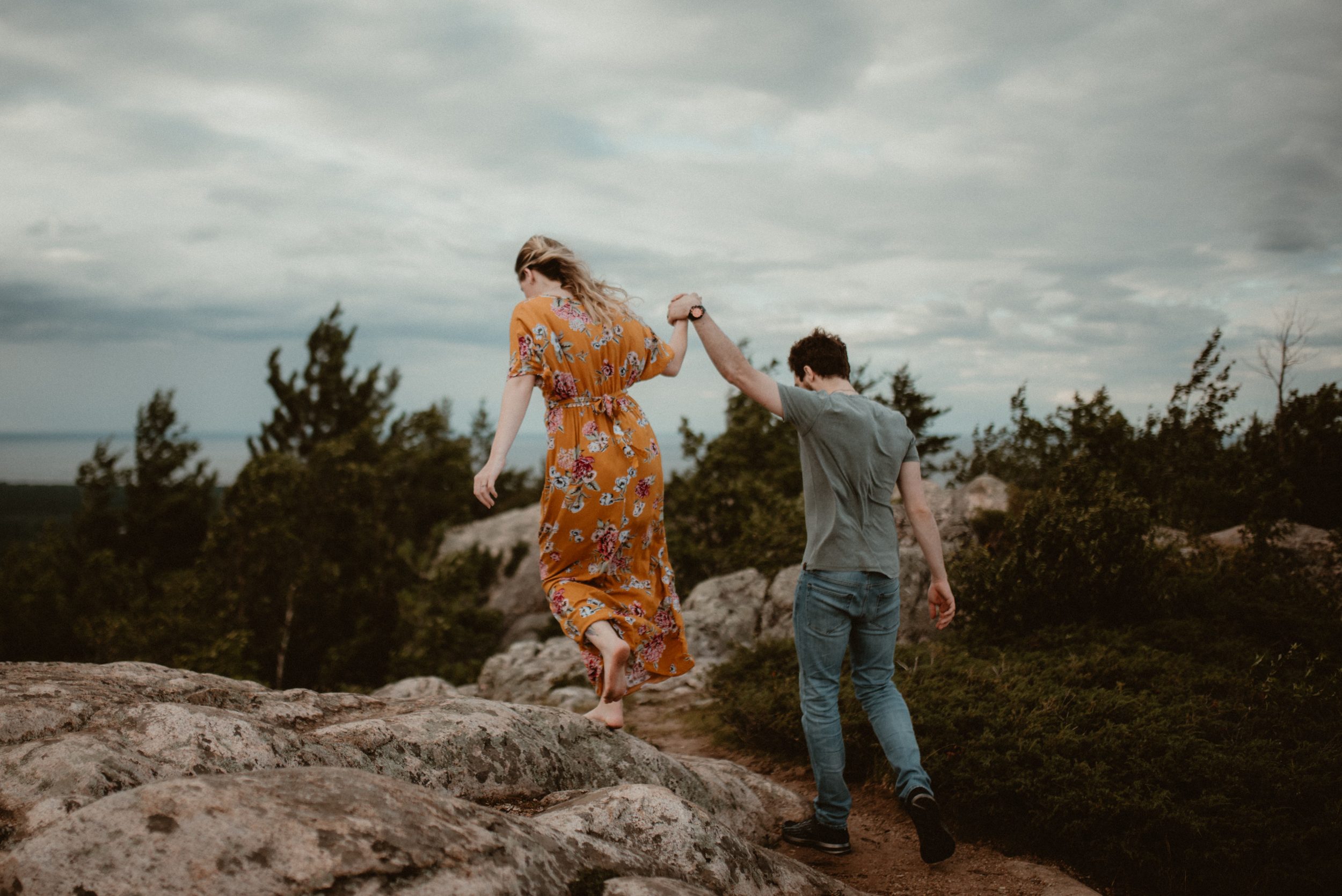 Mackinac Island
This charming and unique island off Michigan's Upper Peninsula offers couples nearly endless possibilities when searching for their perfect elopement venue. For centuries, visitors have enjoyed this national treasure that's home to historic Fort Mackinac, world-famous Mackinac Island fudge, and car-free streets full of horse-drawn carriages. That's right- motor vehicles are prohibited on Mackinac Island!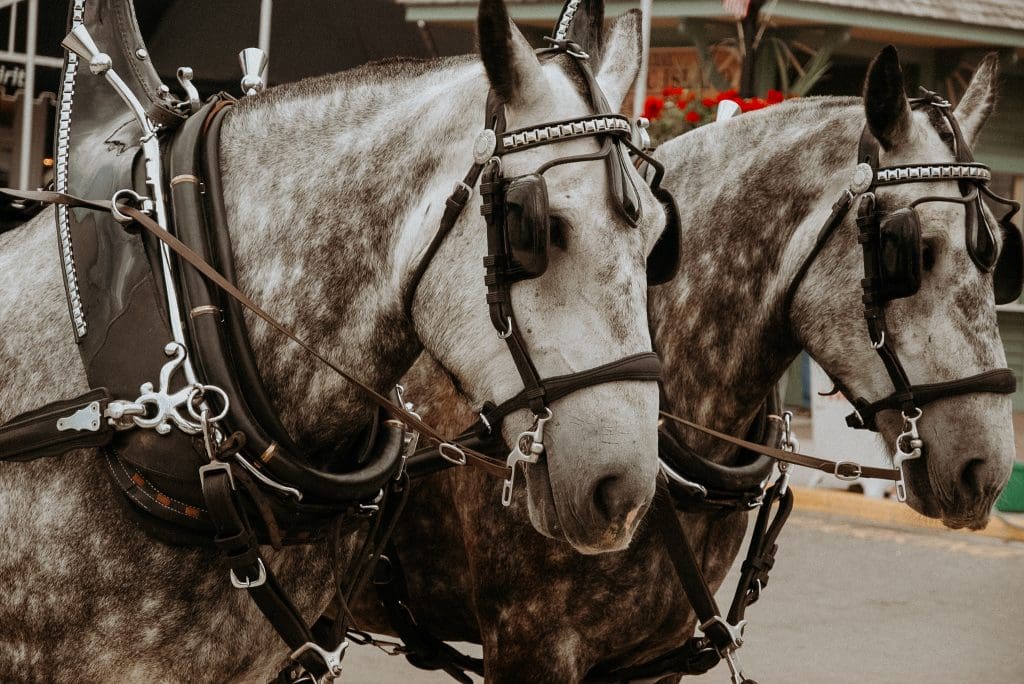 This exclusive Michigan elopement spot is a paradise of exploration with incredible natural landmarks, charming hotels and shops, and awe-inspiring sunsets. BTW, it's pronounced, "Mack In Awe" ;)
You can say your vows on the island at one of the gorgeous natural locations, get married at the butterfly house, or even on one of the ferries to the island. There's even a pirate ship (fun!)!
Mackinac Island Elopements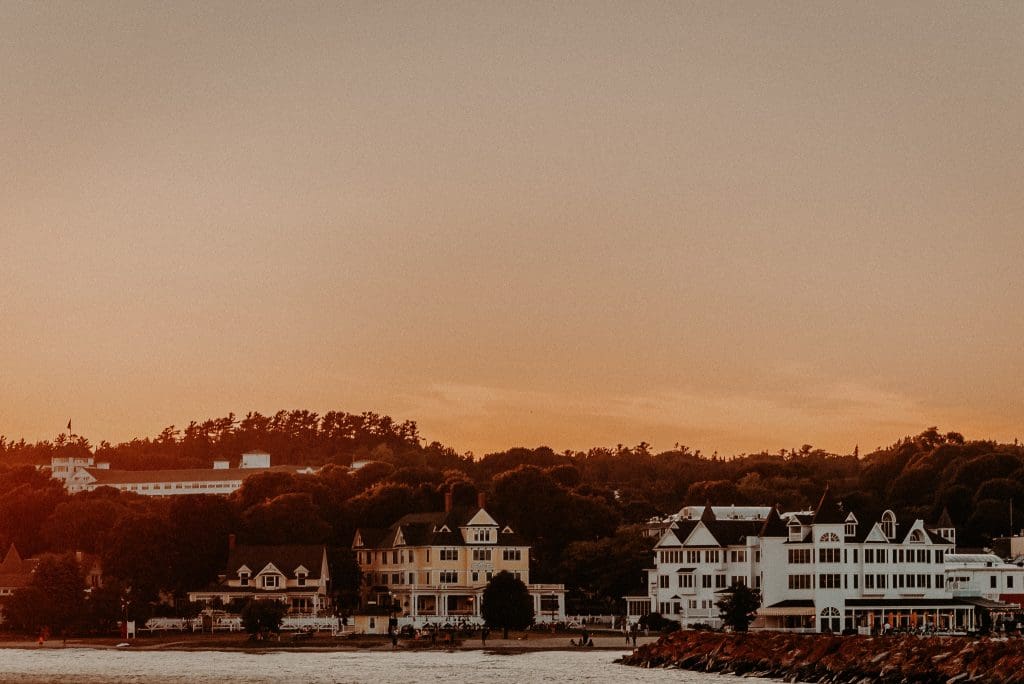 If you're considering eloping in Michigan, congratulations! Don't forget to look at some of the other helpful resources I have on my website! And if you want to work with a Michigan Elopement Specialist who can help you find some more amazing, off-the-beaten-path elopement spots that will take your breath away, get in touch and let's start planning!