Top 5 Elopement Spots in Michigan
Best Elopement Spots in Michigan
I've compiled this list of the top 5 spots elopement spots in Michigan for anyone who's looking for an AMAZING elopement location in Michigan! Michigan has many awesome places to elope, and I've narrowed it down to my absolute favorites.
If you're planning a Michigan elopement and are not sure where to elope, I'd love to be your photographer AND help you find the perfect location!
Outdoor Elopement Spots in Michigan
If you're familiar with my work, you'll know that I'm partial to really amazing places in the wild, so this list is going to focus on just that- epic places in Michigan that have beautiful scenery, wild vibes, and are located in nature.
Black Rocks on Presque Isle Elopement
Presque Isle is a 15 minute drive from downtown Marquette, Michigan. It's a small peninsula that features a one-way drive-able loop that takes around 10 minutes to complete. There are hiking trails, but the best spot is the Black Rocks, found at the northern tip of Presque Isle. Here you'll find an otherworldly landscape of lava rock jutting out into Lake Superior.
The Black Rocks on Presque Isle is an incredible place to elope in Michigan but there are some pros and cons:
One of the most unique landscapes within Michigan.
Gorgeous scenery, year-round.
Big enough for a small gathering of friends and family.
Depending on the season, date, and time, it may be very crowded.
Parts of the road may be closed during winter or special events.
You can't have arches or furniture. Camping-style chairs are allowed.
Parking is convenient, but spaces are limited.
No permit is required to elope or take photos here.
Sleeping Bear Sand Dunes Elopement
Sleeping Bear Sand Dunes National Lakeshore is a vast landscape of windswept dunes on the west coast of the Leelanau Peninsula in the north west of Michigan's Lower Peninsula. There are miles and miles of sandy beach, bluffs, and dune grasses. It's a tranquil, wild place that's uniquely it's own.
The Sleeping Bear Sand Dunes is one of the best places to elope in Michigan. Here are some pros and cons:
Gorgeous scenery along the great lakes.
High bluffs that lookout over Lake Michigan.
The sand can make it challenging to hike, and it gets everywhere.
Some spots are very popular in the summer months, but the area is huge so you can almost always find a private or semi-private spot.
Most of the best locations require some hiking to get to them.
A permit is required for wedding ceremonies (you can apply here).
Silver Lake Sand Dunes Elopement
Yes, Michigan has a lot of spectacular sand dunes. Besides Sleeping Bear, my other favorite are the Silver Lake Sand Dunes located about a half hour north of Muskegon on the shore of Lake Michigan. These are the only dunes in Michigan, as far as I know, that actually look like the Sahara Desert. The dunes are high, and pure sand. Other dunes in Michigan are incredible, like Sleeping Bear, Saugatuck Dunes, Grand Sable Dunes, Arcadia Dunes, Port Crescent State Park, and Nordhouse Dunes.
Pros and cons of a Silver Lake Sand Dunes Elopement:
Actually looks like you're in the desert.
Spectacular vistas.
Sand can make it a challenge to hike, and it gets everywhere.
You have to climb up to get to the good spots.
Parking can be limited.
You do not need a permit for less than 20 people.
Proud Lake State Rec Elopement
Michigan has many wild forests, but my favorite are those that feature rows upon rows of huge, old growth pine trees. Proud Lake State Recreation Area is a hidden gem in Southeast Michigan. It features over 4,700 acres with forests, lakes, and trails. Part of the park was once used to plant many different kinds of pines, which have now grown into forests of massive trees.
Some pros and cons of eloping at Proud Lake State Recreation Area:
Forests of huge, old pine trees of different varieties.
Beautiful in any season.
Not a crazy popular tourist spot, so it's generally quiet.
Campgrounds, cabins, and larger buildings are available to rent.
There can be a LOT of mosquitoes here in the warmer months.
No permit needed for groups under 20.
Sugarloaf Mountain Elopement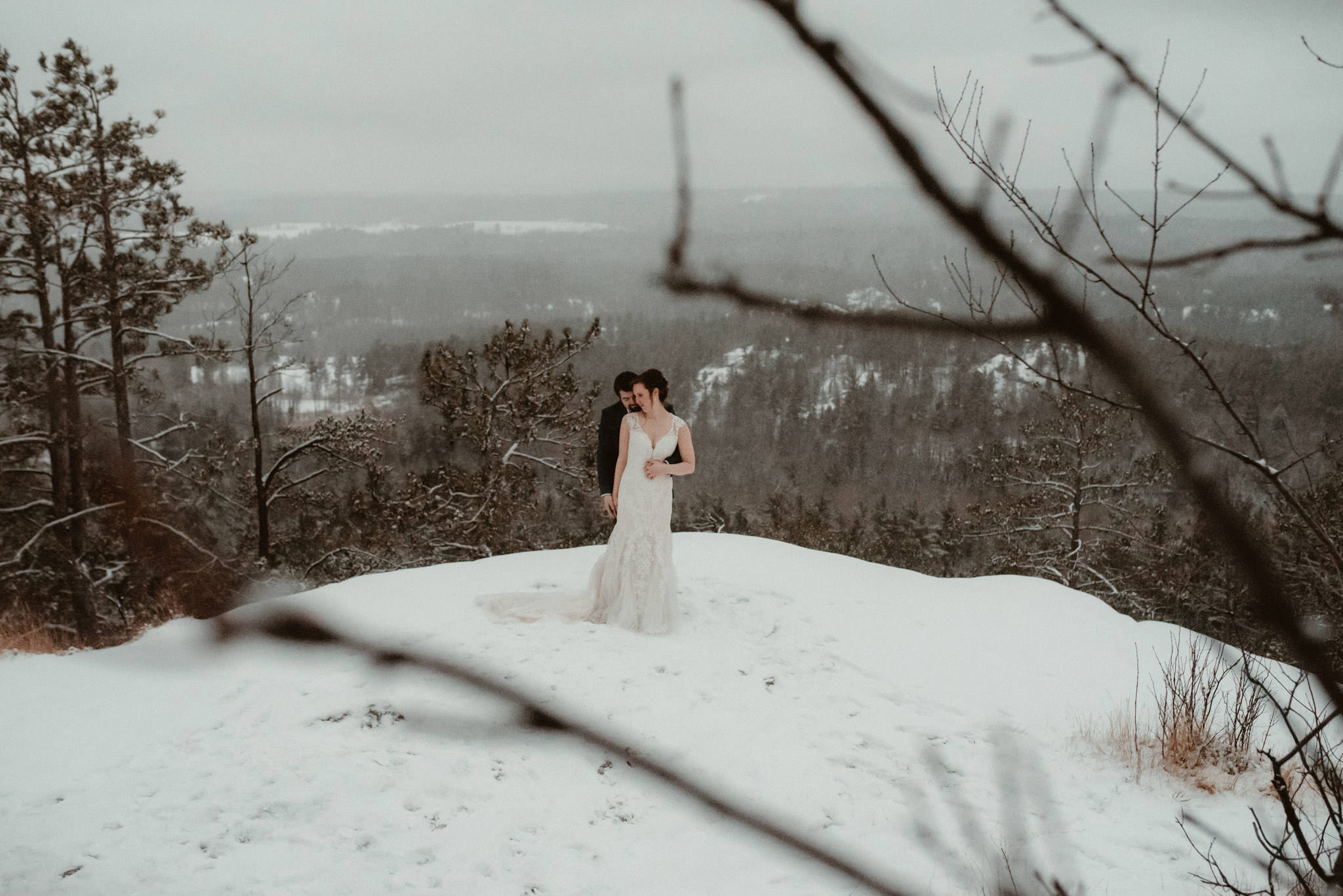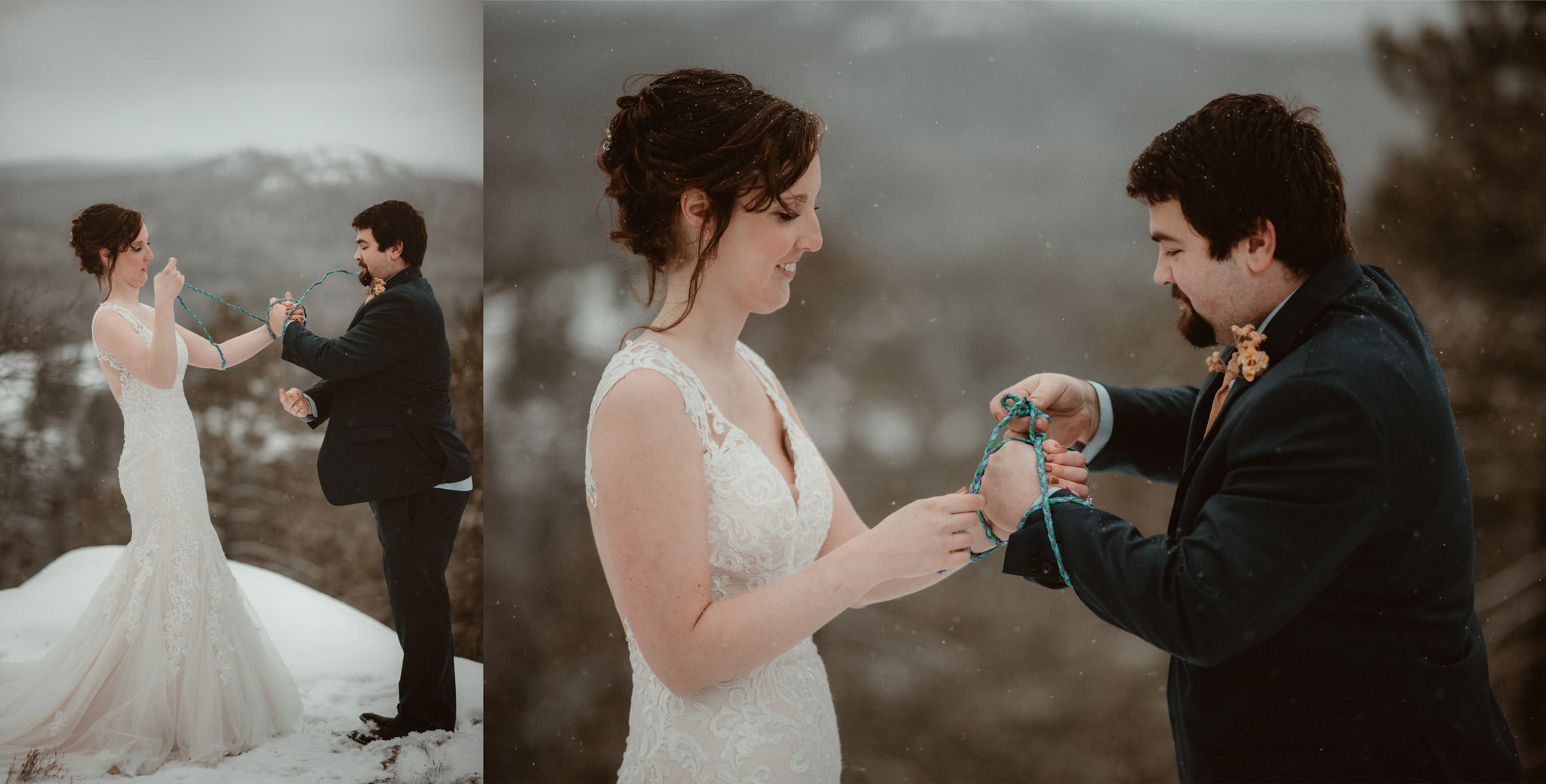 Sugarloaf Mountain is located just minutes from downtown Marquette in Michigan's Upper Peninsula. It's a moderate 30-45 minute hike to the top, which features a few deck platforms and lots of flat rocky outcrops that are perfect for a Michigan mountain elopement ceremony spot.
This is one of the only mountains in Michigan that has easy year-round access. In the winter it's magical. In the fall you get to see all of Michigan's Autumn splendor from a bird's eye view!
Sugarloaf Mountain is only a few minutes away from the Black Rocks and Wetmore Landing- two great places for photos. Pets are allowed on the mountain as well, so feel free to bring your pup!
Here are some pros and cons of eloping at Sugarloaf Mountain in Marquette:
No permit is needed.
The mountain is public, so you might have to share it with others.
It's a fairly easy hike to the top for any age person that's able to climb a lot of stairs!
The views from the top are spectacular!
The mountain is open year-round with free, easily accessible parking.
Other Amazing Elopement Spots in Michigan
Besides the places I've mentioned above, there are so many other amazing spots to elope in Michigan. Some of my other favorite elopement spots in Michigan :
Pictured Rocks National Lakeshore
When looking for the perfect location, I recommend researching things like:
What is the weather like there during the season you are thinking of?
How busy/crowded is it likely to be?
What is the parking and accessibility like?
Do you need a permit to elope there?
Is there a hike involved? Or how long does it take to get to a ceremony spot?
Are there accommodations nearby?
If you'll be hiring additional wedding vendors, is it a location they service?
There are also many resorts and privately owned places in Michigan that would be perfect for an elopement. Here's a collection I put together of AirBnb ideas for lodges, cabins, and retreats.
I love helping couples narrow down their spots to elope in Michigan so they can choose the perfect one. If you're thinking of planning a Michigan elopement, reach out and I can help you with all of your planning!
---
Lume Photography is a fine art elopement and wedding photographer based in Michigan, travelling worldwide. Behind the camera you'll find me (Andrea)- a girl who loves animals, the wilderness, and love stories. I believe in magic, soulmates, and the hidden forces of energy that connect everything and everyone in the universe. My favorite places are the woods, the mountains, and the ocean. My passion is documenting the moments, emotions and connection between two souls in love, in wild places. I travel to Arizona, Colorado, California, Scotland, and beyond to photograph wild elopements and small destination weddings.