How to tell family and friends you're eloping
You've made the brave decision to elope because it feels right for you. You know it's going to be amazing! But how do you tell family and friends you're eloping? The way you go about it can make a big difference in the reactions you get.
Here are some ideas and thoughts to help you tell family and friends you're eloping:
1. Skip the word "elope".
In the past, eloping had a stigma attached to it. Couples eloping would run off to Vegas or somewhere, on their own, without telling anyone, and tie the knot. Sometimes it was because families disapproved of the marriage. Often it was because the couples wanted to be spontaneous and get a rush of excitement. Usually family and friends felt disappointment and even resentment. It was the ultimate rebel move.
Modern elopements are different. They're an intentional wedding day that you spend a lot of time planning. So that your wedding day is the ultimate expression of you as a couple. They're an incredible, unforgettable experience that's perfect for you!
Consider skipping the word "elope" when you tell your family and friends about your plans. Or at least in the beginning. Instead, focus on your WHY.
2. Let them know in person.
Tell your family and loved ones before you elope, to minimize hurt feelings. That way they'll be a little more involved, even if they're not able to be present at your ceremony. Tell the ones closest to you first. Remember that word spreads quickly, so try to be the ones to tell people before they hear it from someone else.
Be excited about your plans! Share all the details! Your excitement is likely to be contagious. Here are some ideas of how to start the conversation:
"We've been thinking a lot about how we want to get married. It's important to us that…"
"A big wedding isn't for us, so we've been brainstorming alternative ideas…"
"We want our wedding day to be an exciting and memorable experience that's focused just on us…"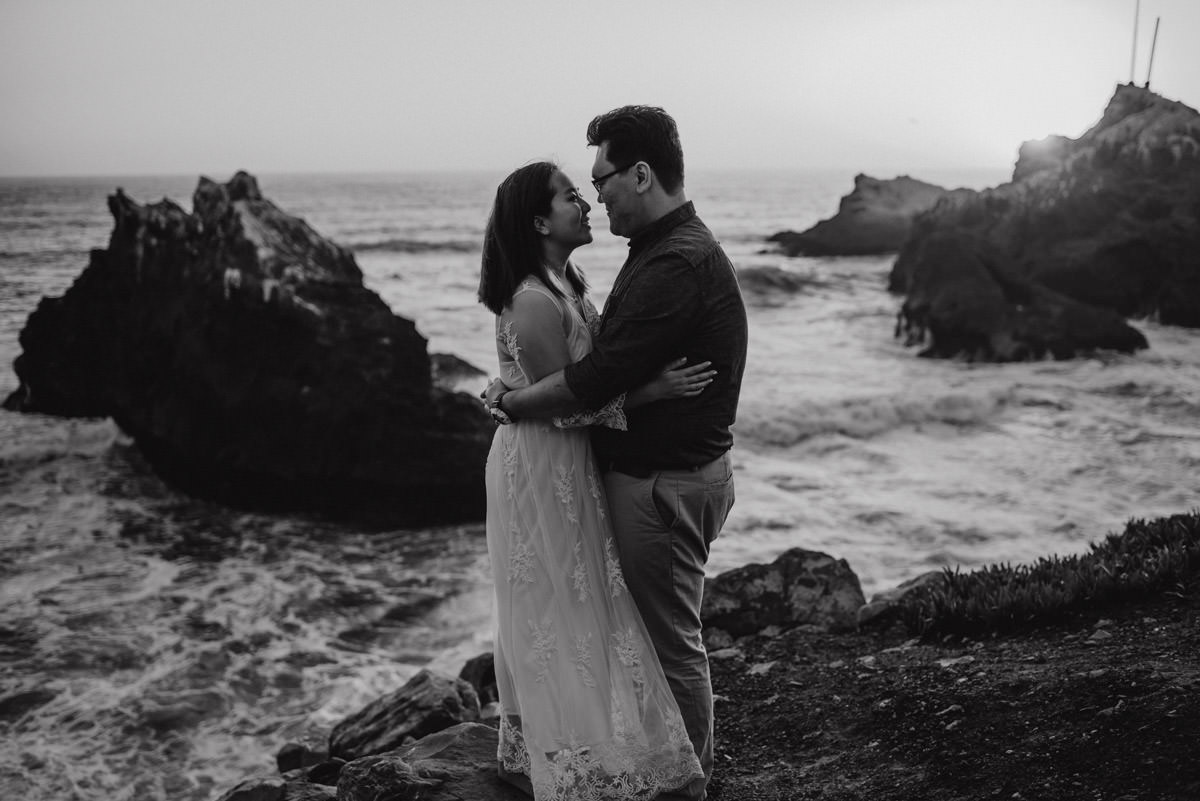 3. Be confident but understanding.
You should be prepared for some negative reactions but stay strong. Don't apologize. Take their feelings into consideration. Be empathetic and listen to what they have to say. Don't validate their feelings by saying things like "You're right". Although they might be disappointed and upset, remember the reason why- they love you and care about you.
Remember, this is your day! You deserve a wedding experience that's true to YOU. Stand your ground. This is your wedding, not theirs. It's ok to let them know that.
4. Share your reasons why.
This is probably the most important thing to share. Speak from the heart and let them know all the reasons why you're choosing to get married this way. When asked the reasons why they chose an elopement vs a traditional wedding, couples gave these as their top reasons:
It's a "JUST US" experience.
It feels like a better fit for our personalities.
We want a truly intimate day where the focus is on our relationship.
To avoid the stress of a big wedding, and instead, plan an unforgettable experience for just the two of us.
We value experiences more than stuff.
We'd rather not waste our money on all the stuff that's necessary for a big wedding (like table linens, centerpieces, favors, etc.)
We don't want to be the center of attention.
5. Ask about their own wedding.
More often than not, couples have regrets about their own traditional wedding. Ask them if there's anything they would have changed about theirs. Did it fly by in the blink of an eye? Was there any drama or stress? Did they really feel like it was worth spending all that money? You might be surprised at what they say, and this might put a new spin on things when you tell family and friends you're eloping.
6. Involve your family and friends in your elopement.
There are many ways you can include your family and friends when you elope, even if they aren't there for your ceremony! You can even brainstorm with them, to come up with ideas together. Here are some ways you could involve your friends and family if you're eloping:
Consider inviting a few of your closest loved ones to witness your ceremony.
Or have a private ceremony but meet up with them that evening for an elegant dinner.
Do a livestream of your ceremony.
They can help you plan your reception or after-party celebration.
Have a pre-wedding dinner, like a rehearsal dinner. Exchange gifts and do a speech letting everyone know how important they are to you. Be sure to reinforce why eloping is the right choice for you.
Plan a unity ceremony and have each set of parents contribute a part. For instance, each provides a little dirt from their home soil and you do a tree-planting ceremony. The dirt is combined to signify the union of your two families.
Have them write letters for you to open on your wedding day with advice and/or well-wishes.
Ask them to help pick out elements for your wedding day- your dress, jewelry, flowers, colors, etc.
Ask them to help with the announcements.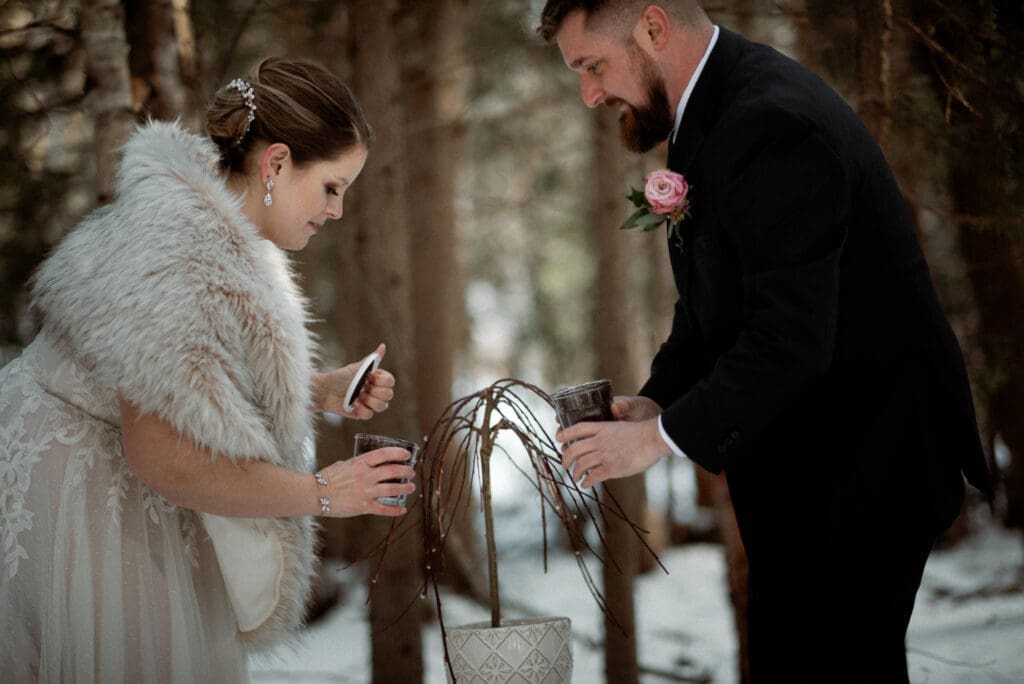 7. Plan a celebration!
You can still have a party with your family and friends to celebrate your wedding! You can plan a full-blown wedding reception, an intimate dinner, or anything in-between. Wear your wedding attire!
During your celebration be sure to have lots of photos so your guests will be able to see how amazing your wedding was! You can display them around the space, have a slideshow presentation, and even give them as favors!
8. Give them a photo album.
A small album or book full of amazing photos of your wedding day is a great gift for your parents and those you're closest to. That way they can experience your wedding day for themselves, over and over. Include a handwritten note with a thank you and tell them why your wedding was unforgettable.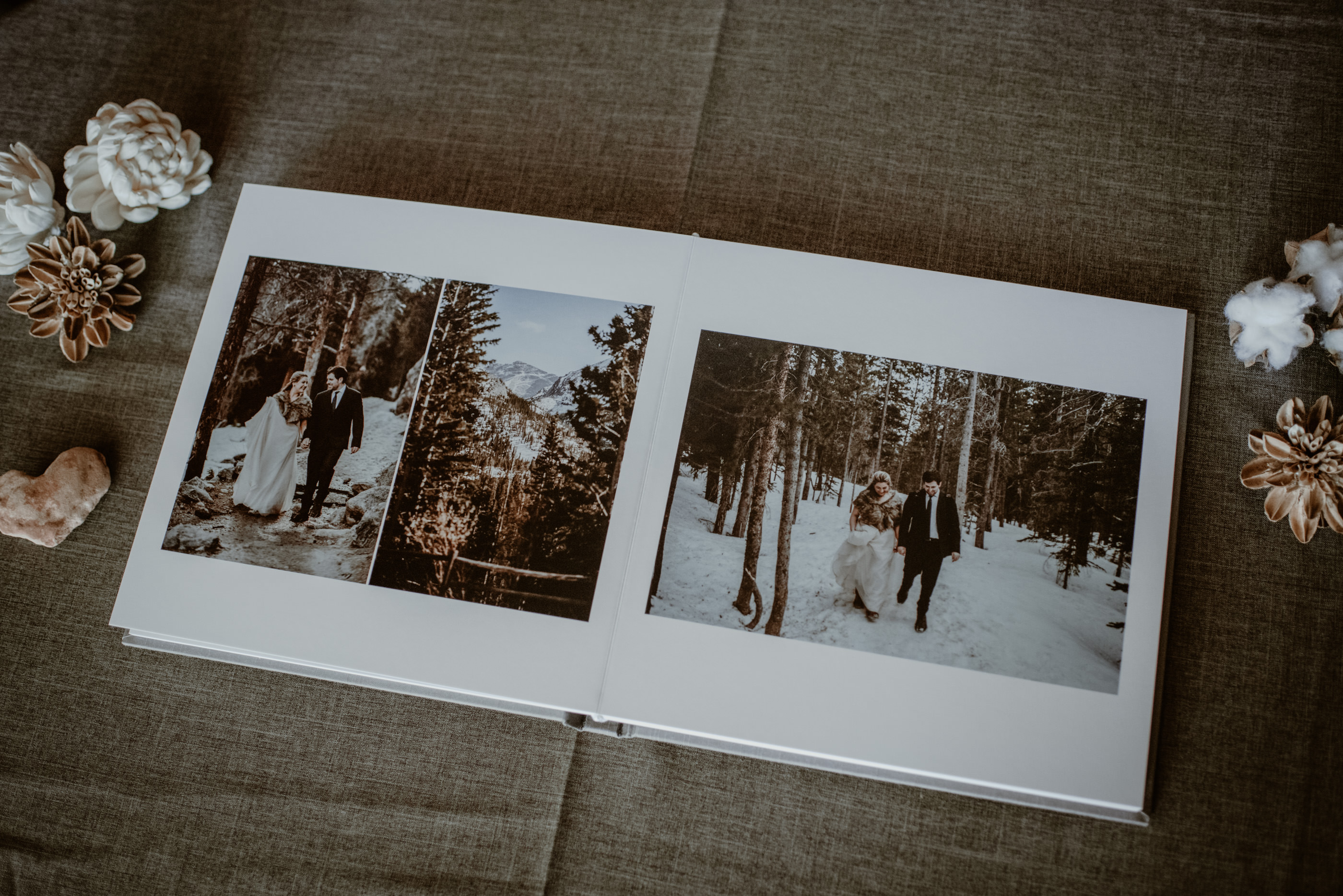 Remember- you deserve this! Every couple should have a wedding experience that's meaningful and uniquely theirs! Keep your reasons close to your heart, and don't be afraid to tell your family and friends you're eloping. It's better to tell them BEFORE you get married, to minimize hurt feelings. Get it done and know that your wedding is going to be PERFECT!
---
Lume Photography is a fine art elopement and wedding photographer based in Michigan, travelling worldwide. Behind the camera you'll find me (Andrea)- a girl who loves animals, the wilderness, and love stories. I believe in magic, soulmates, and the hidden forces of energy that connect everything and everyone in the universe. My favorite places are the woods, the mountains, and the ocean. My passion is documenting the moments, emotions and connection between two souls in love, in wild places. I've traveled to Arizona, Colorado, Costa Rica, Scotland, and beyond to photograph wild elopements and small destination weddings.