I've been working on putting together a branded Wedding Welcome Packet for some time now, and I am really liking the finished product! It's a nice "thank you" gift and packet of information that I'm sending to all the couples who book me for their wedding. If you're a photographer and want to know about it, I'll tell you more about each part.
Folder
The folder I use to hold all of the materials is from Kraft & Jute, stamped with my logo. I have printed out a welcome letter, a sample wedding day timeline (I designed myself) and a copy of my studio policies. My business cards are the Luxe Business Cards from Moo.com.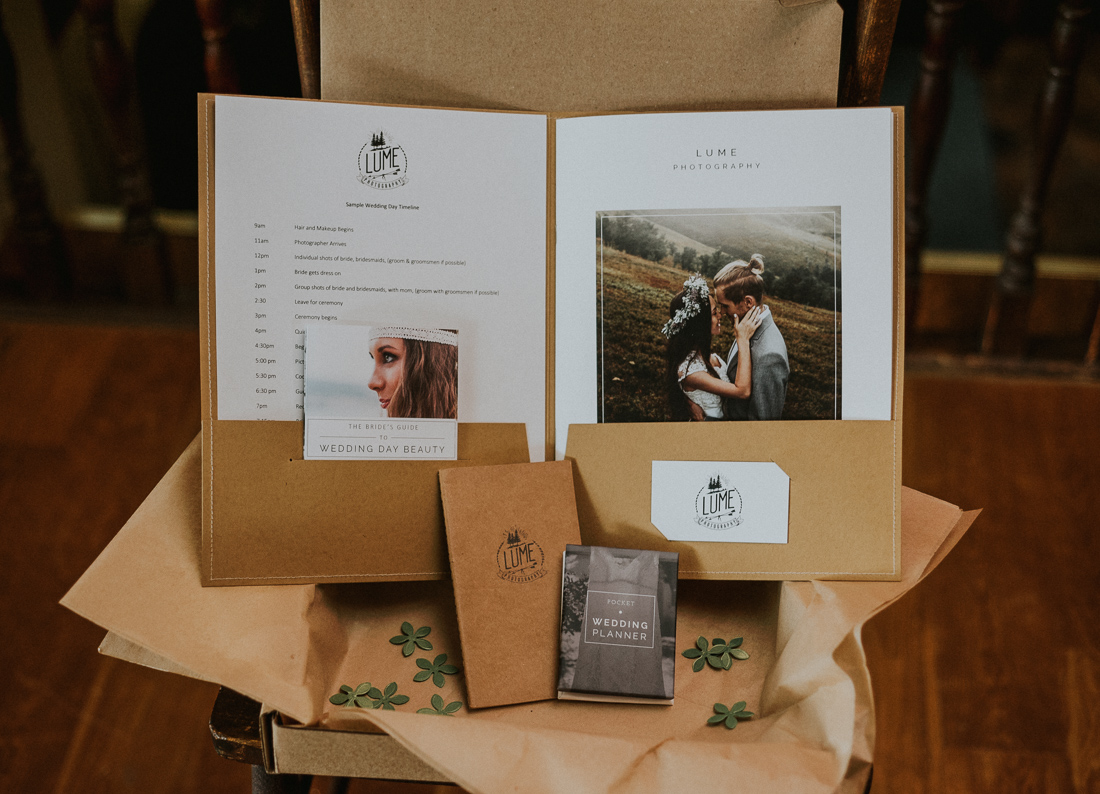 Design Aglow Templates
The Lume Photography Look Book highlights the products I carry, features and prices. I designed it using Design Aglow's Modern Minimalist Studio Look Book & Product Catalog, and Wedding Collections Price Menu templates. It was printed by ProDpi 0n their smooth matte press paper, one of my favorites, as an 8.5×11 booklet. I also designed The Bride's Guide to Wedding Day Beauty that's included in their awesome Modern Minimalist Welcome Packet templates. They are press printed accordion cards by Prodpi on smooth matte paper. I love the way it feels :)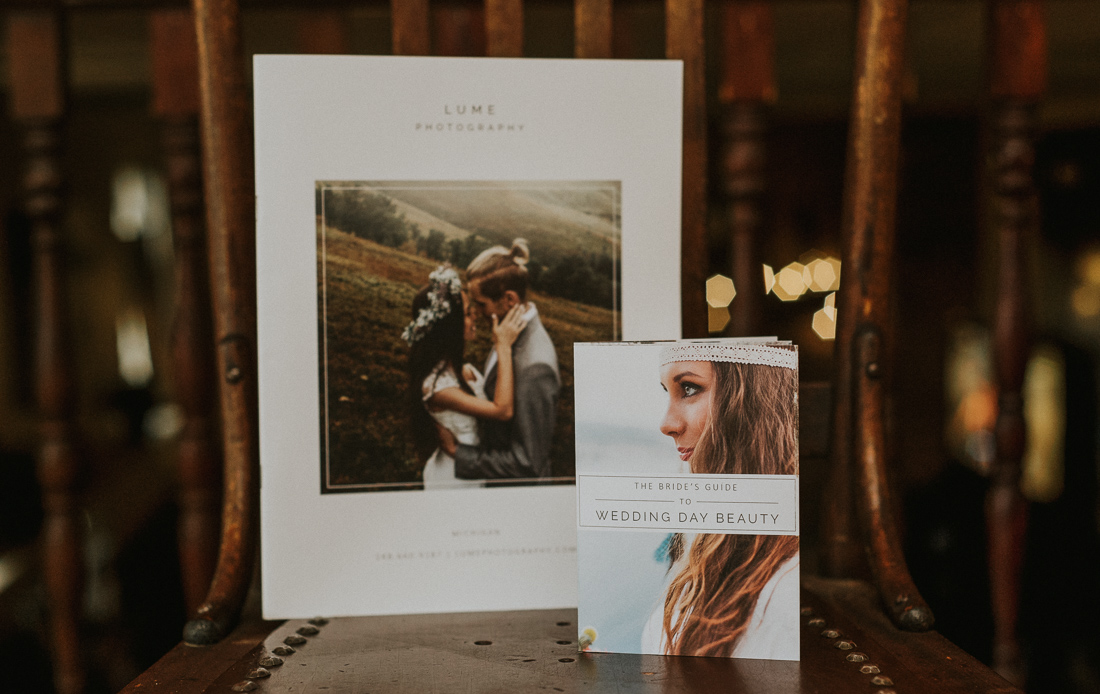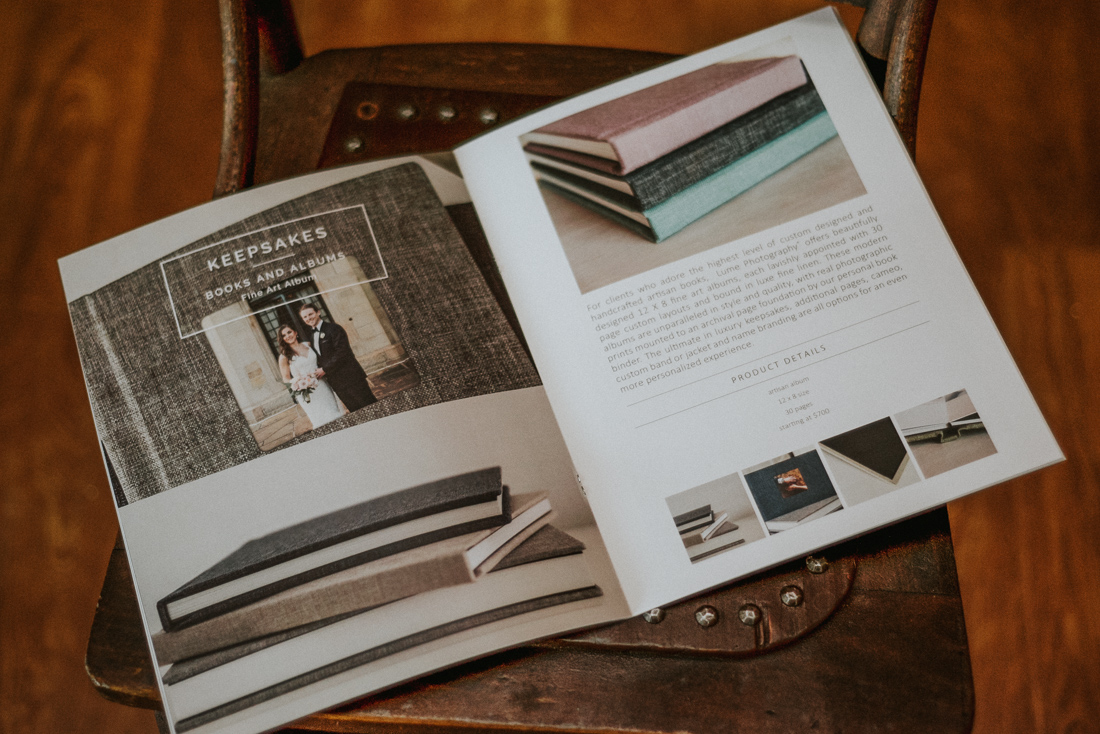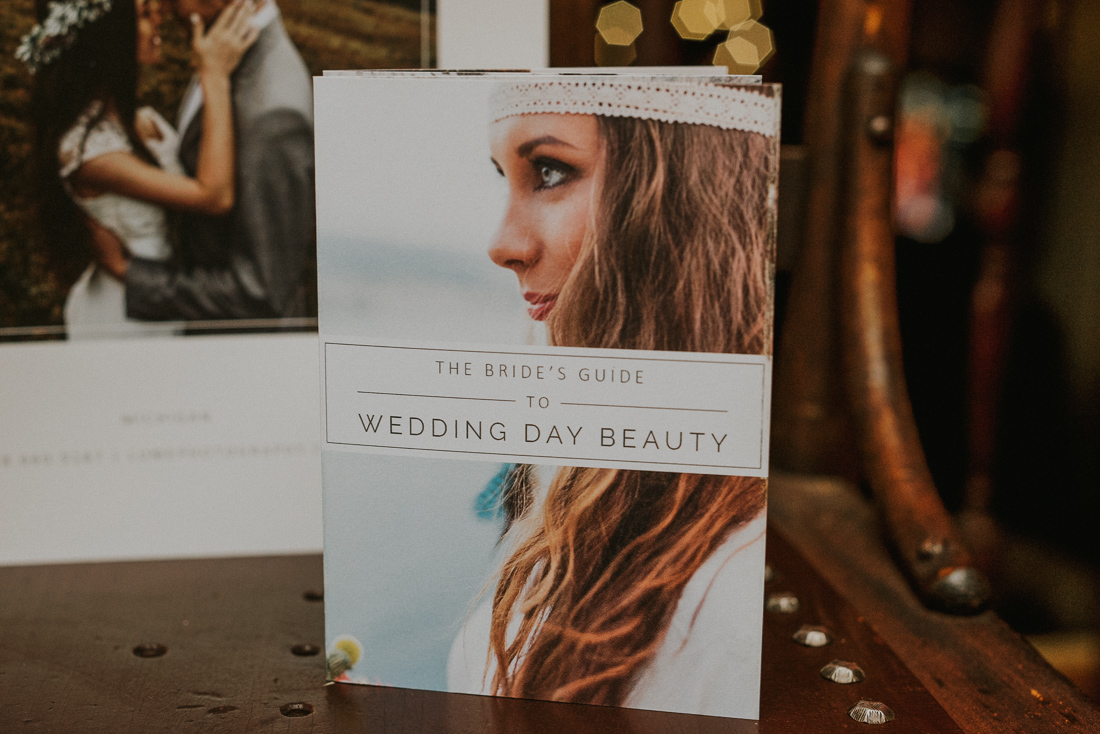 Pocket Wedding Planner
I love the little Pocket Wedding Planner accordion book template that comes with the Modern Minimalist Wedding Welcome Packet from Design Aglow. It's a great gift for the bride-to-be! I had them made by ProDpi (my #1 print lab- I love the feel of their products, the high quality, and the awesome customer service).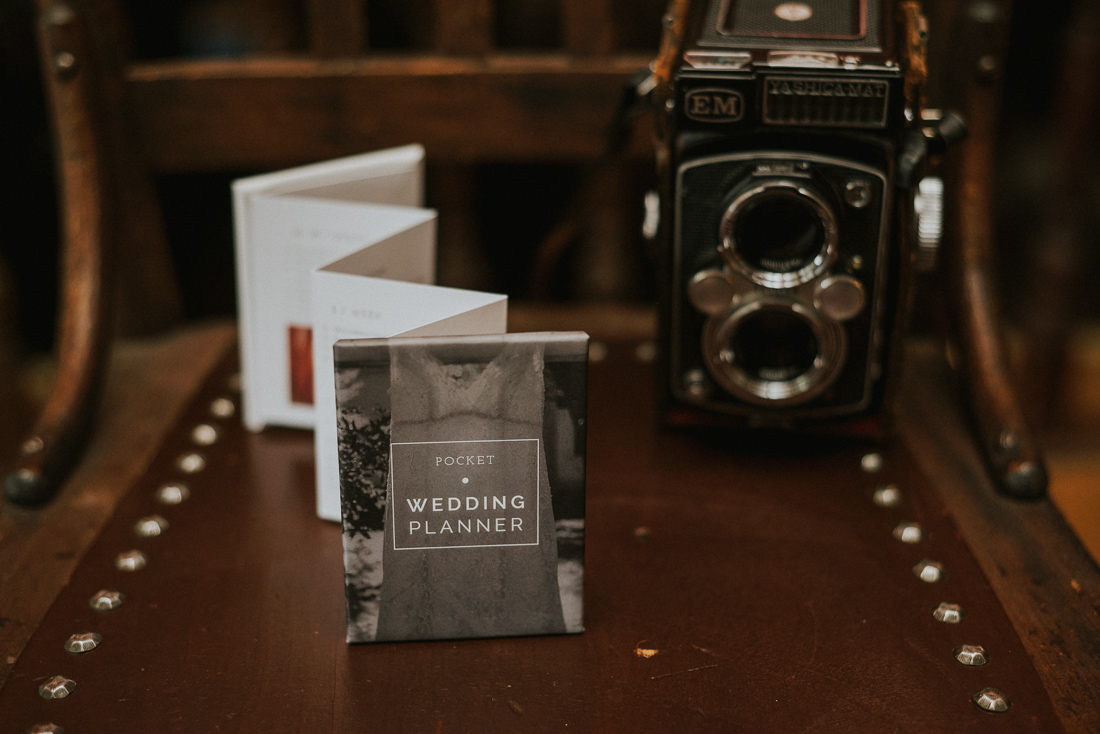 Custom Logo Stamps
I had these custom stamps made by Simon's Stamps and am pretty impressed with the quality. The ink I use is an archival ink pad I picked up at Michael's, and I found this vintage stamp holder on Etsy. I got three different sized stamps, and use them on all sorts of my packaging and correspondence, including the folders from Kraft & Jute, and these cute little blank notebooks I give as gifts to the couple. I bought them on Etsy as well.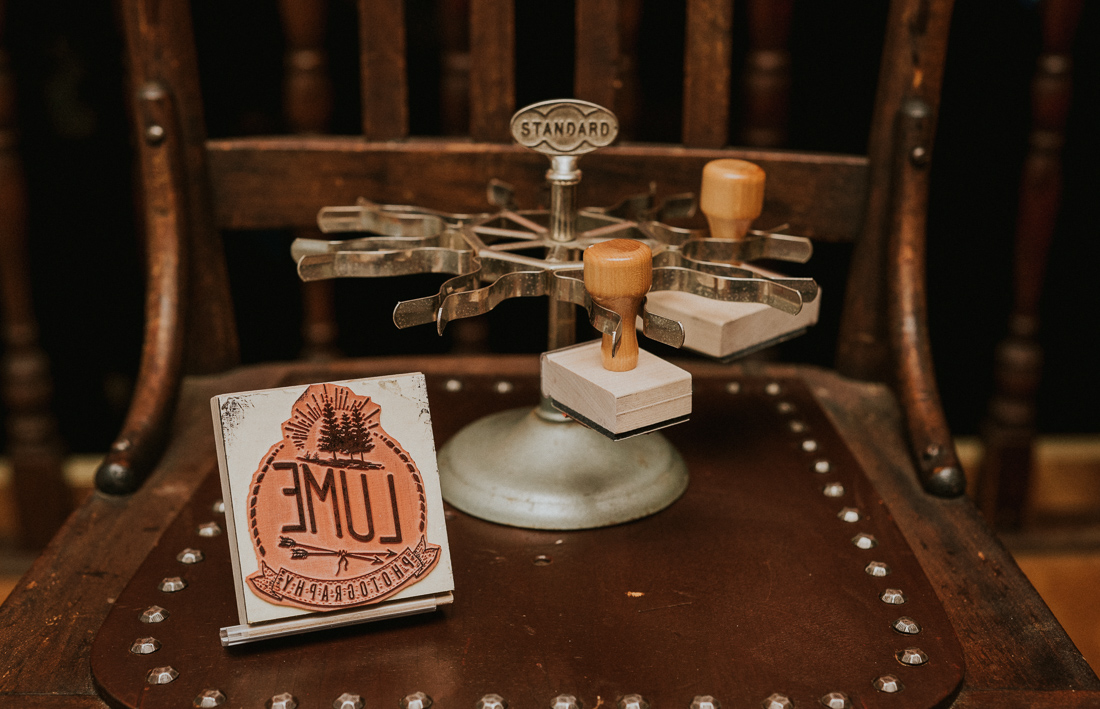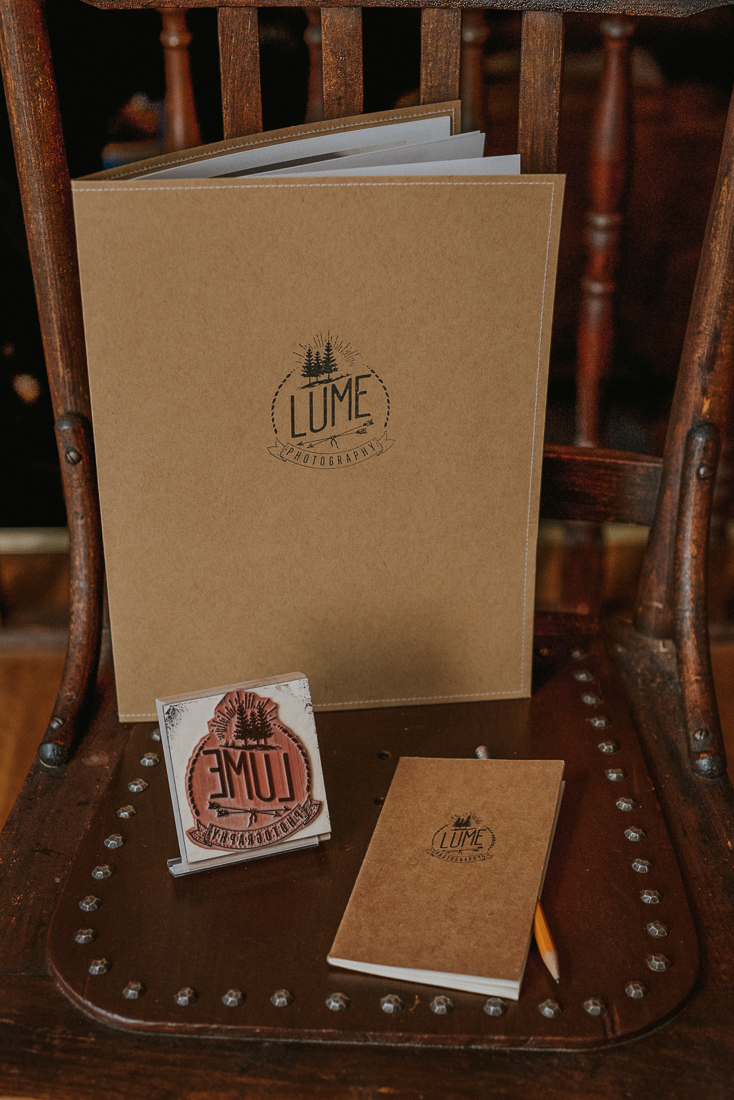 Unique Box To Wrap It Up
All of this cool stuff gets packed up neatly in a presentation box from Kraft & Jute, and I have them add my logo to the front (I love my logo!) In case you're wondering where my logo is from, it was hand drawn by Corvus Attic. I told him what I wanted, and he made it- it's just what I had hoped for!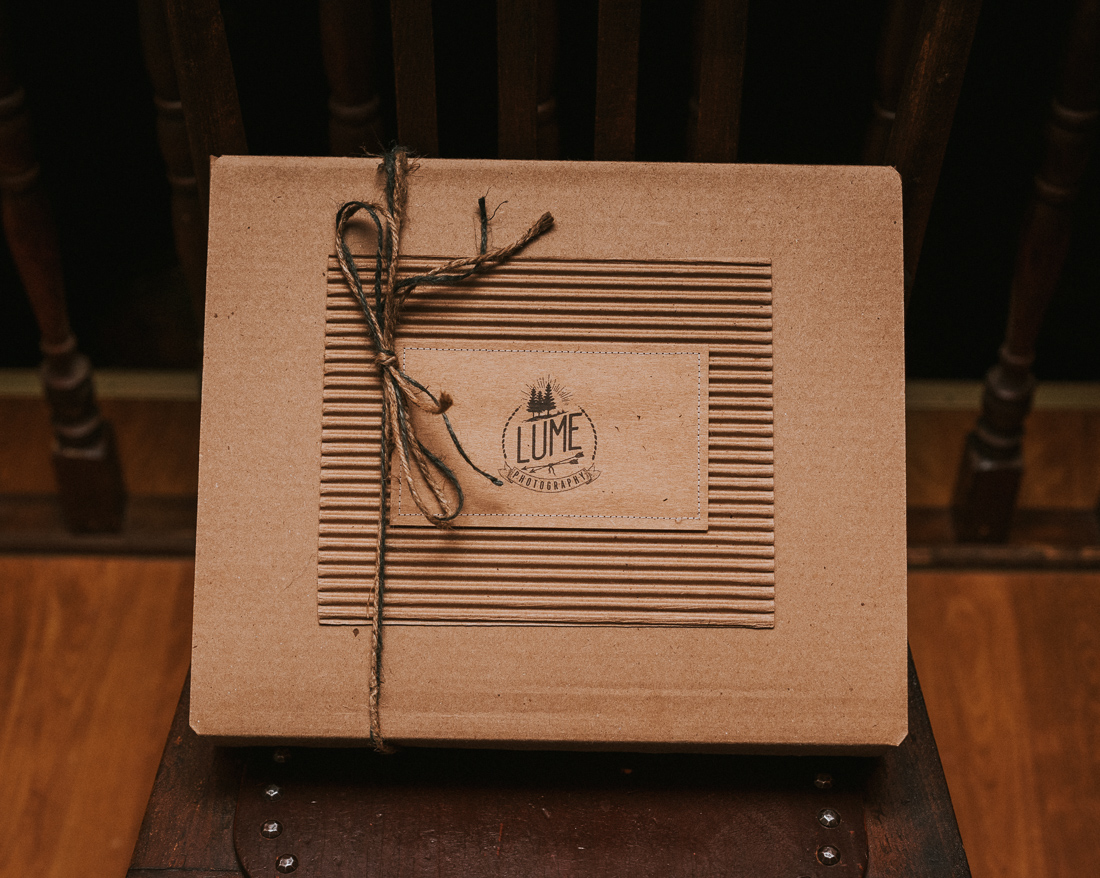 *Please note: this is an older post, and recently I've decided not to send these out anymore in favor of a different approach. But I'm keeping this post up because I still think this is a great idea and will definitely impress your clients!
---
Lume Photography is a fine art elopement and wedding photographer based in Michigan, travelling worldwide. Behind the camera you'll find me (Andrea)- a girl who loves animals, the wilderness, and love stories. I believe in magic, soulmates, and the hidden forces of energy that connect everything and everyone in the universe. My favorite places are the woods, the mountains, and the ocean. My passion is documenting the moments, emotions and connection between two souls in love, in wild places. I travel to Arizona, Colorado, California, Scotland, and beyond to photograph wild elopements and small destination weddings.