Best Wedding Venues In The Upper Peninsula
If you're looking for a wedding venue in Michigan, the Upper Peninsula is the perfect place to look. Whether you're planning an intimate celebration or wedding with guests, there's something for everyone in this wild and wonderful region. So if you're dreaming of a Michigan elopement that's truly unforgettable, take a look at some of the amazing wedding venues available in the UP!
Upper Peninsula Wedding Venues With Both Indoor and Outdoor Options
The Upper Peninsula is a great place to get married – we have many venues with both indoor and outdoor options, so you can choose what best suits your tastes. From mountain resorts to elegant gardens, we've got something for everyone! Here are some of my favorite Upper Peninsula wedding venues with indoor and outdoor options. Read on for more information, then start planning your perfect day!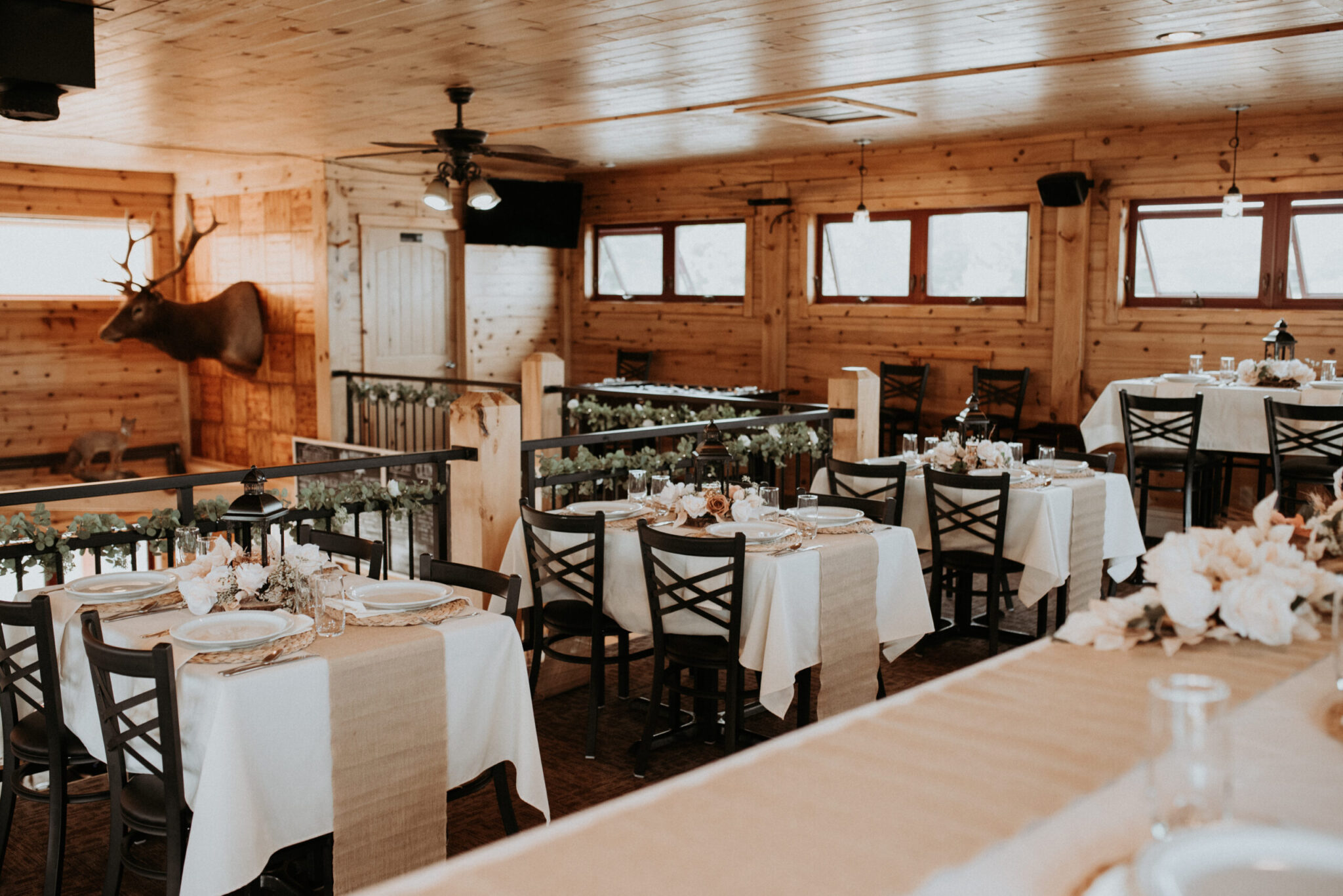 This woodsy but modern restaurant/bar can be rented as an all-inclusive wedding venue for smaller weddings and is located right across from the beach in picturesque Grand Marais. Call for more info and details.
A beautiful, unique building tucked behind the town of Calumet, hidden by tall pine trees. The outdoor area provides a chapel in the woods with beautiful benches for seating. The rustic yet modern barn is perfect for an indoor ceremony or reception.
A rustic luxury resort nestled in the mountains of the Keweenaw Peninsula with both indoor and outdoor ceremony options. Can accommodate up to 200 guests.
A historic red barn overlooking a valley in the Northern-Central Upper Peninsula. Options for both indoor and outdoor wedding ceremonies. Can accommodate up to 150 guests.
Grand hotel and resort, offering waterfront weddings on Lake Michigan. An outdoor gazebo overlooking the lake, or an indoor ballroom is available for up to 350 guests.
This modern classic golf club offers elegant accommodations for both indoor and outdoor wedding ceremonies. Contact them for more information.
This idyllic retreat is located in the Southwestern Upper Peninsula near historic Fayette. There are many beautifully curated indoor and outdoor ceremony options including an outdoor labyrinth, intimate chapel, and more!
A scenic farm setting nestled among apple orchards, berry patches and gently rolling hay fields. Can accommodate up to 160 guests.
A modern resort located in the eastern Upper Peninsula, Bay Mills is a picturesque venue for your traditional wedding. Contact the resort for more information.
This ski & bike resort offers adventure and scenic mountain views of Lake Superior and Marquette. Contact the resort for more info.
Black River Lodge offers an atmosphere that provides a cozy Northwoods feel that can be as simple or elegant as you desire, and specializes in weekend-long, family reunion-style wedding events.
Outdoor Upper Peninsula Wedding Venues
Couples looking for an outdoor wedding venue in Michigan's Upper Peninsula need to look no further! There are plenty of beautiful spots to exchange your vows with Mother Nature as your backdrop. From remote forest settings to rugged lakeshore locations, the U.P. has something to offer everyone. So get ready to tie the knot among some of the most stunning scenery in the country!
How to choose an outdoor wedding venue in the upper peninsula
If you're planning an outdoor wedding in the Upper Peninsula, there are a few things to keep in mind when choosing a venue. With its abundance of forests, parks, lakes, and even mountains, there's no shortage of beautiful venues to choose from.
First, make sure the location is accessible if you're having more than a few guests – you don't want them struggling to get there on dirt roads or long hikes through the woods. If you're planning a very small elopement with just a few guests and you are all adventurous and in good health, you might consider a more remote, wild location.
Also, consider how much natural scenery you want in your photos – if you're looking for an idyllic backdrop, choose a property with rolling hills, lush forests, or picturesque Lake Superior views.
And finally, be sure to check out the weather predictions and plan accordingly. Black flies can be a real issue along the water in mid-late June. September and early October are typically beautiful in Michigan's Upper Peninsula, but it can be anywhere from the 90's to the low 50's this time of year so be prepared. Rain is always a consideration anywhere in Michigan during warmer months, so either be prepared for it or have a backup plan for a sheltered area.
A wine-lovers paradise, this vineyard is located in the southwestern Upper Peninsula amid rolling hills and wide-open skies. They specialize in short-notice weddings!
This renowned ski resort has breathtaking views of the Keweenaw Peninsula and Lake Superior. The resort will be happy to discuss hosting your wedding on-site!
Located near Houghton, Michigan, The Woodlands Outdoor Wedding & Events is the perfect natural setting for your wedding of around 150 guests or less. The site offers rolling hills as well as tall pines. Event tents and portable luxury bathrooms are included, as well as the option for camping.
This greenhouse and florist is available to rent for weddings and offers a romantic and memorable setting for an outdoor ceremony. An event tent is included and can accommodate up to 150 guests.
Imagine the most idyllic, secluded garden that you could get lost in and you might have an idea of this gem of a wedding venue! Event tents are welcome here. Butterflies and hummingbirds included!
Indoor Upper Peninsula Wedding Venues
There are so many things to consider when planning a wedding, from the color scheme to the food. But one of the most important decisions is where to host your big day. If you're looking for an indoor Upper Peninsula wedding venue, look no further!
I've compiled a list of my favorite indoor wedding venues, each with its own unique charm. These venues are available to host indoor wedding ceremonies, and/or dinners & receptions. So read on and start planning your perfect Upper Peninsula wedding today!
This brewery in Marquette offers a unique, modern-rustic atmosphere and is perfect for smaller weddings and events! Check out their website and contact the brewery for more information.
The Rozsa Center for the Performing Arts located at Michigan Tech is another unique space available for weddings. The spacious, modern venue offers many options for your wedding. Contact the center for more info.
An upscale Bavarian-themed restaurant located right on Lake Superior in one of Michigan's most beautiful spots. They recently added a modern event venue next to the restaurant that's available for larger weddings.
Bonfire is a restaurant, bar, and event space in historic downtown Houghton, Michigan that features an industrial modern aesthetic and upscale atmosphere. Now offering the space as a wedding venue- contact the venue for more information.
This historic inn is a local gem and provides a grand backdrop of timeless architecture that's conveniently located in downtown Marquette. Contact the inn for a consultation.
Scenic Outdoor Upper Peninsula Elopement Spots
Giving up the stressful big wedding and opting for a simple elopement can be a very liberating experience – especially if you do it in one of the most beautiful places on Earth. If you're looking for an unforgettable Upper Peninsula elopement spot, look no further! Here are some of the most scenic outdoor spots in Michigan's gorgeous UP. So pack your bags and say "I do" under the Northern Lights, on a rocky beach, or in any one of these breathtaking locations.
Canyon Falls – Alberta, MI
Brockway Mountain – Copper Harbor, MI
Grand Sable Dunes – Grand Marais, MI
Lake In The Clouds – Porcupine Mountains
If you are looking for a wedding venue in Michigan's Upper Peninsula, I hope this blog post gave you some ideas. Keep in mind that most of these venues can be booked up quickly, so don't wait too long to make a decision. And if you need a photographer for your big day, please contact me! I would love to help capture your special moment at one of these beautiful locations. Thanks for reading!