Michigan Winter Elopement Tips
Are you planning a winter elopement in Michigan or considering one? The Great Lakes State is a beautiful and romantic destination for couples who want to exchange vows in a private, intimate setting. Whether you're dreaming of a snowy winter wonderland ceremony or tying the knot next to a cozy fireplace, Michigan winters are a wonderful season to get married. Here are some tips for making the most of your winter elopement in Michigan:
1. Dress for the weather
Michigan's weather can be unpredictable, so it's important to dress appropriately for the season. In the winter, this means layering up with warm, cozy clothing to protect yourself from the cold. Don't forget to bring outerwear designed for winter, as well as warm hats or earmuffs, gloves, and waterproof boots.
Layers are a must! And there are lots of great options for warm and/or waterproof winter wedding layers that will look great in photos. You can visit my Pinterest for some ideas and inspo HERE.
For brides wearing a dress, I recommend wearing a pair of nude-colored fleece leggings under your dress. These ones are my favorite– they have different shades and sizes and are super comfy! They will keep you surprisingly warm.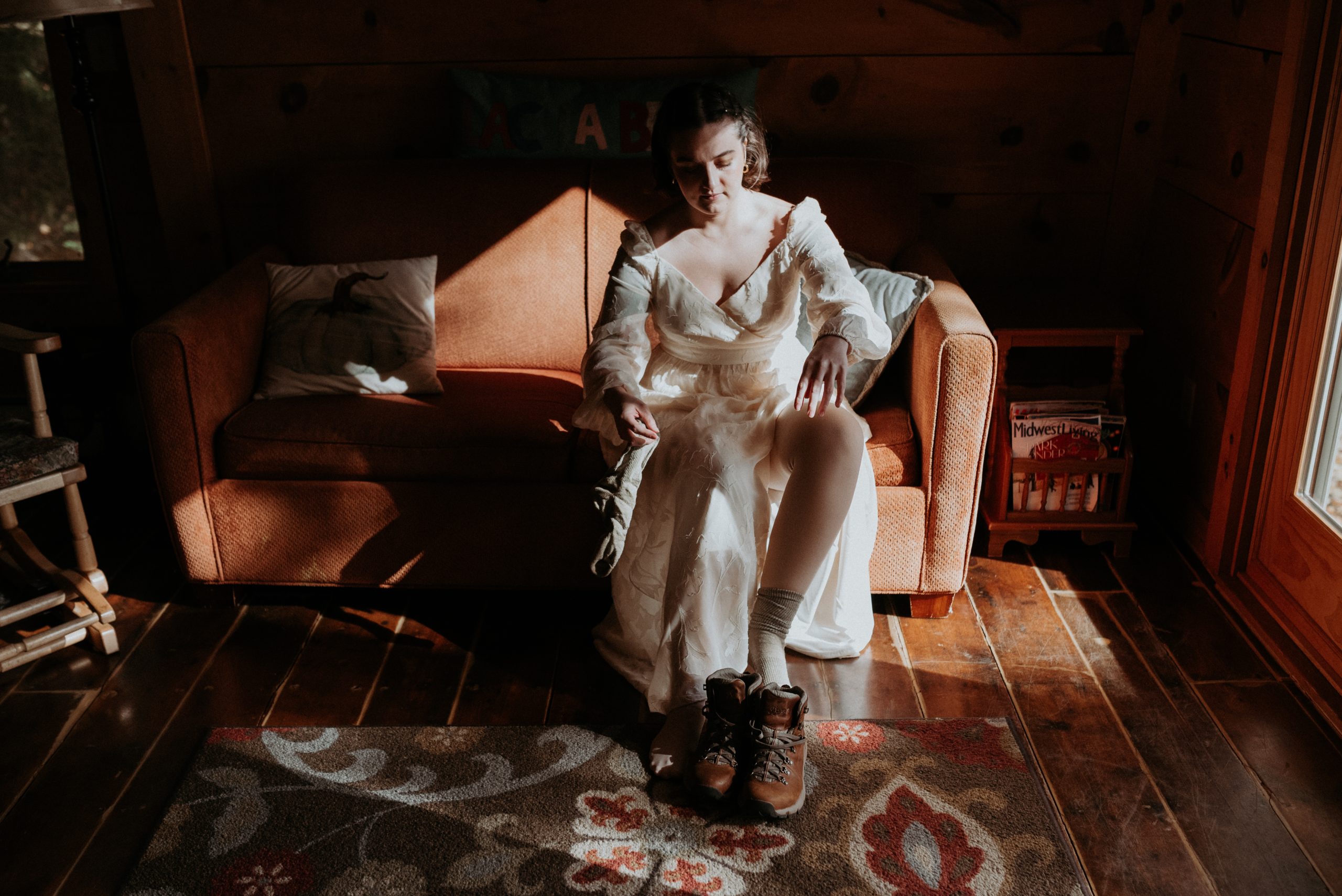 2. Winter activities
If you're eloping in the winter, there are plenty of activities to enjoy in Michigan's great outdoors. Planning one (or more) of these will make your wedding day more exciting and memorable!
Some winter elopement activity ideas:
Ice skating
Sledding
Skiing or snowboarding
Snowshoeing
Campfire
Stargazing
Hot cocoa bar
Wine/beer tasting
Snowmobiling
Ice fishing
Drinks, snacks & board games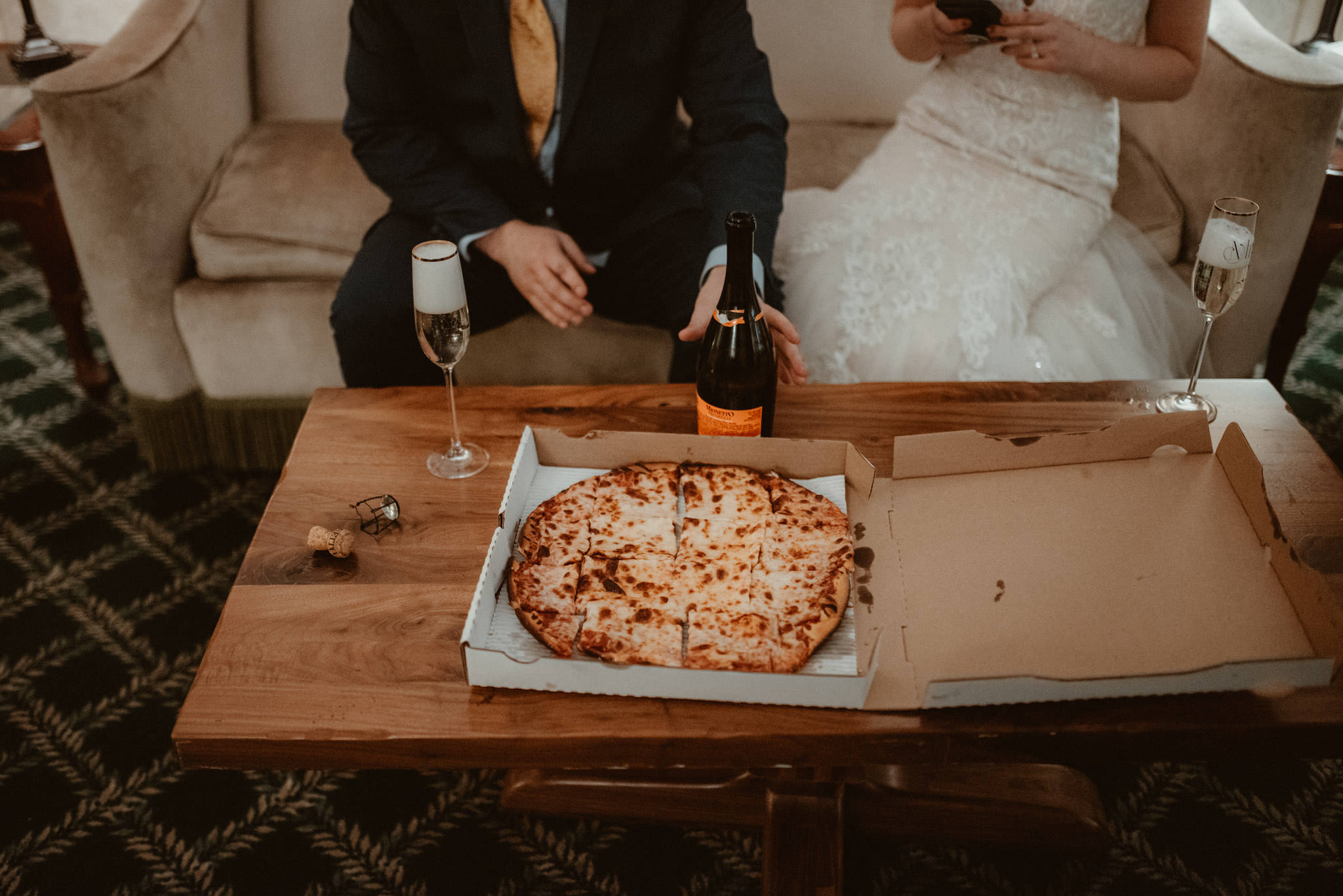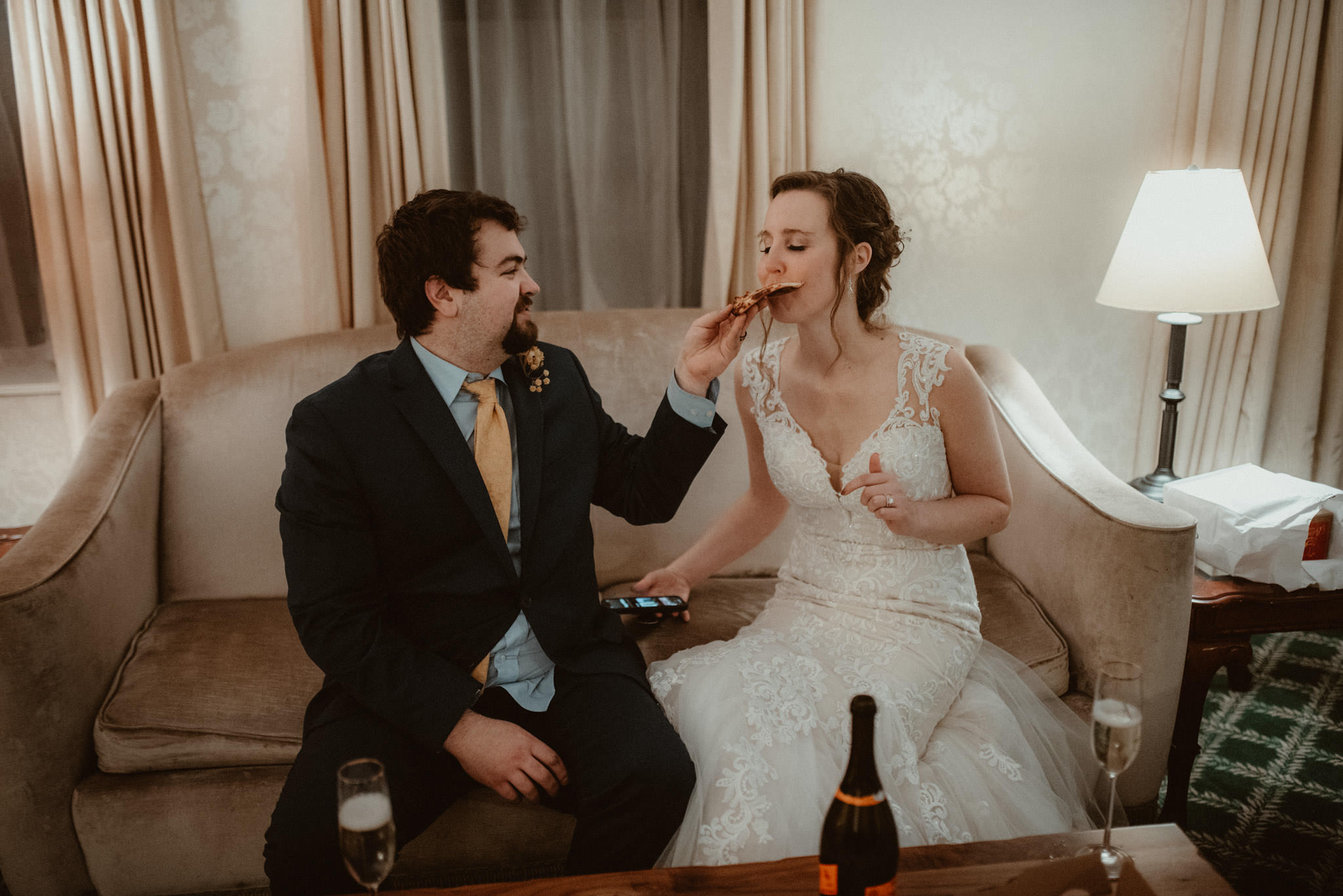 3. Stay hydrated
The cold weather can be dehydrating, so it's important to stay hydrated during your elopement. Pack a thermos of hot cocoa, coffee, or tea to keep you warm, and don't forget to drink plenty of water to stay hydrated.
4. Shorter daylight
In the winter, daylight is limited in Michigan, with sunrise around 8 a.m. and sunset around 5 p.m. depending on where you are. This means you'll have less time to enjoy outdoor activities and have natural light for photos, so it's important to plan accordingly. Be aware of sunrise and sunset on your date, and plan your timeline to make the most of the available light.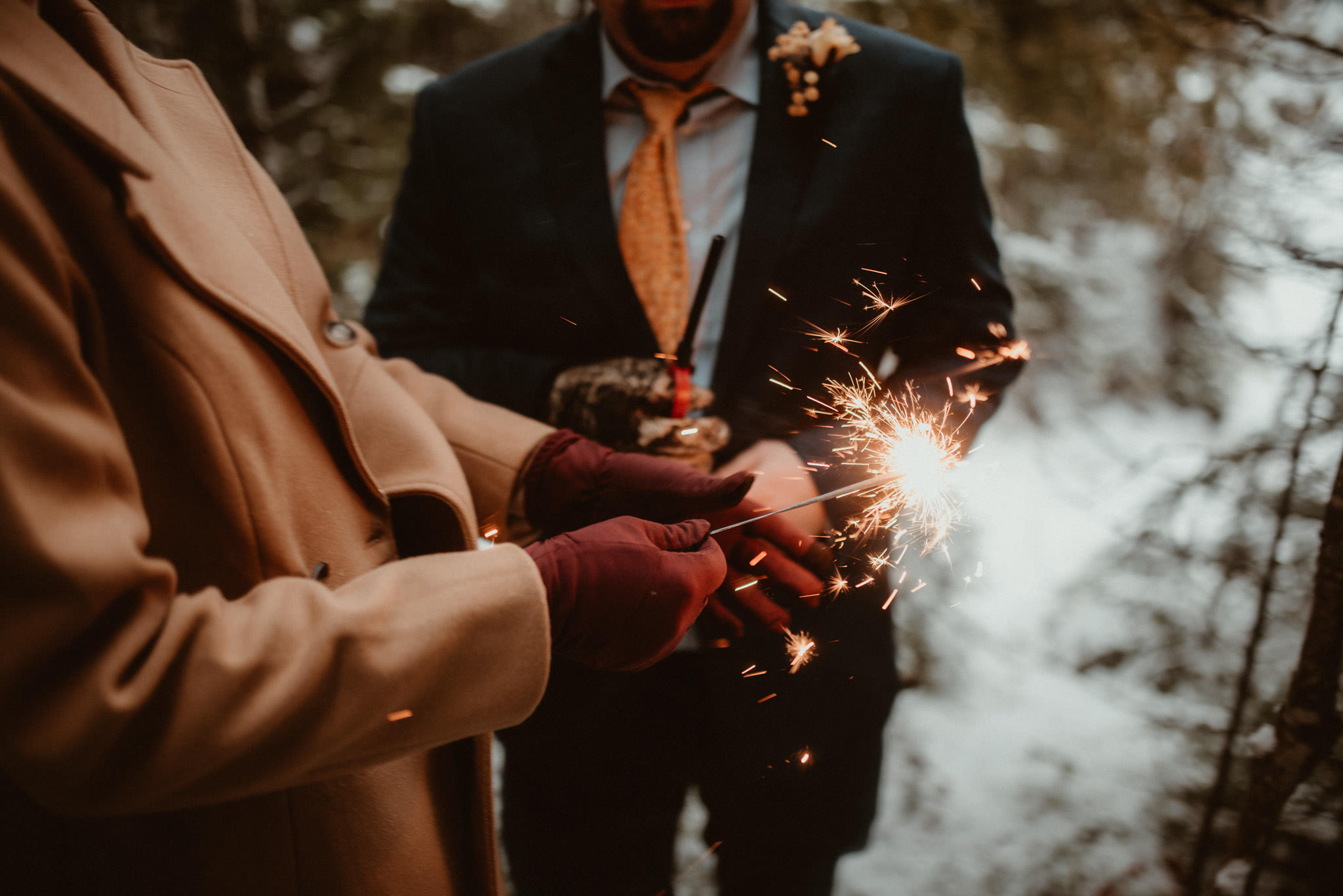 5. A white wedding isn't guaranteed
While Michigan is known for its snowy winters, it's important to remember that snow isn't guaranteed everywhere. Be prepared for a range of weather conditions and have a backup plan in case your elopement is disrupted by inclement weather.
Southern Michigan & Mid-Michigan
When planning a winter wedding in southern Michigan, you can expect mild weather with temperatures usually ranging from the mid-20s to the lower 40s. Expect snowfall to be frequent, but generally not heavy. Until January and February snow might not even stick around.
In some cases, warmer winter days might bring rain or even thunderstorms. Winter nights in southern Michigan can be beautiful and are perfect for lighting up outdoor areas with cozy holiday decorations like glowing fairy lights or candles, making your wedding even more magical! Winter brides and grooms can opt for heavier or thicker fabrics such as velvet or fur accents to stay warm without sacrificing style.
The Thumb
Every winter, Michigan's thumb area experiences an average of 18 inches of snowfall, which can be unpredictable. With winter temperatures usually dropping to around 20 degrees (F) and gusty winds, extra precautions should be taken outdoors.
During planning, you can keep an eye on forecasts based on long-term predictions or seasonal trends, but rarely is any forecast 100% accurate. To stay safe, always plan ahead with backup plans in case of inclement weather; that way you're prepared no matter what Mother Nature throws your way!
Northern Lower Peninsula
Winter in Michigan's Northern Lower Peninsula (or, "Up North" to those who live south of Mount Pleasant) can be a beautiful and serene time of year, with snow-covered landscapes, frozen lakes, and cold, crisp air. Snowfall is common from November to April, and it's not uncommon to experience a few feet of snow in a single storm. Many people love the beauty and tranquility of a Northern Michigan winter.
Upper Peninsula
For most of the Upper Peninsula, winter begins in early November- although heavy snow is always possible in mid-late October. It's typically snowy here well into May. The temps can get frigid, however, it's usually drier than the Lower Peninsula and that results in absolutely beautiful powdery white snow!
One thing to keep in mind is that many UP businesses close for the winter months, and many roads are not serviced. The larger cities and towns like Marquette, Sault Ste. Marie, Escanaba, and Houghton will have the best options for accommodations, food, and winter travel.
Pretty, white snow is a guarantee for most of the winter months! If you envision a white winter wonderland for your elopement, then the UP is the place to be!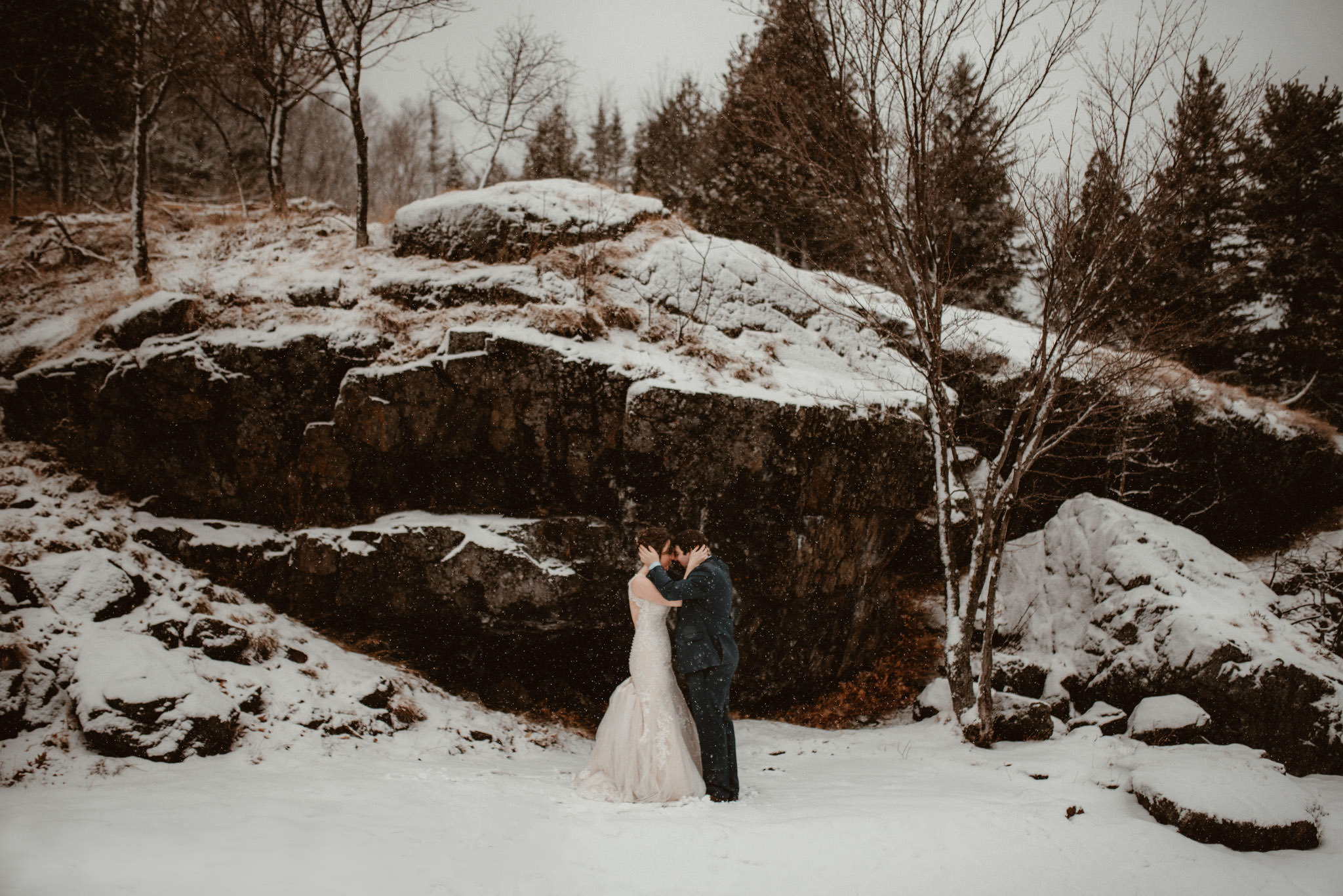 6. Have a backup plan
If you're in Southern Michigan, your plan for a white wedding could end up differently than you hope. It's not uncommon in the winter to have ice storms, cold rain, mud, and slush. It's always a good idea to have a backup plan in case your primary activities are disrupted by weather or other unexpected circumstances. This could include planning for wet weather, and/or alternative indoor activities, such as board games or movies, or outdoor activities that can be enjoyed in different weather conditions.
7. Makeup and hair tips
The dry, cold air of winter can be tough on your skin and hair, so it's important to take extra care to keep them looking their best on your elopement day. Use a moisturizing foundation and apply a thin layer to avoid caking, and be sure to hydrate your skin with a good quality moisturizer before applying makeup. Avoid using heavy, greasy products, and go for lightweight, water-based formulas instead. Waterproof mascara is a must, and false lashes are not a good idea. Protect and moisturize your lips and finish your look off with a high-quality setting spray.
To protect your hair from the elements, use a leave-in conditioner or oil treatment, and avoid washing your hair too frequently. Opt for a more natural hairstyle that isn't going to be too messy if you're in the wind, in wet weather, or if you're wearing a hat or hood.
8. Stay warm and dry
In addition to dressing for the weather, it's important to take steps to stay warm and dry during your elopement. This may include wearing thermal underwear or using hand and foot warmers, as well as using a portable heating element or fire to create extra warmth.
9. Embrace the unexpected
It's important to go with the flow and embrace the unexpected on your wedding or elopement day because things will inevitably not go exactly as planned. Whether it's a minor hiccup or a major change of plans, it's important to remain flexible and open to whatever comes your way. By going with the flow and accepting the unexpected, you'll be able to roll with the punches and enjoy your day without stressing about minor details.
Embracing the unexpected can also lead to some of the most memorable and meaningful moments of your wedding or elopement, which usually makes for the best photos! For example, at a recent elopement where it stormed and rained on and off all day, but we were blessed with an incredible rainbow and the most beautiful sunset! These unexpected moments can add depth and richness to your day.
Finally, going with the flow and embracing the unexpected can help you stay present and focused on what really matters – your love for each other and the commitment you're making. Instead of getting caught up in the stress and pressure of perfection, you can relax and enjoy the experience of getting married or eloping, knowing that you have each other and that's all that really matters.
10. Have the best elopement day!
Getting married in Michigan during the winter can be amazingly beautiful if you're willing to prepare for the weather and embrace the unexpected. Being comfortable, staying hydrated, and having a backup plan are key to making your elopement day go off without a hitch. And don't forget these important tips for your hair and makeup so you look picture-perfect despite the cold temperatures! If you follow this advice, you're sure to have a magical, memorable, winter wedding day!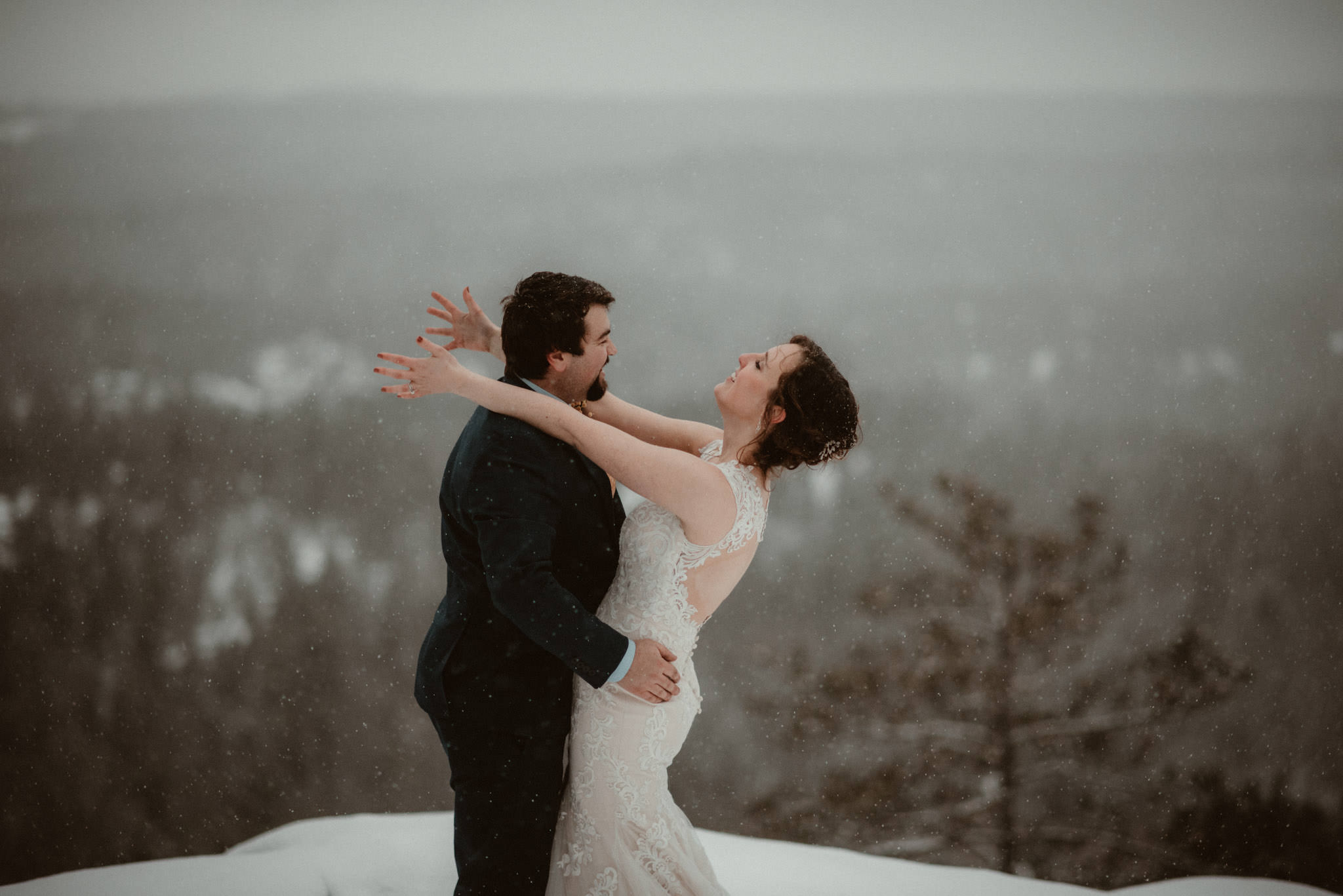 ---
I'm a wedding photographer first and foremost, but I absolutely love helping couples plan their winter Michigan elopement! It's honestly so rewarding! Having grown up in Michigan, I'm no stranger to the winters here. I'm familiar with all the hidden gems our state has to offer. There's nothing quite like an outdoor wintery elopement in Michigan! I look forward to helping couples make their day extra special every season.
– Andrea